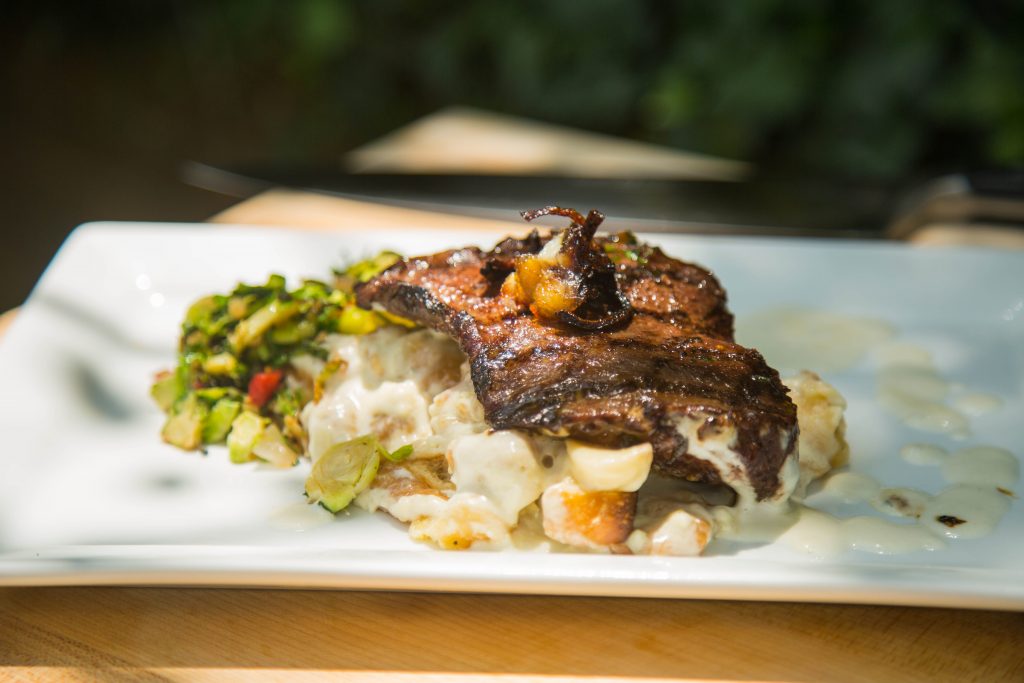 This delicious dish is a guest favorite at The Cove. It's much simpler than it looks, so give it a try and let us know how it turns out!
Grilled Iron Steak with Blue Cheese Bread Pudding
Serves 4
GRILLED IRON STEAKS
Ingredients
4 (6 ounce) iron steak filets
Salt and pepper
2 tablespoons unsalted butter, melted
Directions
Season steak with salt and pepper. Grill for 3-5 minutes on each side over medium high heat. Remove from heat, brush with melted butter and let rest for 5 minutes.
BLUE CHEESE BREAD PUDDING
Ingredients
1 French baguette, diced into small cubes
½ stick of unsalted butter
1 shallot, finely chopped
4 garlic cloves, minced
2 cups beef stock
2 cups heavy cream
½ cup blue cheese crumbles
½ cup Parmesan cheese
¼ cup fresh parsley, chopped
Salt and pepper to taste
Directions
Preheat oven to 350 degrees.
Dice bread into small squares (crouton size) and place in a 9″ x 13" greased pan.
Bake bread for 10 minutes at 350 degrees.
Add blue cheese sauce (see directions below). Toss to coat bread well with sauce. Bake for 25 minutes.
For blue cheese sauce:
Melt butter in a sauce pan over medium heat. Add chopped shallot and minced garlic. Sauté one minute and add beef stock and heavy cream, and bring to a boil. Add blue cheese crumbles and Parmesan cheese. Reduce heat for 2-3 more minutes until cheese is melted. Add chopped fresh parsley and season with salt and pepper to taste.
Serve and enjoy!
Find more recipes from The Cove Kitchen.