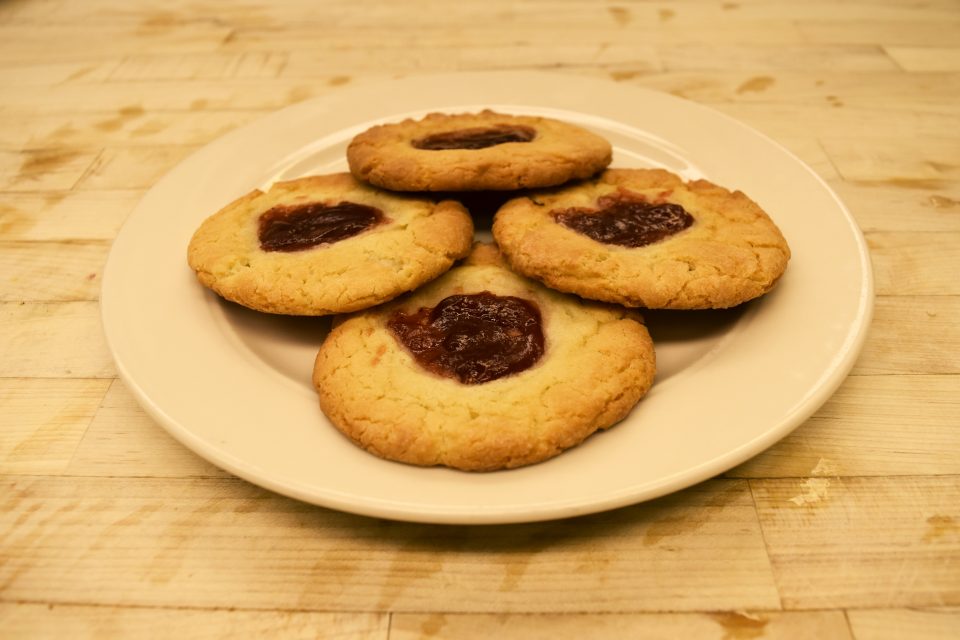 These delicious shortbread thumbprints are a perfect holiday dessert for the Christmas season. They are sure to be a treat your family will ask for year after year!
Shortbread Thumbprints
YIELD 15 to 18 cookies
INGREDIENTS
1 cup all-purpose flour
1/4 cup granulated sugar
1/4 teaspoon salt
8 tablespoons (1 stick) room temperature unsalted butter, cubed
1/2 teaspoon vanilla extract
1/4 cup seedless jam
INSTRUCTIONS
Place the flour, sugar, and salt in the bowl of a food processor fitted with the blade attachment. Pulse to combine, 2 to 3 quick pulses. Add the butter and vanilla and pulse to combine. Continue pulsing until the mixture sticks together when pressed with 2 fingers, about 1 minute. Use a rubber spatula to scrape down the sides of the bowl and make sure the dough is evenly mixed. Remove the dough from the food processor and form into a ball.
Using a spoon or cookie scoop, measure about 1 tablespoon of dough. Roll between the palms of your hands to form a ball and place on a baking sheet. Continue scooping and rolling, spacing the dough balls about 1 1/2 inches apart.
Flatten each dough ball slightly with the heel of your hand. Use your thumb to press down on the center of each ball of dough to create an indentation. Fill each indentation with about 1/4 teaspoon of jam. Refrigerate for 30 minutes. Meanwhile, arrange a rack in the middle of the oven and heat to 350°F.
Bake for 6 minutes. Rotate the baking sheet from front to back. Continue baking until the cookies are set but still soft, 5 to 6 minutes more.
Cool the cookies on the baking sheet for 1 to 2 minutes. Use a flat spatula to transfer the cookies to a wire rack to cool completely.
Enjoy!