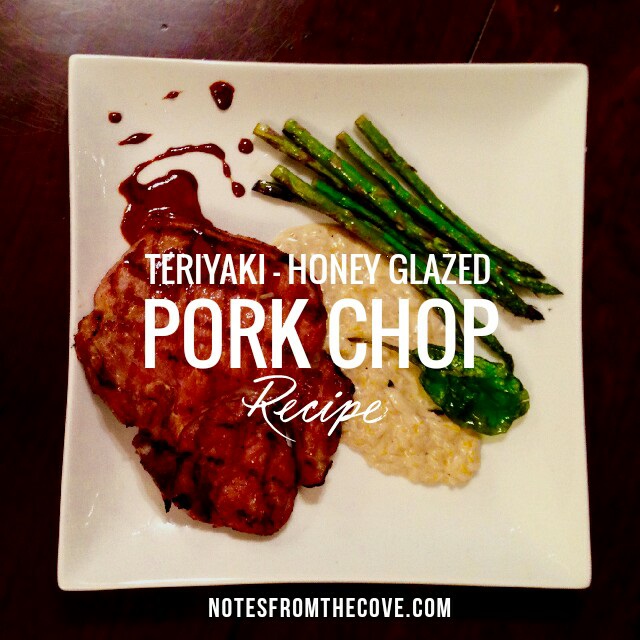 Smooth, sweet, and salty flavors are joined together in this Grilled Pork Chop with Teriyaki-Honey Glaze dish.  It is a perfect combination and will be sure to satisfy your taste buds.
This dish is a great meal to serve on a chilly evening and will remind you of warm summer nights.  From The Cove dining room to your own home table, this recipe is bound to be a hit.
Grilled Pork Chops with Teriyaki-Honey Glaze
Serves 4
4 Pork Chops
3/4 cup soy sauce
1 1/2 cup water
1 tablespoon fresh ginger, chopped
1 clove garlic, chopped
2 scallions, finely chopped
2 tablespoons honey
1 tablespoon light brown sugar
2 tablespoons unsalted butter
Marinade pork chop in soy sauce, water, ginger, garlic, and scallions for two hours. Remove from marinade and pat dry with paper towel. Save marinade and bring to a boil in a sauce pan.  Once it comes to a boil, reduce heat to a simmer and cook down for 15 minutes. Incorporate honey and light brown sugar in saucepan.  Remove from heat once sugar is dissolved.  Grill pork chops 12-15 minutes at a medium temperature, turning meat over halfway through.  Drizzle teriyaki glaze over pork chops and serve immediately.
We suggest serving with Roasted Butternut Squash Risotto and Lemon Garlic Roasted Asparagus.
To find additional recipes from The Cove kitchen click here.
Enjoy delicious recipes like this on your next stay at The Cove. Click here to see a full list of upcoming events at The Cove or contact our Guest Group department to book a group retreat.