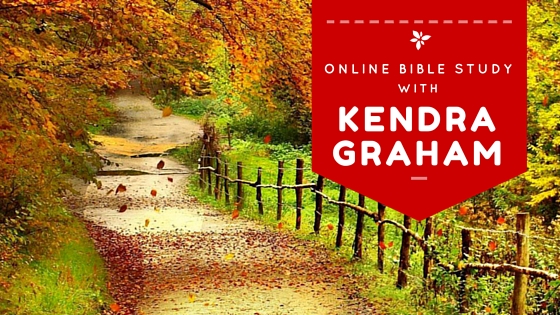 Welcome to Kendra Graham's Online Bible Study! This is a place where we can come together and share in our journey towards Scriptural truths and spiritual maturity. We pray this will be a safe, respectful, resourceful place to come and discuss God's Word…to discover What it says…What it means…and What it means to you!
Make sure you don't miss a post, just enter your email in the "Subscribe Via Email" in the upper left hand corner of our blog. It's free and you'll receive these post straight into your email inbox.
Kendra Graham notes from Mark 5:28
WHAT DOES IT SAY? THE FACTS ONLY PLEASE. In this step you need to list the outstanding facts of the passage. DON'T get caught up in the details, just list the facts. Do not paraphrase. Use the actual words of the passage. This is God's Word, a lot of times this step seems tedious to some, but I urge you, as we read, and say and write God's Word, it begins to sink deep into our hearts. If you just pick one fact out of the verse, write it down and meditate on it.
FACTS: If I just touch HIS garments I WILL get well.
WHAT DOES IT MEAN? THE LESSONS. Look for a lesson to learn from each fact. What are the people doing that they should be doing? What are the people doing that they shouldn't be doing?
Is there a command to follow? A promise to claim? A warning to heed? An example to follow?
LESSONS: ​I was recently asked a question which has kind of stuck in my mind, and I've thought on it for the past few days.  I have been to Kenya, Paupa New Guinea, and countless stateside places to be with Wil as he ministers; so what do the women have in common from West Virginia to Paupa New Guinea?  The one thing that stuck in my my heart immediately is "brokenness." Not to be a sapper of joy this Thanksgiving, focused on the worst things of life, but brokenness is a fact of life.  I am NOT thankful for brokenness…. but then on the same hand, I am.  It is in my brokenness and my desperateness that I saw my incredible need for a loving and gracious Savior.  It is also in my brokenness that in my pride and my anger… oh, and bitterness too, that I refused to come to a Savior.
​
We have all been there…some of us are there right now… desperate and in need.  What we do with that desperateness is of utmost importance.  This verse here, states it all… if this woman who has been in great need, extreme issues for 12 years, would just come to Jesus… she would be healed, she would be whole.  Isn't that great… and not great at the same time?  If we go to Jesus to get healed… well, then, we will be healed! That means we will not have anything to hold over anyone anymore… that means that those rotten people who did this stuff to me won't be reminded every time they see me, because I won't be suffering anymore.
I will be healed, and better… Then… those people won't know how badly they hurt me… So we stay away, willing to bleed out, because that will show them.  Truly, this is hard, because I know for me, I stayed in my situation, bleeding out, hurting, because I liked the excuses my situation afforded me.  I really didn't want to be healed.
But then… the day came, when my pride no longer mattered more than my pain, and I went to Jesus–head low, hurting, and messy… and I was healed.  The worst/ best time of my life that I talk about constantly, because the grace of God was freely given to me.  I wasn't judged or condemned.  I wasn't scolded for taking so long.  It was as if Jesus would have waited a lifetime, just for me to come.  I am so thankful for the relentless love of a gracious Savior who just wants you to come as you are, and be healed.  What you choose matters.  Jesus takes broken things and makes them beautiful, oh that you would let Him.
WHAT DOES IT MEAN TO ME NOW? APPLY IT…. TODAY. Take the lessons you learned and put them into the form of a personal question that you would ask your spouse, or a friend or your son or daughter.
As you write the questions, listen for God to communicate to you through His Word.
*Do not rush. Do not write things down just to have something on paper, this step takes more time that you may think. This is where Scripture meditation becomes real, this is where you begin to hear that still small voice speak to you, and place His finger in your life and begin to direct your paths…. this day, and the next, and the next. Do you trust Him enough to put into place that which He is moving you to?
​What is a testimony of brokenness that you are thankful for since it drove you to Jesus?  Are you currently broken, knowing if you just come to Jesus you will be healed, and instead of this being great news, that is the problem?  Do you really want to be well?  Will you grab the testimony that is just in your grasp or will you hold on to the misery of brokenness?

LIVE IT OUT! Hold yourself accountable to LIVE OUT in your daily life that which God impresses upon your heart. Write it out, sign it, date it and claim the transforming power of God's Word and His presence in your life.
Come to Jesus today.  Lay your burdens down, speak them out, yell them out, cry them out, write them out… to Jesus… He has waited for you and loves you more than anything!  Today, I am thanking God for healing me and taking my broken mess and painting a portrait I can't not share.
Homework: Pick a verse or a few verses and use the three-question method to see what the lessons are, how they apply to your life, and how you can live it out.
Get stuck? www.annegrahamlotz.com and Anne will walk through the Three Questions with you and help you along!
JOIN US FOR OUR FREE WOMEN'S BIBLE STUDY AT THE COVE, BEGINNING JANUARY 12, 2016.
If you can attend in-person, we'd love to see you. Click on one of the links below to register.
If you'd like to register for Kendra's Tuesday evening study (January 12 – February 16, 2016), click here.
NOTE: If you are unable to attend in person, we will continue the online study as well, using lessons shared during the LIVE study.
Register for Kendra's Tuesday evening study here or by calling 1-800-950-2092..
If you'd like to register for Jane Derrick's Tuesday morning study (January 12 – February 23, 2016), click here.