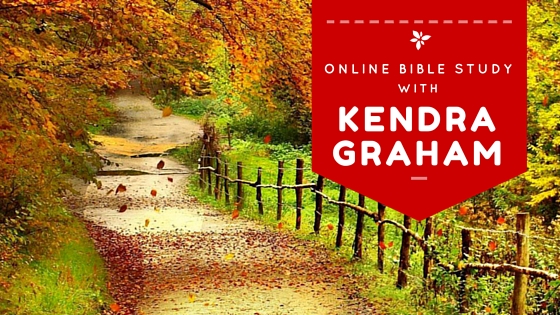 Welcome to Kendra Graham's Online Bible Study! This is a place where we can come together and share in our journey towards Scriptural truths and spiritual maturity. We pray this will be a safe, respectful, resourceful place to come and discuss God's Word…to discover What it says…What it means…and What it means to you!
Make sure you don't miss a post, just enter your email in the "Subscribe Via Email" in the upper left hand corner of our blog. It's free and you'll receive these post straight into your email inbox.
Kendra Graham notes from Mark 8:34
WHAT DOES IT SAY? THE FACTS ONLY PLEASE.  In this step you need to list the outstanding facts of the passage. DON'T get caught up in the details, just list the facts. Do not paraphrase. Use the actual words of the passage. This is God's Word, a lot of times this step seems tedious to some, but I urge you, as we read, and say and write God's Word, it begins to sink deep into our hearts. If you just pick one fact out of the verse, write it down and meditate on it.
FACTS:  And He summoned the crowd with His disciples and said to them, "If anyone wishes to come after Me, he must deny himself, take up his cross and follow Me." Mark 8:34
WHAT DOES IT MEAN? THE LESSONS.  Look for a lesson to learn from each fact. What are the people doing that they should be doing? What are the people doing that they shouldn't be doing?
Is there a command to follow? A promise to claim? A warning to heed? An example to follow?
LESSONS:  "Let me explain…. listen to me on this…. it's really hard for me, but…"
OK… so this may seem a bit random to you as you just read those words, but it's where I am.  I'm currently in the throes of preparing for the upcoming Winter Cove Bible Study–on discipleship of all things, and God's sweet way of bringing home a particular piece of Scripture, is for me to experience it.  I hate that my learning style is so kinesthetic!  If only I could be more auditory… perhaps things would be easier to learn.
So…God recently called me somewhere.  Somewhere new.   I spent the last eight years coaching a middle-school girls' soccer team at one school, and have now taken a coaching position at a new school.  Was this new school always on my radar screen?  Ummm…no.  I actually thought I would never leave where I was.  God loves to keep things interesting for all parties involved!
In Mark 8:34, Jesus says, anyone who wishes to come after me… So that means I'm invited to live that life, walking with God–the life that I was meant to live before the beginning of time.   The "anyone" in the verse includes me, it includes you, and in the words that follow, it includes a choice.
IF I want to follow Jesus… then… I will deny myself.  UGH.  That is a hard one… I have so many great ideas of where I could be most profitable for the Kingdom of God–my list may or may not be alphabetized!
Deny myself… let go of my ideas and aspirations of where and when I want to serve Him, and just daily… follow Jesus.
I find myself making excuses to people that I hang out with–explaining why the change in location of my service, and that it's not that I'm mad, or have a point to make… it's just that I am called.
I find myself, day after day, making justifications and validating to everyone the reasons, the verses, the days in prayer behind this change of venue.  Have you ever been there?
Maybe you have taught Sunday School, led VBS or sang in the choir year after year, you are like the stable person everyone can count on to show up and then…. God calls you out?   Were there rumors started on why you stopped, and you feel like you need to constantly  expound, illustrate, spell out, and clarify why you are doing or not doing something?
Perhaps you have felt God tugging at your heart for a while now, to leave a place, go to a place or a person, or that He is calling you to just STOP it all, and not go anywhere, but just to rest.  Well friends… that is where I am.  I wish I could say it's easy, and I don't care about what people think, but alas…. that would not be true.  SO, I must decide daily to cling to the One who matters, the One I have decided so long ago to go after, and His name is Jesus.
Know this: your purpose in life, and my purpose in life belongs to God.  God wants to use us from HIS perspective, in HIS way, down HIS path.  If it is truly HIM we want, then we must trust that God will not lead us wrong, neither will He lead us to anywhere that He isn't. God leads us to where He is!!!  He says, FOLLOW ME, that means He goes first!  He calls you and me to a prepared place!!!  Isn't that comforting?!
The last thing we need to do is make an excuse for following hard after Jesus–the One who was found worthy to be slain for my sin. Knees knocking, heart hurting, questions blasting… Lord, strengthen me to follow.
WHAT DOES IT MEAN TO ME NOW? APPLY IT…. TODAY.  Take the lessons you learned and put them into the form of a personal question that you would ask your spouse, or a friend or your son or daughter.
As you write the questions, listen for God to communicate to you through His Word.
*Do not rush. Do not write things down just to have something on paper, this step takes more time that you may think. This is where Scripture meditation becomes real, this is where you begin to hear that still small voice speak to you, and place His finger in your life and begin to direct your paths…. this day, and the next, and the next. Do you trust Him enough to put into place that which He is moving you to?
Am I willing to follow Jesus, or would I prefer for Him to follow me? Where is Jesus bidding me come?  What fears do I have?  What excuses have I made for where Jesus is calling me to go?  Is it time to let the excuses subside, and my feet start following?  Do I believe He leads me to where He is?
LIVE IT OUT!  Hold yourself accountable to LIVE OUT in your daily life that which God impresses upon your heart. Write it out, sign it, date it and claim the transforming power of God's Word and His presence in your life.
LORD, today, help me trust where YOU lead me… whether you crush me, exalt me, bless me, or simply just love me in a personal way that I know You are near.  Help my unbelief.  Silence my need to make excuses for running to Your presence.
Homework: Pick a verse or a few verses and use the three-question method to see what the lessons are, how they apply to your life, and how you can live it out.
Get stuck? www.annegrahamlotz.com and Anne will walk through the Three Questions with you and help you along!
JOIN US FOR OUR FREE WOMEN'S BIBLE STUDY AT THE COVE,  BEGINNING JANUARY 12, 2016.  
If you can attend in-person, we'd love to see you.  Click on one of the links below to register.
If you'd like to register for Kendra's Tuesday evening study (January 12 – February 16, 2016), click here.
NOTE: If you are unable to attend in person, we will continue the online study as well, using lessons shared during the LIVE study.
If you'd like to register for Jane Derrick's Tuesday morning study (January 12 – February 23, 2016), click here.