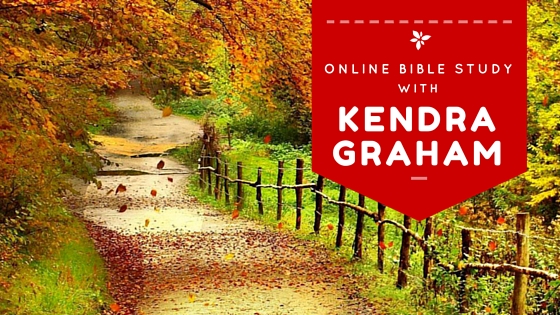 Welcome to Kendra Graham's Online Bible Study! This is a place where we can come together and share in our journey towards Scriptural truths and spiritual maturity. We pray this will be a safe, respectful, resourceful place to come and discuss God's Word…to discover What it says…What it means…and What it means to you!
Make sure you don't miss a post, just enter your email in the "Subscribe Via Email" in the upper left hand corner of our blog. It's free and you'll receive these post straight into your email inbox.
Kendra Graham notes from Joshua 3:15 – 16a
WHAT DOES IT SAY? THE FACTS ONLY PLEASE. In this step you need to list the outstanding facts of the passage. DON'T get caught up in the details, just list the facts. Do not paraphrase. Use the actual words of the passage. This is God's Word, a lot of times this step seems tedious to some, but I urge you, as we read, and say and write God's Word, it begins to sink deep into our hearts. If you just pick one fact out of the verse, write it down and meditate on it.
FACTS:  Now the Jordan is at flood stage all during harvest.  Yet as soon as the priests who carried the arc reached the Jordan, and their feet touched the water's edge, the water from upstream stopped flowing. Joshua 3:15 – 16a
WHAT DOES IT MEAN? THE LESSONS. Look for a lesson to learn from each fact. What are the people doing that they should be doing? What are the people doing that they shouldn't be doing?
Is there a command to follow? A promise to claim? A warning to heed? An example to follow?
LESSONS: ​
Faith is hard. 
Crawford Lorrits out of Fellowship Bible Church in Alpharetta Georgia always says this, "Faith is verb even when it's a noun."
Faith is always moving, doing, or waiting… not just talking about it, being academic in your Bible studies, and answering all the right questions in your workbook.  Faith is the 18" journey down from your head to your heart.  Faith is every day, living according to those beliefs you've said you believed for years.
Faith is never easy.
Sure, I have miracles in my life where God called me to do something, and I did it with my knees shaking and heart beating rapidly out of control, only to look back and see the awesome hand of God…. but each and every time it is always a conscious decision that I have to make.  I wish having faith was easier.  God always calls us to impossible things, where we show up and bring what we have, but if God doesn't come through then we will be sunk.
My usual prayer in times like this is, "God DO SOMETHING!  If You change my situation, I WILL BELIEVE I PROMISE!"  God's usual answer in times like this: "Kendra! YOU BELIEVE in ME FIRST and see how I change your situation."   I ALWAYS want God to act first.  Well… God has acted first!  God has come to live among us, not trusting us to another, and His name is Jesus.  Jesus lived a perfect life, then took the penalty for my sin and your sin, upon the cross, and then 3 days later rose from the grave, so that we could walk with Him, and know Him because we were created to need Him, especially in impossible situations!
God has acted first.  I want God, however, to act in a certain way for ME NOW.  If God doesn't do what I want Him to, then all of a sudden He hates me and He is being the stubborn one!  We always want God to do more, or do different–I know I do!  I want God to put the tangible in my hand now, so I know I have it, then I will do what He asks, however, if you think about it, there is absolutely no faith in that!  Give it to me, then I will have faith?  Have faith in what?  It's already received, no faith needed!
Waiting for God to act FIRST is UNBELIEF.  Ouch.
Belief is holding on, when everyone and everything else around us says to let go and run the other way!  Belief is this: "Fine, I will step into that Jordan River at flood stage because YOU, God, have asked me to, and if I die, I die, but trust You!"
Then the priests STEPPED…. The water did not part until they STEPPED… verb…  (If I was one of those priests I totally would  have thought God hated me for sure, and what did I ever do to make Him so angry! Forget woman's lib in this case!  Men, you can carry that ark!) God delivered the priests.  God calls us to do those impossible things that only He can do.
We love to preach, "Believe in God!" to so many people throughout our lives, yet when it comes down to having to hold on and step into an impossible situation in our own lives, God's Word is all of a sudden a lie, and God owes me first.
I taught Bible studies and went to Bible studies for years before I literally had to set my heart to believe all those promises, and hold on to the character of God I knew about so well in my head.  I would preach to people, "God can put the broken pieces of your life back together! Praise Him in it!"  It was not until I wanted to curse God in the pieces of my life did I see how hard that really is.  It wasn't until my life was the one in pieces did I know the Master Artist, Jesus, really will create beauty from ashes.
WHAT DOES IT MEAN TO ME NOW? APPLY IT…. TODAY. Take the lessons you learned and put them into the form of a personal question that you would ask your spouse, or a friend or your son or daughter.
As you write the questions, listen for God to communicate to you through His Word.
*Do not rush. Do not write things down just to have something on paper, this step takes more time that you may think. This is where Scripture meditation becomes real, this is where you begin to hear that still small voice speak to you, and place His finger in your life and begin to direct your paths…. this day, and the next, and the next. Do you trust Him enough to put into place that which He is moving you to?
​Where is God calling us to have faith?  In our jobs, marriages, homes, schools, churches?  IS faith a verb for us, or a noun?  Would  we rather wait for God to work, then we will believe, or will we believe what God has said and who God is and walk in that faith?

LIVE IT OUT! Hold yourself accountable to LIVE OUT in your daily life that which God impresses upon your heart. Write it out, sign it, date it and claim the transforming power of God's Word and His presence in your life.
Today, live this day praising the God of the impossible!  Step out onto the waters that He has called you to with confidence.  Stop shaking our fists at who we wish or think God to be, and START getting in His Word to see who God says He really is!
Homework: Pick a verse or a few verses and use the three-question method to see what the lessons are, how they apply to your life, and how you can live it out.
Get stuck? www.annegrahamlotz.com and Anne will walk through the Three Questions with you and help you along!
JOIN US FOR OUR FREE WOMEN'S BIBLE STUDY AT THE COVE, BEGINNING JANUARY 12, 2016.
If you can attend in-person, we'd love to see you. Click on one of the links below to register.
If you'd like to register for Kendra's Tuesday evening study (January 12 – February 16, 2016), click here.
NOTE: If you are unable to attend in person, we will continue the online study as well, using lessons shared during the LIVE study.
Register for Kendra's Tuesday evening study here or by calling 1-800-950-2092..
If you'd like to register for Jane Derrick's Tuesday morning study (January 12 – February 23, 2016), click here.