Welcome to our Tuesday devotions. Every Tuesday, we will offer a study in the book of Nehemiah. We hope you enjoy these devotions and will also follow us on social media at @thecovenc. We post encouraging Bible verses, upcoming events at The Cove, and much more.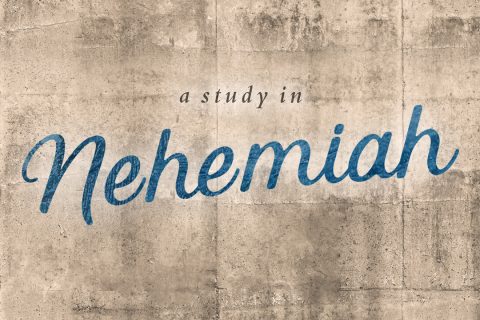 Build the Spiritual Walls
By: Patty Nicholas-Boyte
Nehemiah 6:15-16 
 "So the wall was completed on the twenty-fifth of the month Elul, in fifty-two days.  When all our enemies heard of it, and all the nations surrounding us saw it, they lost their confidence; for they recognized that this work had been accomplished with the help of our God" (NASB). 
In an amazing span of fifty-two days and in the midst of one attack after another, along with wave, after wave of trials, including a famine, the walls around God's holy city were completed. Not only did Nehemiah and the Israelites finish the work in record time, the day they completed the work was on the 25th of Elul, which "happened" to be the Day of Atonement, otherwise known as Rash Hashanah.
Clearly, the hand of God was all over the project. Verse 16 tells us all of the enemies lost confidence for they recognized the work was accomplished with the help from God.
As I write this, we are in the midst of a global pandemic, plus, the American people are embroiled in an unrest that I have never seen in my lifetime. An unjust murder sparked peaceful protests and has intensified the situation and exposed racial division across our land like never before.
My spirit grieves along with the family of the lost, as well as with those whose businesses were destroyed. I wonder if we as a nation will ever recover. I wept for days, and days, and have travailed in prayer. I've cried out to God for His hand to cover this nation and to heal our land.
As I prepared for this week's study in Nehemiah, I was drawn to the fact that in a very short period of time, God's people, from all walks of life, regardless of skill stepped in to do the work. Farmers, priests, goldsmiths, blacksmiths, and soldiers fortified the holy city, and build the walls of security around their homes. People from neighboring cities joined in the build. In less than two months' time, and on the Day of Atonement, their work was completed.
If the Israelite people could do what they did, then why can't we the Church rise up and seek God's help to build the spiritual walls around this country? Imagine what we could accomplish if we each took a "section" and committed to prayer.
Philippians 4:13 
 "I can do all things through Him who strengthens me" (NASB). 
What can we learn from Nehemiah?
God's timing was perfect. Not only did they finish in record time, they also finished on the holiest day of the year.
The situation may seem hopeless, but just as in the days of Nehemiah, there is power in working together with other believers.
Even when we do come together, it is God's hand, along with our obedience, when impossible things are accomplished.
On the Day of Atonement God's people found security not only in a fortified city, but in God himself when He atoned for their sins. Today, Jesus paid for our sins by nailing them to the cross. What a beautiful picture. When we come together in unity as the body of Christ, no matter our skin color, no matter our background, we fortify the spiritual walls of security for our families and our nation.
Let us be the ones who bring this nation back together.
What questions can we ask ourselves that can affect change?
Who can I partner with in prayer?
How can I serve others who are hurting today?
What can I do to affect change on my section of the wall today?
_________________________________________________________________________
Click here for a schedule of seminar, concerts, and retreats at The Cove in beautiful Asheville, NC.
Are you a Christian church or non-profit ministry looking for a place to hold your conference, retreat or ministry event?  Click here for more information on holding your event at The Cove.
Visit the Chatlos Memorial Chapel, Visitors Center, and Ruth's Prayer Garden. Click here for directions and operating hours. Tours are free.
Follow us on social media.