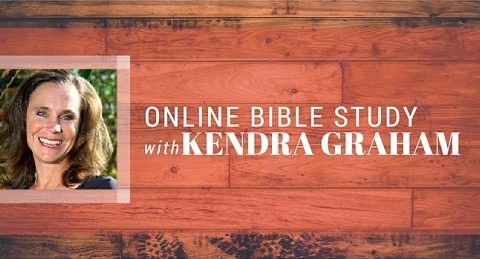 Matthew 13:5, 20-21 (NASB)
Others fell on the rocky places, where they did not have much soil; and immediately they sprang up, because they had no depth of soil.
The one on whom seed was sown on the rocky places, this is the man who hears the Word and immediately receives it with joy; (21) yet he has no firm root in himself, but is only temporary, and when affliction or persecution arises because of the Word, immediately he falls away.
 What Does it Say?
Others fell on rocky places, not much soil, immediately sprang up, no depth of soil. This is the man who hears the Word and immediately receives it, yet has no firm root; when affliction arises, immediately he falls.
What Does it Mean?
Desert survival has been my focus the last few weeks.  This year, the freezing cold winter has been a desert of sorts to me.  I have learned that God is my shade; He has provided for me in the midst of my struggle (link to broom tree).  I have learned that sometimes God wants to grow me in an unforgiving land to allow me to be a shade to others, as He has been to me (link to acacia).  In light of this, my question for this blog changed a bit.  Instead of studying trees and plants that can survive in the desert, I asked the question, "What trees or plants don't survive"?
I've become obsessed with studying the root systems of desert vegetation!  Both the broom tree and the acacia have root systems that drive deep into the earth to find water where seemingly none exists.  Some  acacia trees have been found to have roots 200 feet below the surface; and with the smallest amount of water they can stay fertile and green, producing fruit in a landscape that is unforgiving and brutally hot.  Not every desert tree has this root system.
On August 11, 2017, my home town of Tucson, Arizona, experienced a microburst– a rain storm that comes up quickly, dumping a lot of water in the desert in a very short amount of time.  In just an hour and half, the skies dumped about a half-inch of water on the hard packed earth of the desert, and this water was accompanied by heavy wind gusts.  Eucalyptus trees on the east side of Tucson fell in such dramatic fashion that reports from locals called it a "war zone."  I decided to research a bit about this tree that I grew up seeing peppered throughout my city.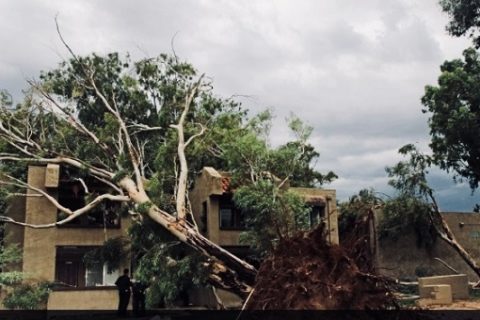 The eucalyptus grows incredibly fast and can grow up to 60 feet in height and 25 feet wide.  It's not uncommon for an eight-year-old Eucalyptus to reach over 18 feet (what a difference from the acacia tree, which takes 20-30 years to grow).  The eucalyptus depends on intentional watering, but can survive on minimal hydration.  This tree will give a luscious, thick-shaded canopy for those desert travelers looking for relief.
A Eucalyptus tree is an impressive sight in the desert: it is more lush than an acacia, and it provides a great deal more shade and cover than a broom tree.  The scented oils from Eucalyptus leaves are quite fragrant.  Who would not be drawn to this tree? Who would not want to be the tall eucalyptus tree that everyone can see for miles and ooh and awe over?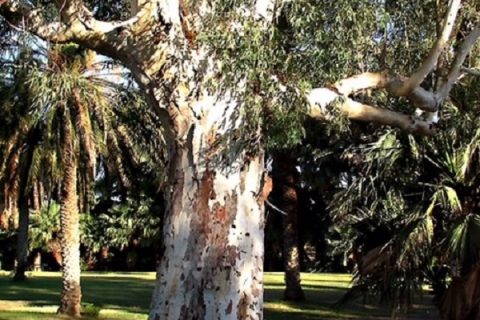 Do not be deceived.  The eucalyptus tree has hidden dangers.  The thick foliage, although beautiful and fragrant, is not just a luxury for the weary traveler. Bee colonies often hide among the greenery and branches, where they thrive and are drawn to make the tree their permanent residence.
The eucalyptus tree has a very shallow root system.  In fact, 90% of the roots of this stately looking tree are found in just the top 12 inches of the rocky desert soil.  Eucalyptus should not be planted near homes or businesses, because the root systems are invasive and can drive into foundations, septic systems and water pipelines. The Eucalyptus tree does what it has to in order to survive; and if that means destroying your family's incoming water supply or outgoing sewage pipeline, then so be it.
Outwardly, the eucalyptus appears strong as an oak; however, if you look deeper into this tree that shoots up with relative ease in the desert, you'll come to find that just a half-inch of rain is enough to  topple this huge tree, which can do some pretty severe damage to nearby people and structures on its way down.  (One planned community in Tucson planted Eucalyptus trees because they were fast growing, lush and made the sub-division look like an oasis in the desert; but after just a few years and thousands of dollars in foundation and septic system damage, the residents paid almost a million dollars in eucalyptus tree removal!) Wise landscapers know that Eucalyptus should be planted far away from homes and buildings because of the potential damage it can bring.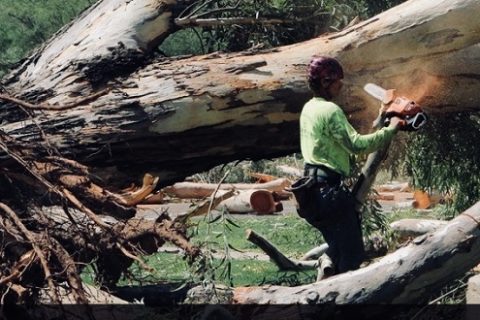 When Jesus tells the Parable of the Soils in Matthew 13, He speaks about a shoot that goes up quickly (Matthew 13: 5, 20-21).  As you read these verses, can you see the eucalyptus tree in that description?  We need to be careful about who we are attracted to in the desert, and we need to be careful about who we ourselves settle on becoming.  The eucalyptus trees in the desert look full and beautiful.  Many people are attracted to them for the fine scent they bring and the full shade they provide, but the hidden dangers have to be taken into consideration.  I think it is so profound that in addition to a shallow root system, there can be hidden colonies of bees in a Eucalyptus tree.  (When the trees fell after the microburst in Tucson, the firefighters could not go near some of the trees until the bees had dispersed.) Even when help arrives for those injured by a fallen Eucalyptus, it can be delayed.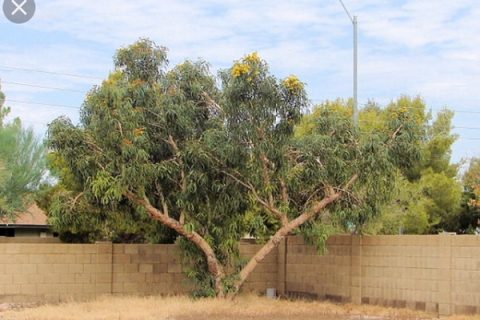 I get it! I want easy.  I want accessible water.  I don't want to drive down 200 feet into the hard  soil to find the ounce of water I need to survive in the desert, but it is that driving deep for the Living Water of the Word of God that will shore up my roots and give me stability when the wind and rain do come with extreme unrelenting force.  We desire for pastors and churches to feed us so we are not wanting a single thing, but perhaps God desires more.  Perhaps God desires for each of us to go deeper, personally depending on Him and His Word–not solely on what others feed us.  Is that a bad thing?  The eucalyptus tree may give a more complete shade, but is it a safe tree to run to?  Will the eucalyptus tree still stand in the storm?  Sometimes looks are deceiving.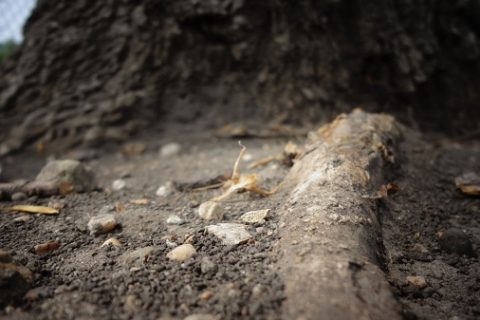 Adversity will come. God allows adversity so that we can see that His Word is true as we hold on through it.  The acacia tree thrives in the water of a flash flood when a foot or more of water rushes through the desert canyons, yet the eucalyptus tree falls with just a half-inch of rain.  Will we stand through the storm and become a shelter for others, or will we fall and damage those around us?  Drive your roots into the Word of God.  Do not be so quick to shake your fist and walk away from a God who loves you and gave His life for you (John 3:16).
Jesus answered and said to her, "If you knew the gift of God and who it is who says to you, 'Give me a drink,' you would have asked Him, and He would have given you Living Water" John 4:10 (NASB).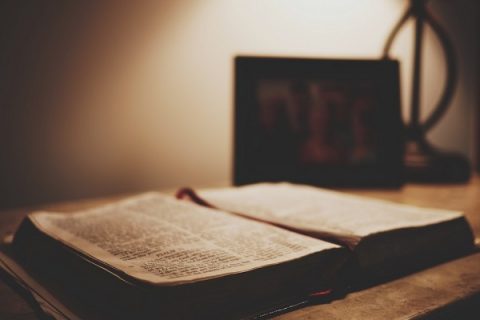 If you are thirsty in this dry and weary land, Jesus beckons you to ask HIM for the Living Water.  Keep driving deep into His Word, so that the roots you have will last through the storm and allow you to be a shelter for others, not a hazard.
What does it mean to me?
What tree describes you?  An acacia or a eucalyptus tree?
Have you ever had the outward appearance of being a tree of strong faith, while your root system was only surface-deep?
How deeply are your roots planted in the Word of God?  Did you start well but fall away when adversity came?  How will you begin today to replant and drive your roots deeper?
LIVE IT OUT
Today I will seek out the Living Water in the Truth of God's Word.  From now on, I will not settle for having a shallow root system. I will dive deep into God's Word, and, with His strength, hold on to Him through the storm.
---
Click here for a schedule of seminar, concerts, and retreats at The Cove in beautiful Asheville, NC.
Are you a Christian church or non-profit ministry looking for a place to hold your conference, retreat or ministry event?  Click here for more information on holding your event at The Cove.
Visit the Chatlos Memorial Chapel, Visitors Center, and Ruth's Prayer Garden. Click here for directions and operating hours. Tours are free.