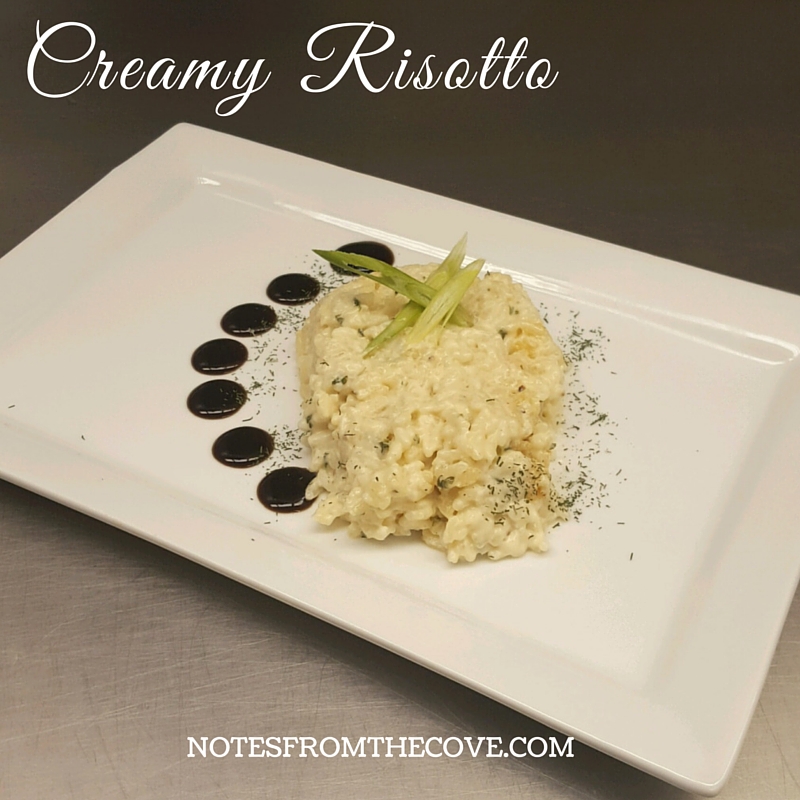 This creamy and satisfying side dish is a guest favorite here at The Cove!
Risotto is very versatile, and goes well with lots of different dishes. Add in wilted spinach, cherry tomatoes, pesto, or cooked crab meat for a more creative dish!  Risotto is paired well with chicken or steak and is delicious with asparagus.
We have a free printable version of the recipe found at the bottom of this post.
Creamy Risotto Recipe
(4 servings)
3 tablespoons unsalted butter
2 cloves garlic, minced
1 small shallot (or 1/4 onion), chopped
1 cup Arborio rice
2 cups chicken stock or cold water
¾ cup heavy cream
½ cup grated Parmesan
Salt and pepper to taste
Melt butter in a medium skillet over low/medium heat.  Add garlic and shallot and sauté for 2-3 minutes.  Add Arborio rice and sauté for an additional 3-4 minutes or until shallots are tender.  Pour in chicken stock (or water) and bring to a boil and simmer on medium heat. Do not cover and stir occasionally. Continue to add stock (or water, as needed) as rice cooks until it becomes tender and liquid begins to absorb.  This can take 10-20 monutes. Stir in heavy cream and Parmesan cheese once rice is cooked.  Incorporate salt and pepper to taste.
Enjoy!  Let us know how you like it!
To find additional recipes from The Cove kitchen click here.
Enjoy delicious recipes like this on your next stay at The Cove. Click here to see a full list of upcoming events at The Cove or contact our Guest Group Department to book a group retreat.