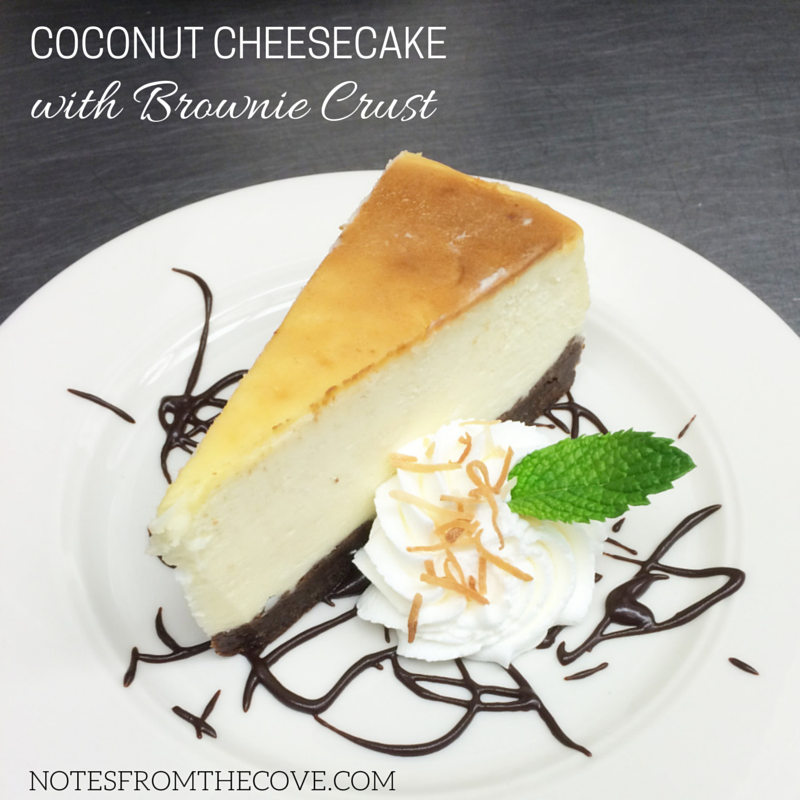 At The Cove, we are blessed with amazingly gifted chefs with a heart to serve God. Today, our pastry chef, Natalie, shares her recipe for Coconut Cheesecake with Brownie Crust. Delicious!

Coconut Cheesecake with Brownie Crust
Served at The Cove
Makes 1 – 9 inch pie, 6-8 servings

Ingredients
Brownie Crust:
3/4 cup all-purpose flour
6 tablespoons unsalted butter
3/4 cup sugar
2 eggs
1/3 teaspoon baking powder
1 teaspoon vanilla extract
½ cup plus 2 tablespoons semi-sweet chocolate chips
Combine flour and baking powder and set aside. Melt butter and chocolate together over a double boiler. Whip eggs with the sugar until thick and light in color. Fold melted butter and chocolate into eggs. Gently stir in the flour. Pour into a 9 inch round cake pan that is lined with parchment paper and greased. Bake at 350 degrees for 10-15 minutes or until toothpick comes out with wet crumbs.
Coconut Cheesecake:
2 pounds cream cheese
1 cup plus 2 tablespoons sugar
1 teaspoon salt
5 eggs
1 egg yolk
1/2 cup coconut milk
1 tablespoon vanilla extract
1 cup shredded coconut
Directions: Mix cream cheese on medium speed with a paddle until smooth, scraping the bowl several times. Reduce speed to low and add sugar and salt. Mix until smooth, scraping the bowl. Add eggs and egg yolk one at a time, scraping the bowl well after each addition. Stir in the coconut milk and vanilla. Stir in shredded coconut. Pour batter over baked brownie crust. Bake at 325 degrees, in a warm bath, for 45 minutes-1 hour or until center is almost set. Immediately run a knife around the edge of the cheesecake crust and cool completely in the water bath before refrigerating or freezing.
Enjoy other recipes from The Cove kitchen here.