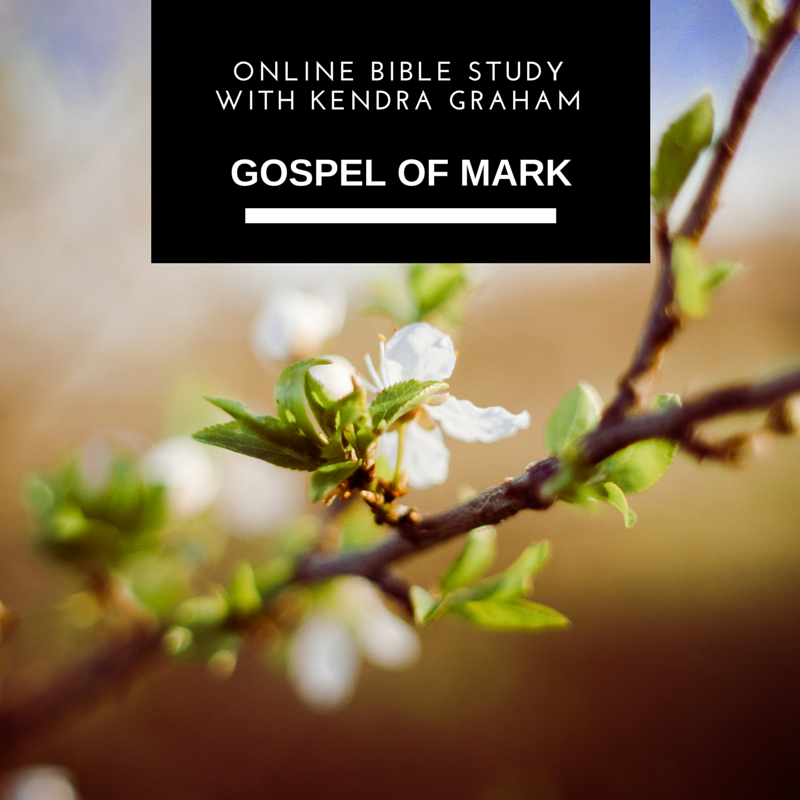 Welcome to Kendra Graham's online Bible study.  This is a place where we can come together and share in our journey towards Scriptural truths and spiritual maturity.  We pray this will be a safe, respectful, resourceful place to come and discuss God's Word…to discover What it says…What it means…and What it means to you!
Kendra Graham notes from Mark 16:4-8
WHAT DOES IT SAY? THE FACTS ONLY PLEASE.
In this step you need to list the outstanding facts of the passage. DON'T get caught up in the details, just list the facts. Do not paraphrase. Use the actual words of the passage. This is God's Word, a lot of times this step seems tedious to some, but I urge you, as we read, and say and write God's Word, it begins to sink deep into our hearts. If you just pick one fact out of the verse, write it down and meditate on it.
FACTS:
Verse 1: Mary Magdalene, Mary the mother of James and Salome brought spices to anoint Him.
Verse 2: Very early they came to the tomb.
Verse 3: They were saying, "Who will roll away the stone for us at the entrance of the tomb?"
Verse 4: Looking up, SAW the stone rolled away.
Verse 5: Entering the tomb they SAW a young man sitting wearing white, they were amazed.
Verse 6: He said "Do not be amazed you are looking for Jesus crucified, He has risen, He is not here, here is the place they laid Him.
Verse 7: GO tell His disciples, "He is going ahead to Galilee, there you will see Him just as He told you."
Verse 8: They went out, fled, trembling, astonishment gripped them, they said nothing, they were afraid.
WHAT DOES IT MEAN? THE LESSONS.
Look for a lesson to learn from each fact. What are the people doing that they should be doing? What are the people doing that they shouldn't be doing?
Is there a command to follow? A promise to claim? A warning to heed? An example to follow?
LESSONS:
Verses 1 & 2: We come expecting to see Jesus where we put Him. We put Jesus in church on Sunday, or in our prayers when everything is falling apart and we need a super hero, or in our complaints when things don't go the way we asked them to go. We expect to see Jesus where and when we need Him. We need to be willing to look for Him where He is,  not where we expect Him to be. Jesus is always found in His Word!
Verse 3: Resurrection was not even a consideration in the midst of these women. Don't we tend to be blown away by the miracles of God?  We say things like, "I can't believe God came through here, in such a huge way", instead of expecting the God of miracles to show up BIG. I am so guilty of this. I believe God can do miracles, don't get me wrong, I just don't believe a lot of times that He will do them for me, but He does! Oh that we press in so we don't miss them!
Verses 4 & 5: Jesus could pass through solid objects after His resurrection, so they saw with their eyes, the stone rolled away… the stone was not rolled away for the sake of Jesus to let Him out, the stone was rolled away for the sake of the women, so they could see with their eyes inside that tomb. Sometimes we believe because we see. God knew it was very important for these women to see that tomb was empty. This emptiness was going to rock their world,  just when they thought Friday was unbearable. Now Sunday  is proving to bring an emptiness and fear they did not imagine, but how often would they recount that moment in the future and cheer because of what they found at this moment. This moment of doubt and fear would become a lifetime of strength and encouragement. Press in when we don't understand what our eyes are seeing.
Verses 6 & 7: We celebrate Easter year after year, the resurrection of Jesus, but as we look into the lives of these women, the women closest to Jesus, we are reminded of just how difficult and implausible the moment, in the moment,  there was no celebration here at the time. Don't miss that! Jesus is not scolding or hiding from these women, because they have forgotten His Word and His promise to rise again.  An angel was there to invite and remind these women to go where Jesus is,  proving His Word is true & even in times of doubt Jesus can be trusted. #compellingcompassion Come see Jesus where He is. The invitation is open. We often just don't like the circumstances that cause us to look for Him. Press in. Hear, see, look, listen… go.
Verse 8: The reactions of these women were fear, confusion and unbelief. In their fear, they didn't speak back to the angel, but they did go. Trust God, take Him at His Word, even when you don't understand and you are full of fear, overwhelmed, and want to hide. Don't end your story with fear to act.
WHAT DOES IT MEAN TO ME NOW? APPLY IT…. TODAY.
Take the lessons you learned and put them into the form of a personal question that you would ask your spouse, or a friend or your son or daughter.
As you write the questions, listen for God to communicate to you through His Word.
*Do not rush. Do not write things down just to have something on paper, this step takes more time that you may think.   This is where Scripture meditation becomes real, this is where you begin to hear that still small voice speak to you, and place His finger in your life and begin to direct your paths…. this day, and the next, and the next. Do you trust Him enough to put into place that which He is moving you to?
Verses 1 & 2: When have you been frustrated because Jesus didn't show up when you needed Him most? Or Jesus showed up, but not in the way you thought you needed? Are you willing to seek Jesus on His terms where He is asking you to come? Or do you want to see Jesus on your terms where you think you need Him to be?
Verse 3: Have you missed the miracles of God in your life? Will you take a moment and recount the miracles God has done for you? Have you ever had a time in your life where in the moment you begged and begged God to change the situation, only to look back now and be thankful that He didn't change things your way?
Press in to these moments of doubt and fear. The very thing that they thought was destroying them at the moment would be the thing that strengthened them in the future.
Verses 4 & 5: When has your world been rocked so hard that you wanted to run and hide instead of press in and face things?  Why is it so hard to press in?  What miracles am I missing because I don't press in to the end?  Like Peter walking on that water, are you consumed with the wind and the waves of a situation when you just need the strength to see Jesus in the middle of it?  Don't give up. Press in here.
Verse 6 & 7: Are you looking for Jesus where He said He is, or are you demanding and angry that He is not where you want Him to be?
Verse 8: What is your story? Have you pressed in, in spite of your fear and confusion or have you turned your back and given up with a miracle perhaps right on the verge of becoming a reality? What miracles have we missed because we turned away?
LIVE IT OUT!
Hold yourself accountable to LIVE OUT in your daily life that which God impresses upon your heart. Write it out, sign it, date it and claim the transforming power of God's Word and His presence in your life.
Press in when you want to run out. Determine where God is leading me to press in, in spite of pain, worry, count and confusion, get in God's Word and hold on to who He says He is and what He has called you to.
Homework: 2 Corinthians 5:7

Get stuck? www.annegrahamlotz.com and Anne will walk through the Three Questions with you and help you along!