Welcome to Kendra Graham's online Bible study! This is a place where we can come together and share in our journey towards Scriptural truths and spiritual maturity. We pray this will be a safe, respectful, resourceful place to come and discuss God's Word—to discover What it says, What it means, and What it means to you!
To make sure you don't miss a post, just enter your email in the "Subscribe Via Email" box on this blog (on the side of the page on desktop, or at the bottom on mobile). It's free and you'll receive these posts straight to your email inbox.
KENDRA GRAHAM'S NOTES
FROM HEBREWS 12:1-2
Hebrews 12:1-2 (NASB)
1

Therefore, since we have so great a cloud of witnesses surrounding us, let us also lay aside every encumbrance and the sin which so easily entangles us, and let us run with endurance the race that is set before us,

2

Fixing our eyes on Jesus…
What Does it Say?
We have a cloud of witnesses surrounding us.
Let us lay aside every encumbrance and sin which entangles and run with endurance, the race before us.
Fixing our eyes on Jesus.
What Does it Mean?
This past week has been difficult, to say the least. I knew the passing of Billy Graham was on the horizon; but on the same note, I thought "Daddy Bill" (my husband Will's grandfather) would always be here. My heart is sad, and hopeful, and at the same time overwhelmed and joyous.  There are so many conflicting emotions swirling around inside. Our final evening Bible study of 2018 took place last week, and the last message brought from the Word of God at The Cove before we received the news of Daddy Bill's home-going keeps rolling around in my soul.
Therefore, since there is such a great cloud of witnesses surrounding us… We forget that, don't we? We tend to get trapped into the thought that what we are doing doesn't matter and has no kingdom impact; but that, my dear talmid, is a lie.  What you do does matter.  How you RUN this race does matter.  It does matter that you are faithful and that you follow the Rabbi—that you are covered in the dust of Rabbi Jesus.
If there is anyone who has demonstrated a determination to be faithful to Jesus and the Word of God, it is Daddy Bill. I, of course, had the honor of being able to spend time with him in his home and at family dinners. There was never a time when you visited with Daddy Bill that he would not with #Boldness proclaim the Word of God and share how God's Word was continuing to transform his life.
FAITHFUL
Faithfulness cannot be attributed to a person until their race is done. Faithfulness takes, first of all, a daily decision to RUN.
RUN!  What has sidelined you?  An impossible situation?  Marah (bitterness) in your heart towards God? An ailment, like that of Blind Bart? (See Mark 10: 46-52.) A calling you don't want to embrace?  That scarlet letter you've been wearing? Do not let anyone pour water on the fire in your soul that was started by the Word of God! Do not allow the enemy of God to steal, kill and destroy your purpose!  If the enemy cannot steal your soul, he will steal whatever else he can, and often it's the impact and purpose belonging to the people of God.  The purpose that you have been created for is LIFE and LIFE abundantly, so LIVE!
How do we determine to be faithful?  We can be assured of faithfulness if daily we decide to fix our eyes on Jesus. It's so hard in this ADHD world to fix our eyes on one thing—there is so much that glitters out there, but come! Come daily, dear talmid, and fix your eyes on Jesus in His Word. Daily faithfulness is a daily choice.  RUN!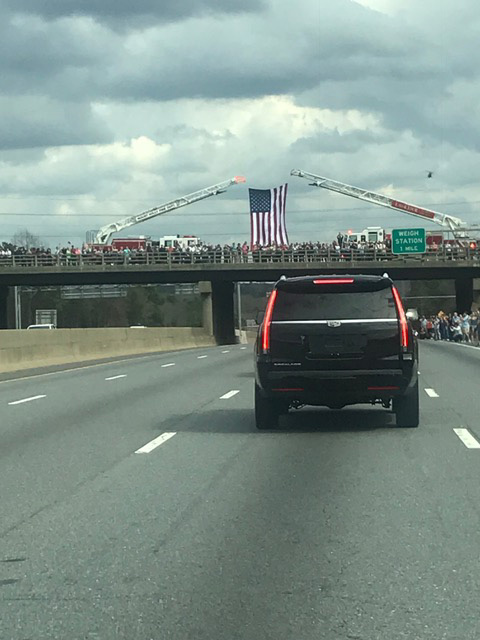 The motorcade on Saturday was absolutely beyond words. As Daddy Bill's body left the Cove that day, loaded in the hearse to begin the journey to his childhood home of Charlotte, North Carolina, the streets were lined with witnesses.  Tears streamed down my face, and the memory still chokes me up. There were signs with messages like #FINISHEDWELL and salutes from onlookers …. all the way to Charlotte! If that motorcade had gone through every state, I dare say each one would've told the same story. There is a cloud of witnesses and millions more on YouTube, TV and social media.  
 IT MATTERS THAT YOU RUN
You have no idea the impact of one faithful person. Daddy Bill ran the race before him. He ran his race and no one else's. It is just as important that you run your race! Often someone else's race may look more prominent or impactful, but that is simply not true. Your race matters. You have no idea the impact you may have on another life. Perhaps just as many people are impacted by YOUR race as those crowds I saw on Saturday. But God, being gracious and understanding your human propensity towards pride, keeps it hidden from even you!
This summer I met a girl playing soccer at a university in Nashville, Tennessee. When asked what she wanted to do, she shared that the desire of her college-age heart was to share Jesus through worship. I spent just ten minutes with her, but the fire in the soul of that freshman soccer player kept the fire in my soul burning. Yet although this sweet young lady had such fire, she admits she is struggling to keep the fire going. I spoke with her again in January, and she told me that she knew she felt called to impact; yet she has not had the impact she anticipated. That's when I told her she had impacted me. I believe this young believer is struggling to overcome—holding on to an ember of that original fire. I hope and pray she keeps running. She is at a crossroads—her testimony is yet to come.
 You never know where your fire will catch, or how your fire will help someone else continue in faithfulness, so run! RUN, and don't give up. Hold on to the promises in the Word of God.
RUN… 
You may not have started out well. You may have stumbled along the way.  Please listen to me here: It is not too late! Come! Get into the Word of God and #LIVEBOLD!  The biggest barrier to finishing well, like Daddy Bill has, is that it takes this kind of fight to persevere and endure.
RUN, and determine to endure to the end—finishing the race without anything left, because it matters.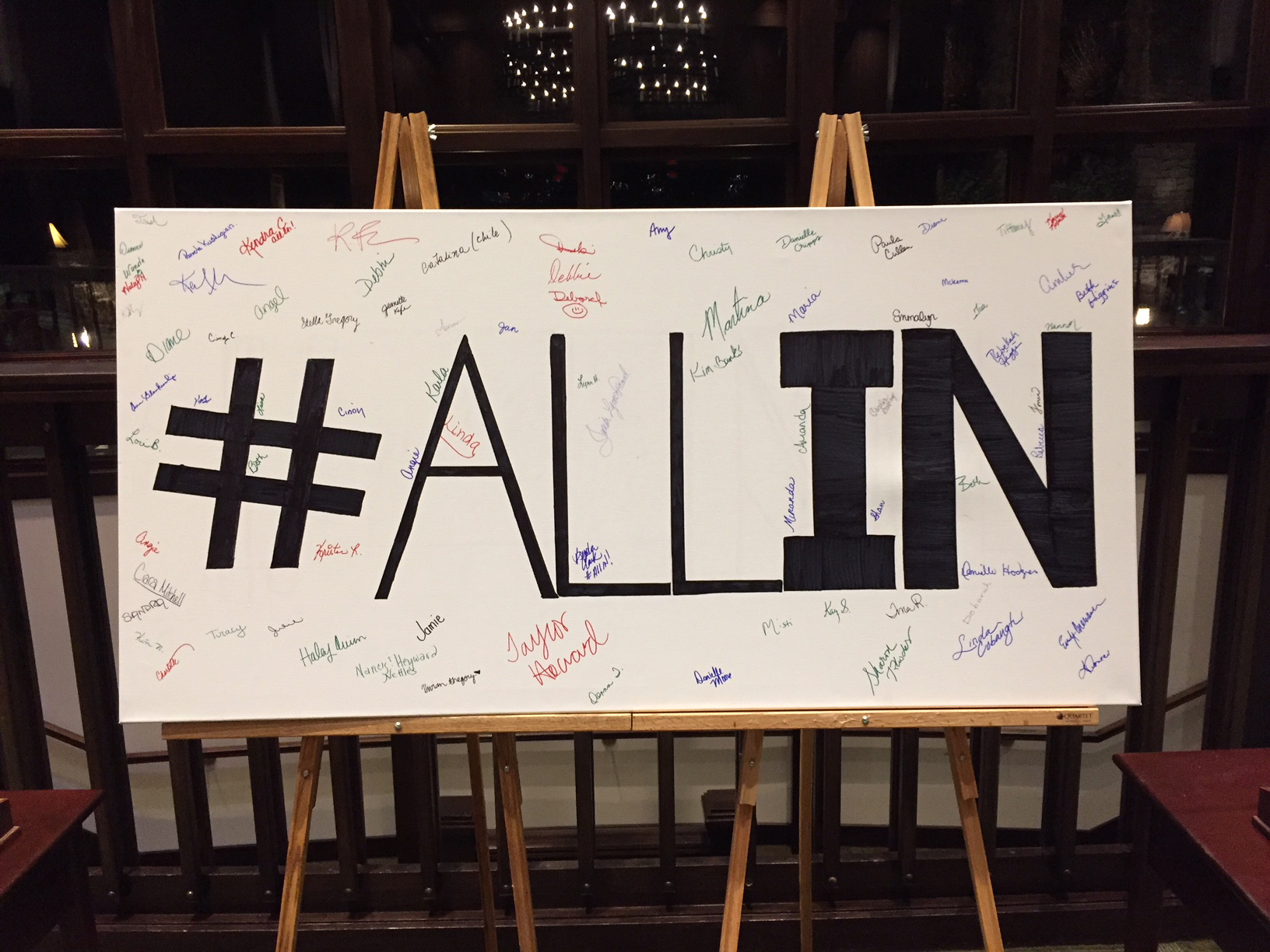 What Does it Mean to Me?
 Am I running with endurance, #BOLD, or am I hiding amid spectators in the stands, hoping to go through unnoticed, missing the impact God has created me to have?
LIVE IT OUT
RUN!  RUN to the Word of GOD every morning. RUN, following the Word of God throughout the day.
Click here to view my Bible study message from last Tuesday, February 20, at The Cove.  I pray it charges up your soul to finish well today, and the next, and the one after that.
My heart's desire is that all of us together can #LIVEBOLD unfiltered lives, impacting this world with the Gospel of Jesus.  Let's RUN together, covered in the dust of the Rabbi.
–Kendra
If you do not know Jesus and are ready to lay aside your sin and fix your eyes on Him,  please click here to learn more:  Steps to Peace With God.
---
All of Kendra Graham's Bible study messages from the last seven weeks are available at  Periscope @TheCoveNC . To order CDs or an MP3 of these messages, call Ruth's Attic Bookstore at The Cove: 828-771-4800, option 3.