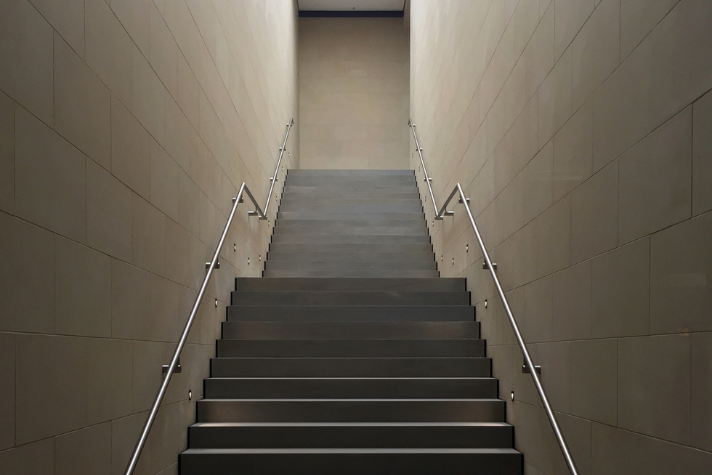 Flights of Thankfulness
"Give thanks in all circumstances; for this is God's will for you in Christ Jesus."
-1 Thessalonians 5:18
As believers in Jesus Christ, we are to give thanks. Joy should be a basic mark of our lives, no matter what circumstance or situation we may face.
Growing up we lived in an apartment building in just outside New York City. It was in a lower income neighborhood, where people were doing the best they could to make a living. The apartment we lived in was an older structure with an old rickety elevator. Honestly, as a child, I'd often be afraid of taking that elevator. I can't even begin to tell you how many times we got stuck in it, or it would stop in between floors.
Sometimes the elevator would shake uncontrollably, and on hot summer months, the elevator would often not work.
I can remember several times, during those hot summer months, coming back from school with my dad, and his guide dog Juno, only to find out that the elevator was not working. At this point, my Dad's health had deteriorated. We lived on the third floor. With the heat and his condition, it made it impossible for him to climb the stairs. Often, we'd have to call the fire department who would then carry my dad up three flights of stairs. I remember watching my dad's face. I remember seeing tears in his eyes, apologizing to the firefighters and thanking them for his help. It had to have been frustrating and embarrassing.
My dad, being blind and not being able to walk up the stairs in the blazing heat, seemed out of his control, as well the elevator being broken.
You could look at that situation and think things are just not going your way.
But I also remember that every time he got up the stairs, my dad would profusely thank the firefighters. My dad thanked God for helping him through that tough situation. And I always remember—every, single time it happened — how my Dad would turn to me and give me a great big hug and tell me how proud he was of me for helping and how much he loved me and how thankful he was that I was there. I couldn't have been more than 6 or 7 years old at the time.
The truth is—things may not always go your way. But Paul tells us to be thankful in all circumstances. ALL. That means we need to be thankful in not just the good times, but in the tough times as well. We need to be thankful when things appear to not go our way. Through those tough times, God is molding us and making us stronger and wiser and more compassionate.
I want you to think of my dad, who, I know, would wrap his arms around you. I picture him saying to you lovingly, "It's ok.  I've been there. Things will get better.  Why?  Because God loves you so much."
Prayer: Father, thank You that You love us so much. Sometimes, we don't understand why things happen – things and situations that seem unfair. But today, we make the choice to praise You and thank You – as You are a good and loving Father, and we know that You are working all things out for our good. Strengthen us, guide us, encourage us today, in Jesus' name we pray. Amen.
We hope and pray this encourages you and, please know, we are praying for you!
Christine Batchelder