We have a modern-day psalmist on our hands:  Quinn Graham, Will Graham's son and Billy Graham's great-grandson, has written a special  psalm to share. This one, entitled "The Miracles He Does" is a great reminder that God still performs miracles if we just have faith and believe.
The Miracles He Does
Part I
The miracles He does are amazing
Anything can happen when you have God with you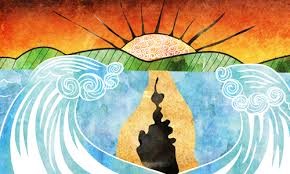 God can split a sea in half for you to walk across
He can make food fall from the sky
He can make a rock have a stream of water flow out
He can make a giant fall
He can make water into wine
Nothing is impossible when you believe in Him
Part II
Not all miracles are visible
For He can heal the unhealable
Or fix the unfixable
He can change a person's life completely
He can save a person
God isn't visible at all
But you can see His effects
And know that He is there
Think about wind and how it is invisible
You see the effects of the wind
And know that the wind is there
Not all things can be seen
You just have to believe that He is there.
---
Click here for a schedule of seminar, concerts, and retreats at The Cove in beautiful Asheville, NC.
Are you a Christian church or non-profit ministry looking for a place to hold your conference, retreat or ministry event?  Click here for more information on holding your event at The Cove.
Visit the Chatlos Memorial Chapel, Visitors Center, and Ruth's Prayer Garden. Click here for directions and operating hours. Tours are free.