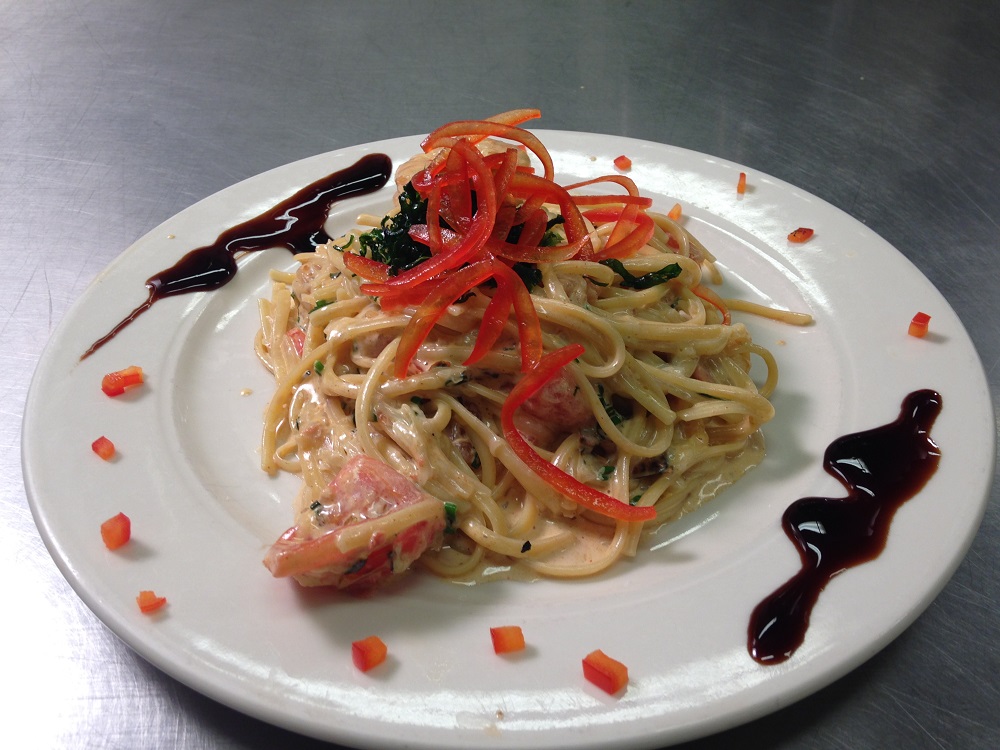 This dish is sure to bring smiles to your table! We guarantee that you will love this Linguini with Fire-Roasted Cream Sauce and Tiger Shrimp recipe prepared by Executive Chef Douglas Walls here at The Cove. 
Watch here as Chef Walls expertly shows you how to prepare this delicious meal for your entire family to enjoy!

Linguini with Fire-Roasted Cream Sauce and Tiger Shrimp
(Serving Size: 2)
Ingredients:
3-4 Tbsp. unsalted butter
1 garlic clove- finely chopped
1 shallot-finely chopped
1/4 of red bell pepper- diced small
8 tiger shrimp
1 Tbsp. paprika
Salt & pepper to taste
1 tomato- roasted and roughed chopped
3 fresh basil leaves- chopped
12 oz. cooked linguine
1-2 Tbsp. scallions
1/2 cup heavy cream
Parmesan cheese
Directions: Prepare linguini pasta beforehand, and cook to al-dente. Heat shallow pan on high heat and add butter to melt. Add shallots, bell pepper and garlic. Sauté about 1 minute to soften. Add tiger shrimp to pan and add paprika. Heat shrimp through. Add roasted tomato and chopped fresh basil. Once shrimp is fully cooked, add cooked linguini and scallions. Toss to heat through. Once heated, add heavy cream to pan. Reduce cream and finish with Parmesan cheese. Garnish with basil and bell pepper.
Serve and enjoy!
For Roasted Tomato: Cut tomato in half and grill on both sides until roasted. Roughly chop.
Don't miss a post from our blog! Enter your email in the box below and you'll be notified of new posts in your inbox.
Visit our website here.