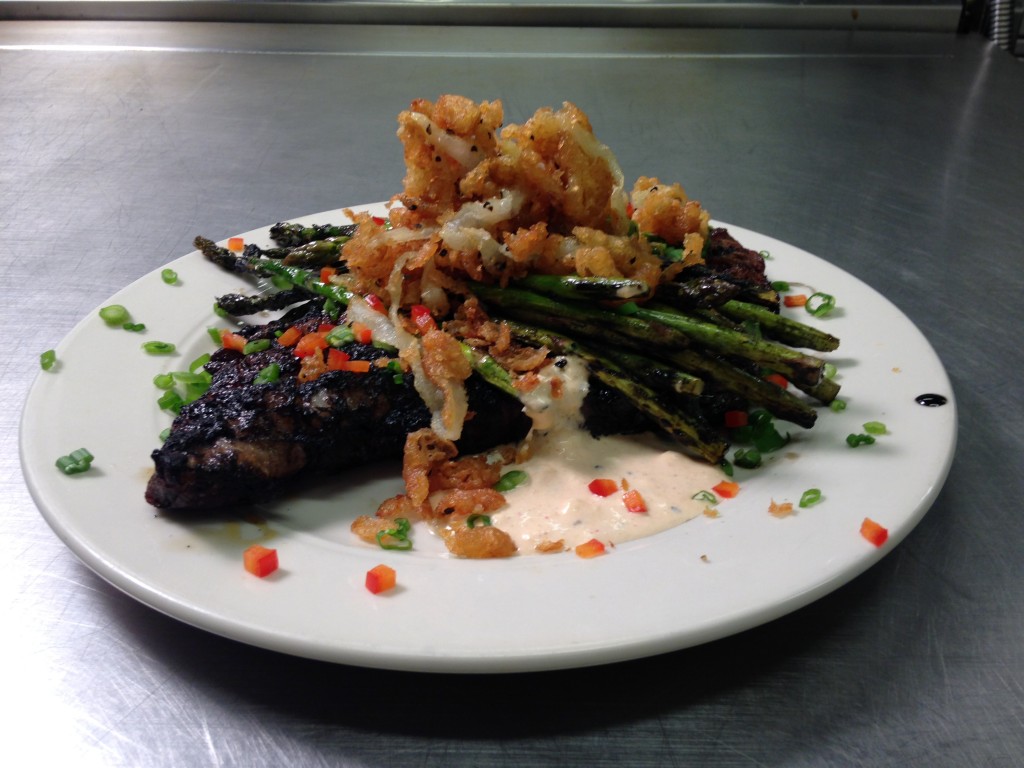 It's grilling season and whether you are a coffee drinker or not, you will LOVE this Coffee Crusted Grilled Rib Eye Steak recipe prepared by Executive Chef Douglas Walls here at The Cove.  
The Lemon Roasted Asparagus recipe and Sriracha Horseradish Sauce add the perfect touch of freshness and zip to finish off this delicious dish.   
Watch here as Chef Walls expertly shows you how to prepare this great summertime meal.    
Coffee Rubbed Grilled Rib Eye Steak
(Serving Size: 1) 
8 oz. rib eye steak
1 Tbsp. ground coffee
1/2 Tbsp.  paprika
1/2Tbsp.  light brown sugar
1/2Tbsp.  ground mustard
1 tsp. granulated garlic
Salt & Pepper to taste.
Mix dry ingredients and rub on both sides of steak.  Grill steak on a hot grill for 3 minutes on each side.  Let steak rest for 5 minutes to allow juices to redistribute.  Enjoy!
Lemon Roasted Asparagus
(Serving Size: 1)  
1/2  bunch of fresh asparagus
2 Tbsp. lemon juice
2 Tbsp. extra virgin olive oil
1 tsp. chopped garlic
Salt & Pepper to taste.
Place asparagus on baking sheet.  Mix ingredients well to coat asparagus.  Place in 375 degree oven and bake for 10 minutes.  Just before removing your steak from the grill, throw asparagus on the grill for a minute or two.
Sriracha Horseradish Sauce 
2 Tbsp. mayo
1 Tbsp. sour cream
1 tsp. chopped garlic
1 tsp. Sriracha
1 tsp. of prepared horseradish
Dash of black pepper and salt.
Mix ingredients together well.  Drizzle desire amount over steak and asparagus.
Come stay with us at The Cove and enjoy wonderful meals such as this while attending one of our seminars, personal spiritual retreats or guest group retreats.  Click here to visit our website.