Did you know that Cove Executive Director, Will Graham's, favorite Cove dessert is banana pudding? Well, our pastry chef, Natalie, is sharing her delicious recipe today. We hope you will enjoy as much as Will and our guests do.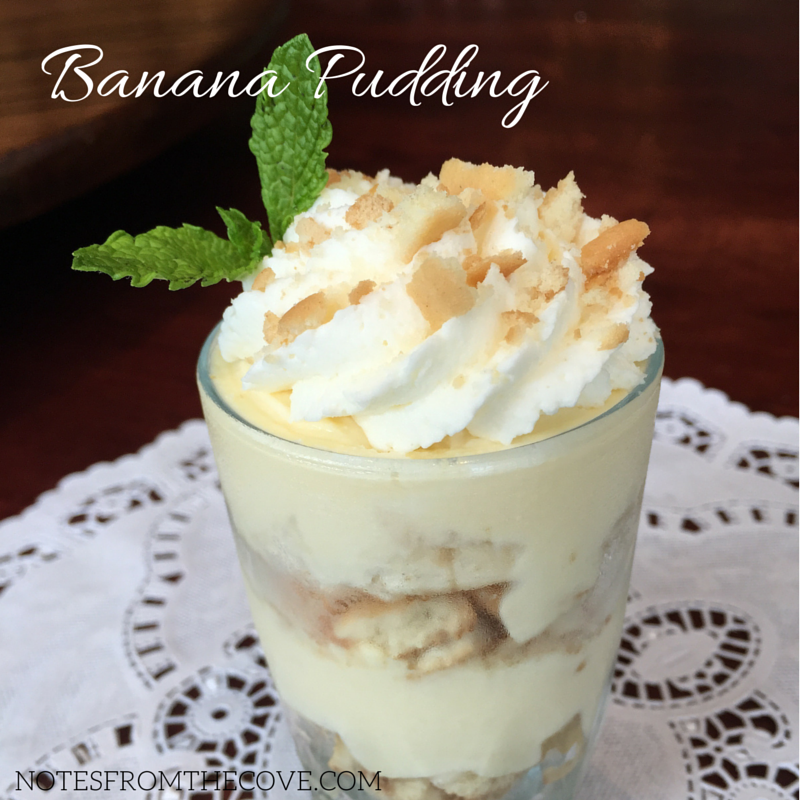 Banana Pudding
Served at The Cove
Makes 4-6 servings
Ingredients
1 package (3.4 oz) instant vanilla pudding mix
1 cup whole milk
7 oz sweetened condensed milk
½ tablespoon lemon juice
1 teaspoon vanilla extract
8 oz heavy cream
2 tablespoons powdered sugar
Vanilla Wafers
Bananas, sliced as needed
Extra sweetened whipped cream as needed for topping
Whip the heavy cream and powdered sugar into soft peaks. In a separate bowl, whisk together the whole milk, condensed milk, lemon juice and vanilla extract. Slowly whisk in the pudding mix and continue whisking for 2 minutes. Fold the whipped cream into the pudding mixture 1/3 portions at a time. In the bottom of a 9 x 9 casserole dish, spread an even layer of vanilla wafers. Spread sliced bananas on top of wafers. Spread half of pudding mixture over the bananas. Repeat wafers, bananas, and pudding.
Top with sweetened whipped cream. For best results, make 1 day ahead and chill overnight.
Find additional recipes from The Cove kitchen.
Enjoy delicious recipes like this on your next stay at The Cove. See a full list of upcoming events at The Cove or contact our Guest Group department to book a group retreat.