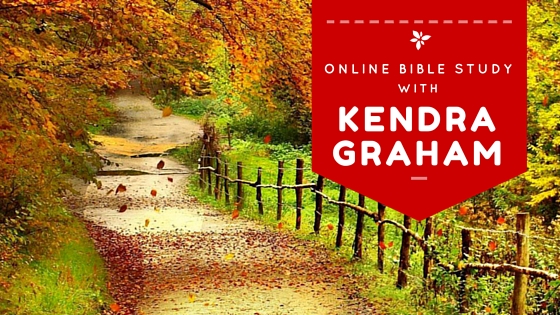 Welcome to Kendra Graham's Online Bible Study! This is a place where we can come together and share in our journey towards Scriptural truths and spiritual maturity. We pray this will be a safe, respectful, resourceful place to come and discuss God's Word…to discover What it says…What it means…and What it means to you!
Make sure you don't miss a post, just enter your email in the "Subscribe Via Email" in the upper left hand corner of our blog. It's free and you'll receive these post straight into your email inbox.
Kendra Graham notes from Isaiah 42:16.
WHAT DOES IT SAY? THE FACTS ONLY PLEASE.
In this step you need to list the outstanding facts of the passage. DON'T get caught up in the details, just list the facts. Do not paraphrase. Use the actual words of the passage. This is God's Word, a lot of times this step seems tedious to some, but I urge you, as we read, and say and write God's Word, it begins to sink deep into our hearts. If you just pick one fact out of the verse, write it down and meditate on it.
FACTS :
I will lead in paths they do not know.  I will guide.  I will make darkness into light. Rugged into plains. These are the things I WILL DO. I will not leave undone.
WHAT DOES IT MEAN? THE LESSONS.
Look for a lesson to learn from each fact. What are the people doing that they should be doing? What are the people doing that they shouldn't be doing?
Is there a command to follow? A promise to claim? A warning to heed? An example to follow?
LESSONS:
If you have children of school age, then this is the time where there is hustle and bustle like no other.  The beginning of school… the beginning of homework, projects, club sports, school sports…the impossible schedule begins.  I'm three weeks in, and I'm six weeks behind.  Time to take a deep breath.
I have three children…well, my oldest is now a young adult and the middle one is a tween and then there is the "upper, lower school" 4th grader… All three kids are in different schools, and not just lower, middle, and high school–they are in three separate school systems with three separate school schedules and calendars–just to simplify my life, you know?
Reading this verse in Isaiah today brings such comfort.  One thing is for sure, I have desperately sought God and prayed extensively about where my children need to attend school.  God has taken me by a way I do not know.  I would have never chosen this on my own.  God leads us.  God leads me to the places He is, places He wants me to go, not the places I think are logical, or that fit in my routine, or make sense to me at all.  We are truly as good as the blind when it comes to trying to guess where God is calling us and what it really looks like.  God may give you or me a vision, or a calling, but the "where" and the "who" that calling is to, will always take us by surprise.  We try to guess, we try to assume, but usually the way He wants to take us is full of obstacles and impossibilities or full of push back on our part because it's not where we want to go.
Blind people have to trust in the one leading them as they clasp the arm and implicitly follow the one with sight.  We need to trust in the One leading us.  I may not see the reasons now or ever, but need to trust that God has me and will never lead me to where He isn't, but only to where He is.  Trust… God will make the impossible journey, possible.  I don't know how it will work out,  I am asked to trust, to actively place my faith in God evidenced by my personal obedience.  God will do it.  God will do it all and not leave it undone.  Isn't that great?  God doesn't get in too deep and then bolt from the situation and leave us to figure out how to get out.  God is the God of completion (Philippians 1:6:  Being confident of this very thing that He who started a good work in you will complete it until the day of Jesus Christ.)
When asking God recently while I was driving to and fro from the various schools, why three places all across town, and how exactly He was going to work all this out all year, the Lord spoke to my heart and said, "I have blessed you indeed, I have enlarged your territory, My hand is with you. (I Chr.4:10).  I replied, "I don't remember asking to enlarge my territory, or bless me like this." My heart was stirred as God brought me to this verse in Isaiah.  God will make the rugged place plains.  I don't know how or why, but I pray He will enable me to be faithful in the territory to the people to which I am called.
We have our own idea of the paths we want God to lead us to.  Perhaps it is time that the people called by His name, start trusting the ways and places God Himself wants to lead.  We would never guess where they are or to what they lead to, but be assured, God is in charge of making the hard places traversable, and the dark places light, it's what He does, it's who He is.  Oh! The Places He leads…. if only we can have the faith of a blind man! 
WHAT DOES IT MEAN TO ME NOW? APPLY IT…. TODAY.
Take the lessons you learned and put them into the form of a personal question that you would ask your spouse, or a friend or your son or daughter.
As you write the questions, listen for God to communicate to you through His Word.
*Do not rush. Do not write things down just to have something on paper, this step takes more time that you may think. This is where Scripture meditation becomes real, this is where you begin to hear that still small voice speak to you, and place His finger in your life and begin to direct your paths…. this day, and the next, and the next. Do you trust Him enough to put into place that which He is moving you to?
Are you asking God where He wants to lead you, or are you begging God to lead you in the places you have figured out?
Where has God led you today?  To what co-workers? Children? Patients? Friends? Sickness? Hardship?  Where has God led you to show you more of Himself and who He is?
LIVE IT OUT!
Hold yourself accountable to LIVE OUT in your daily life that which God impresses upon your heart. Write it out, sign it, date it and claim the transforming power of God's Word and His presence in your life.
Today, Lord, open my eyes as I follow You on the path you have set before me.  Allow me to see You today in the places You lead.
*Please note: Kendra will no longer assign specific homework for this study.  Instead, she will highlight Scripture and lessons that God gives to her, personally, each week in relation to her everyday life.  She will still use the Three-Question approach and recommends you do the same.  Kendra would love to hear what Scripture is speaking to you at this season in your life.  Please leave your thoughts in the comments section below.
Get stuck? www.annegrahamlotz.com and Anne will walk through the Three Questions with you and help you along!