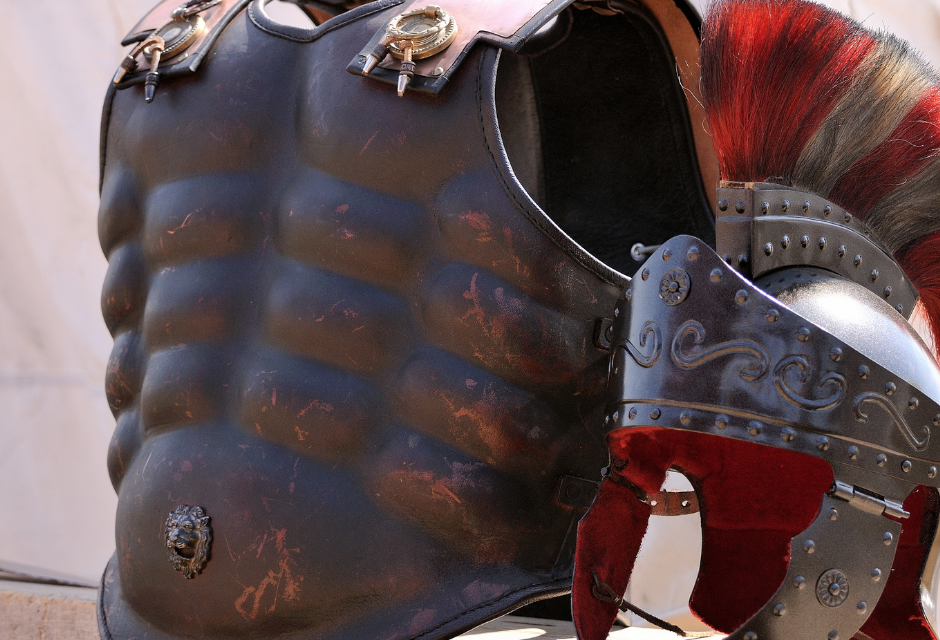 GUARD Your Heart
Stand firm then, with the belt of truth buckled around your waist, with the breastplate of righteousness in place… Ephesians 6:14, NIV
Did you know your heart beats about 115,000 times and pumps 2,000 gallons every day?
Physically, your heart is vital. Your heart is also critical to your emotional and spiritual health. Proverbs 4:23, "Above all else, guard your heart, for everything you do flows from it."
Above. ALL. Else.
We are continuing to look at the Armor of God found in Ephesians 6. Guard your heart fiercely by putting on the next piece of armor — the BREASTPLATE.
Once a Roman soldier fastened his belt, he would then strap on his breastplate. The breastplate — a large bronze shield, covered his midsection from the soldier's neck to his thighs. The purpose—to guard vital organs — especially the HEART. Without the breastplate, a soldier was vulnerable to attacks. It could mean the difference between life and death.
Guard your heart.
I can remember when my heart was so broken. For years and years, I had been praying for God to send my husband. It seemed like I was never going to get married. I had dated, but it never seemed to work out. My heart always got so broken — shattered into tiny pieces. I'd watch as friends got engaged and married and I would cry out to God, "Where is he?"
Then, I prayed one day for God to protect my heart. I remember letting go. I literally extended my hands and told The Lord I was giving Him my heart to guard. I gave Him all my broken pieces and said, "Lord, I trust you. Please guard and protect my heart. I'm going to let go of this. And you are going to have drop my husband from the sky because I'm not chasing that anymore." And at that moment, I truly did release it all to Him. My focus was solely on Jesus — and when that happened everything changed.
About a year later, a handsome, godly man suddenly came into my path. While my heart would skip a beat every time I saw him, I took it to The Lord in prayer and asked God once again to protect and guard my heart. He kept volunteering and serving at the church I was at and had such a heart for Jesus. He'd offer to carry my books, open my doors — whatever I needed, he seemed right there. Forgetting what I had prayed, I remember talking to God saying, "It's like he dropped from the sky."
That man is now my sweet and wonderful husband and an answer to prayer. He is such a precious gift from God and definitely worth the wait.
Single people — can I talk to you for a moment? Guard your heart.
Don't settle for anything but God's best. The man or woman God has for you should put GOD first. Trust me. I speak from experience, as I had to wait a very, VERY long time.
WAIT.
It IS hard. You may feel lonely, and you may be tempted to compromise, trying to convince yourself–the man or woman you are dating will change. Please don't go down that road.
Guard your heart with the breastplate of righteousness.
This is not just any ordinary, run of the mill breastplate.
Righteousness — the perfect holiness of Jesus Christ — comes from God alone.
Righteousness is to be right in God's eyes — it can only be done through Jesus.
No works or good deeds could ever make you right with God.
This righteousness comes only through Jesus' death and resurrection on the cross. Jesus takes our place and He offers a covering of righteousness to block out Satan's attacks — especially on our hearts and souls.
Remember, this is not our home—heaven is.
We live in a battlefield, and Satan will attempt to attack our most vulnerable areas.
So how do we put on the breastplate of righteousness?
It's important to know God's Word. Spend some time reading The Bible, memorizing scripture, getting The Word deep into your heart.
Then, when situations or trials come – we can know how to handle them through God's Word.
Be prepared. Don't go into battle without your armor.
Get ready mighty warrior!
Put on the Armor of God.
Strap on the belt of truth.
Know who you are in Christ. Know who God is — His character, His faithfulness, His love.
Know the truth of God's Word.
Then, secure the breastplate of righteousness to GUARD your heart.
Prayer: Father, today I put on the armor of God. I strap on the belt of truth of Your Word. I thank You that You are good, that You are faithful, that You are my defender and You protect me. Please guard and protect my heart from the enemy. You know what I face today – and I'm so thankful I don't have to do this life alone – -that I have You. Fill my heart today with Your love, with Your peace, with Your strength. I thank you for always being right by my side and leading and guiding me – in Jesus' mighty name – Amen.
Mighty warrior, you are chosen. You are special. You are loved. May God protect and guard your heart today and always! I'm praying for you.
-Christine Batchelder