Pumpkin Cake with Streusel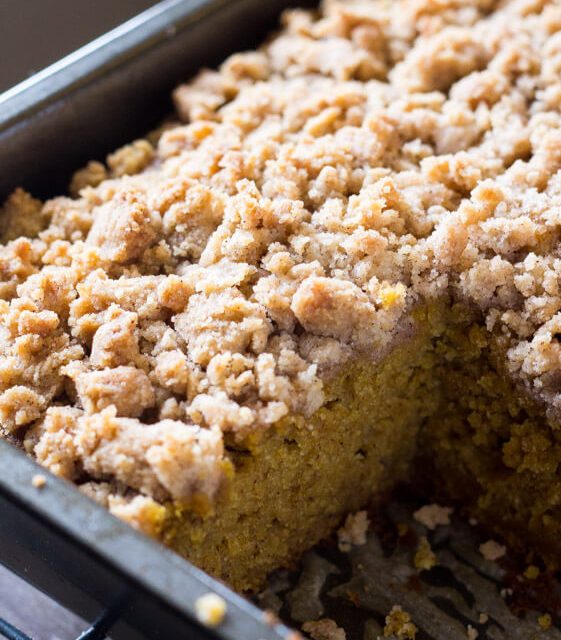 PREP TIME: 15 minutes
COOK TIME: 1 hour 
TOTAL TIME: 1 hour 15 minutes 
SERVINGS: 15 servings 
INGREDIENTS:
15 ½ ounces canned pumpkin 
12 ounces evaporated milk 
3 large eggs 
¾ cup sugar 
1 tablespoon pumpkin pie spice 
¼ teaspoon salt 
1 package yellow cake mix 
1 cup pecans, chopped 
1 cup unsalted butter, melted 
INSTRUCTIONS:
Preheat oven to 350°F. Grease and flour a 9×13 pan and set aside. 
In a bowl, combine pumpkin, milk, eggs, sugar, pumpkin pie spice, & salt. 
Pour into the prepared pan. 
Gently sprinkle the cake mix powder over the pumpkin mixture and top with pecans. 
Drizzle melted butter over the cake mix & pecan layer. 
Bake 25 minutes uncovered, then cover with foil. Bake an additional 25 minutes. 
Remove from oven and uncover (be careful, the steam will be hot). 
Cool completely. Cut into squares and serve with ice cream. 
NOTES:
Change up the recipe by using any flavor of cake mix you want, such as white cake or spice cake!
Leftovers can be stored for up to 4 days in an airtight container in the fridge. 
Photo credits: https://www.justsotasty.com/pumpkin-coffee-cake/