"I just feel like the Lord was working in it the whole time, giving me the desire to make a career move."
Linda didn't know what to expect when she drove onto the Cove property in April 2021. She had heard about the Cove Career Fair through a Facebook post of a Cove employee, and from that point, she just couldn't get it out of her head.
"I showed up with nothing, no resume, nothing," Linda said. "I just wanted to see. I couldn't get it off my mind, so I just decided, what do I have to lose?"
When the day of the Career Fair finally came, everything seemed to line up perfectly for Linda. Typically, it would have been nearly impossible for Linda to leave her current job on time due to her hectic work schedule.
"But on this day, everything was done," Linda said. "I could walk out the door at 3:30 pm with no problem. And I thought, why not? I didn't know anything about what was going on, I didn't know what careers were available. I just feel like the Lord was working in it the whole time, giving me the desire to make a career move."
Driving onto the property, Linda had a sense that she was in the right place at the right time. When she arrived at the Training Center, where the Career Fair was being held, she felt a wave of peace about being at The Cove, but she still couldn't shake her nervousness toward the unknown.
"I didn't know what to expect. Even if there were positions available, I didn't know what they would be like."
When she entered the building, Linda saw displays and booths set up for many different departments. She made her way slowly around the Training Center lobby, first visiting the Ruth's Attic Bookstore department, then Housekeeping, and Guest Services, gathering information about the available positions. But she couldn't find anything that looked like a good fit.
"At that point, for my particular needs, I felt a little disappointed," Linda said, "so I thought, well I'll just take this information and pray over it."
As Linda was getting ready to leave, a manager of one of the departments approached her and struck up a conversation. She offered Linda some refreshments and asked her about her needs. After talking for a while, the manager said she knew just the position for Linda.
She then introduced Linda to Doug, the manager of Property Services at The Cove. Linda had previously seen Doug's open position, but didn't believe she was qualified.
"I had read the information and I thought that it was way over my head," she said. "I didn't think I could possibly do that position, so I didn't even consider it as an option. It looked like the responsibilities were more than I knew about."
But after talking with Doug and learning more about the position, Linda realized she had been wrong. As Doug expanded upon the duties of the position, Linda was shocked to find she knew about everything he was describing.
"Those were things I did every day," Linda said. "Those were my normal responsibilities. So, because I was able to connect with him and learn more about what the position was, I thought, okay, these are things I understand. These are things I know."
After their conversation, Doug urged Linda to apply for the position. She did, and it wasn't long before she received a phone call asking her to come in for an interview. Soon after, she began her new position at The Cove in Property Services.
"Ministry has always been something that has interested me," Linda said. "You're in a serving position in ministry, a behind-the-scenes position, which is awesome. There is nothing about this I don't love, and I never would've experienced it if I had said no to the opportunity of the career fair. I might not be here today."
Linda realized the Lord had been slowly preparing and equipping her for her time at The Cove through her previous work experiences. Looking back, she is thankful for her leap of faith in coming to the Cove Career Fair on that spring afternoon.
"I was laughing out loud afterward as I was going to my car, because I thought, Lord, I can't believe I'm here talking about things I know," she said. "I had been so afraid to come, because I didn't feel like I had anything to offer. And then to come and find out it was everything I already knew about, I was like, 'Wow, God, just wow.' That was all I could say."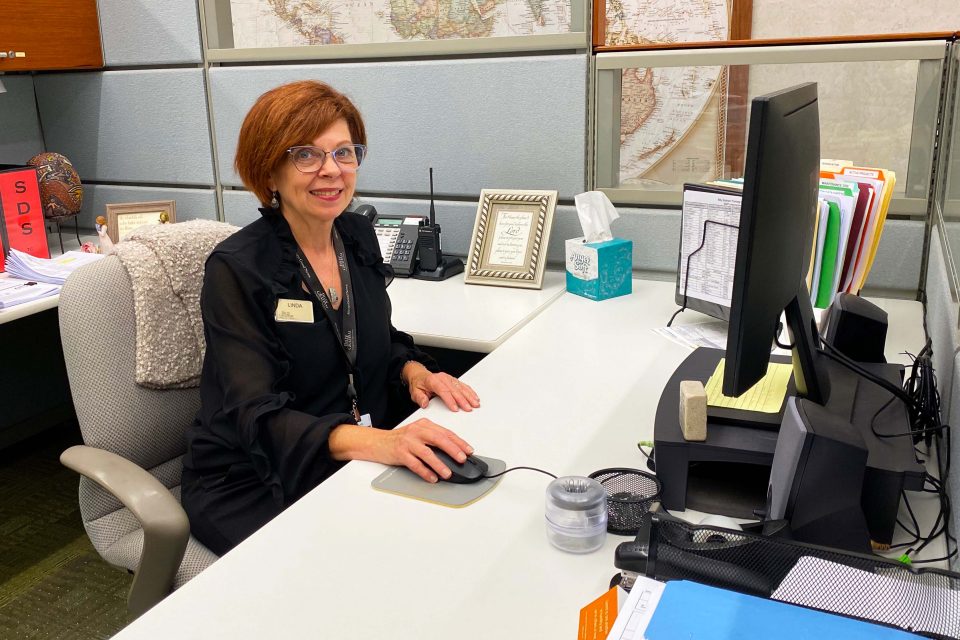 ---
Click here for more information regarding open positions at The Cove.