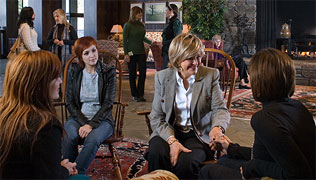 Ladies, we can't think of a better way to start the New Year than digging into the richness of God's Word with other women in our area. 
Are you in? 
The Cove's free annual women's Bible study begins on Tuesday January 7th!     
If you have attended before, we hope you will be coming back.  If you have never been, we hope you will come and join many other local women in an encouraging time of fellowship and studying the Word of God in the quiet, majestic beauty of The Cove!   
Our Tuesday morning study, Finding Great Joy in the Celebration of Jesus, will be led by Jane Derrick beginning at 9:45 a.m. and concluding at noon.  There will be an optional lunch available for $10. 
Watch here as Jane offers a special invitation to leave behind the busyness of the Season and begin your New Year celebrating the birth of Jesus.
Our Tuesday evening study, Rise to the Occasion, a study in the Book of Nehemiah, will be led by Kendra Graham beginning at 6:30 p.m. and concluding at 8:30 p.m.  
Watch here as Kendra invites you to take a stand and experience the Great Awakening of God's people. 
While the studies are free to attend, you must register to participate.  Click here or call 1-800-950-2092 to register.   
Are you in an existing Bible Study and/or Sunday school group?
We encourage you to take a break from your routine and let this 7 & 8 week study be a place of renewal and inspiration for your entire group.