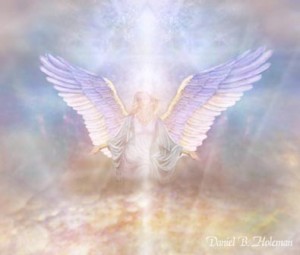 ANGELS PROTECT AND MINISTER TO GOD'S PEOPLE
See Psalm 91: 11 & 12
11 For He shall give His angels charge over you, to keep you in all your ways.  12 In their hands they shall bear you up,  lest you dash your foot against a stone."
Angels are mentioned throughout the Bible as protecting God's chosen people or bringing them messages from God—appearing to Jacob (Genesis 32:1); Daniel (Daniel 6:22); Moses and the children of Israel (Numbers 20:16); Zacharias, Mary, Joseph, and the shepherds (Matthew 1: Luke 1; 2); and Philip (Acts 8:26), to mention a few.  Angels ministered to Jesus in the wilderness (Matthew 4), and angels rolled back the stone of Christ's empty tomb (Matthew 28:2).
ANGELS GLORIFY GOD
See Revelation 5: 11, 12
11 Then I looked, and I heard the voice of many angels around the throne, the living creatures, and the elders; and the number of them was ten thousand times ten thousand, and thousands of thousands, 12 saying with a loud voice: "Worthy is the Lamb who was slain to receive power and riches and wisdom, and strength and honor and glory and blessing!"
Angels sing praises to God, and they will accompany Christ when He returns to earth to set up His kingdom.  Matthew 25:31 says, "When the Son of Man comes in His glory, and all the holy angels with Him, then He will sit on the throne of His glory."
ANGELS CHARACTERISTICS
See Isaiah 6: 2, 6
2 Above it stood seraphim; each one had six wings: with two he covered his face, with two he covered his feet, and with two he flew.  6 Then one of the seraphim flew to me, having in his hand a live coal which he had taken with the tongs from the altar.
There are many opinions about angels and what they are like; we look to the Bible for God's insight on His messengers.  The Bible may not tell us everything we want to know about angels; but we know God's Word is true, and from it we can glean the following.  Some passages, as this one, describe angels as having wings (see also Daniel 9:21).  Angels are powerful holy beings (2 Peter 2:11; Luke 9:26) who do not have physical bodies as we know them.  They are usually invisible to the human eye; however, at times their appearance is glorious with the light of God surrounding them (Matthew 28:2-4).  They occasionally appear in human form (Genesis 19).  In fact, Hebrews 13:2 warns, "Do not forget to entertain strangers, for by so doing some have unwittingly entertained angels."
In his book, Angels: God's Secret Agents, Billy Graham said, "We may not always be aware of the presence of angels.  We can't always predict how they will appear.  But angels have been said to be our neighbors.  Often they may be our companions without our being aware of their presence.  We know little of their constant ministry.  The Bible assures us, however, that one day our eyes will be unscaled to see and know the full extent of the attention angels have given us (1 Corinthians 13:11, 12)."
These excerpts were taken from The Billy Graham Training Center Bible.
If you are visiting The Cove before December 31, 2012, stop by Ruth's Attic Bookstore and save $5 on the softcover, hardcover & bonded leather Billy Graham Training Center Bible and $10 on the genuine leather edition Billy Graham Training Center Bible.   Click here to print coupon.