Welcome to our Tuesday devotions. Every Tuesday, we will offer a study in the book of Nehemiah. We hope you enjoy these devotions and will also follow us on social media at @thecovenc. We post encouraging Bible verses, upcoming events at The Cove, and much more.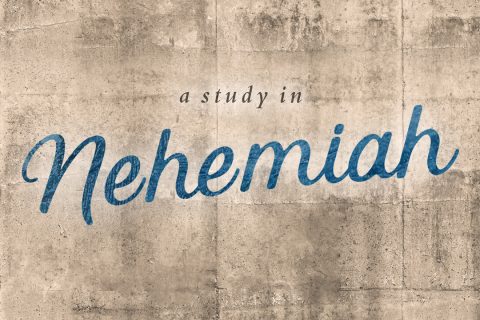 Regather
By: Patty Nicholas-Boyte
 Nehemiah 8:1-3 (NASB)
"And all the people gathered as one man at the square which was in front of the Water Gate, and they asked Ezra the scribe to bring the book of the law of Moses which the Lord had given to Israel. Then Ezra the priest brought the law before the assembly of men, women and all who could listen with understanding, on the first day of the seventh month. He read from it before the square which was in front of the Water Gate from early morning until midday, in the presence of men and women, those who could understand; and all the people were attentive to the book of the law."
For seventy years, the God's word had not been read out loud. For over seventy years, the scrolls had not even been opened, and for over seventy years, the law was locked away so no one had even looked at God's word.
As I write this post, many churches have been shut for months due to COVID-19 restrictions and quarantine. While most have been able to stream services on line in one format or another, some have closed their doors completely, and some of those churches may never be able to re-open.
After eleven weeks, my church was able to re-open at limited capacity. When I participated in worship, song, and the reading of God's word, I wept for the entire service.
To celebrate the completion of the project, and on the first day of the seventh month, which is also known as Rosh Hashanah and begins the high holy days, the people gathered and asked to have God's word read. In verse 3 the Bible says all the people were attentive. An understatement I imagine. If they were anything like me when they gathered for that first time, I would guess they just as emotional as they were attentive. How could they not be? I thought two months was a long time to go without being together with other believers, can you imagine seventy years?
The significance of Rosh Hashanah is also not lost on me. This is the day also known as the blowing of the trumpet, and this day starts a ten day festival that leads up to the Day of Atonement or the one day of the year the people would have their sins forgiven.
For us as, Jesus paid it all for us. We are forgiven, and we have almost unlimited to God's word and every form and translation at our fingertips. Today, we wait in expectant hope for the day of the ultimate regathering of the saints at Jesus' return.
What can we learn from Nehemiah?
Don't take our easy access to God's word for granted
Don't take the ability to congregate and worship as a corporate body, for granted
Whenever possible, do not neglect the gathering together for corporate worship.
The reading of God's word aloud is powerful and has the ability to pull people in and convict as the spirit moves.
The other thing I noticed in this passage is that Nehemiah appointed priests to explain the law to those who could not understand. We need to constantly seek understanding when we read God's word. As I study the Bible each day I ask myself these three questions. What does it say? What does it mean? And What does it mean to me? I learned this method of study when I attended an Anne Graham Lotz seminar. I highly recommend it to anyone who wants a deeper understanding into God's word.
What questions can we ask ourselves that can affect change?
Is there something I have taken for granted that I need to appreciate more?
How can I be a better student of God's word?
What can I do today, in light of the times we live in, to participate more in corporate prayer and worship?
What can I do to receive more instruction so I have a better understanding of God's word?
____________________________________________________________________________________________
Click here for a schedule of seminar, concerts, and retreats at The Cove in beautiful Asheville, NC.
Are you a Christian church or non-profit ministry looking for a place to hold your conference, retreat or ministry event?  Click here for more information on holding your event at The Cove.
Visit the Chatlos Memorial Chapel, Visitors Center, and Ruth's Prayer Garden. Click here for directions and operating hours. Tours are free.
Follow us on social media.