By Laura Brown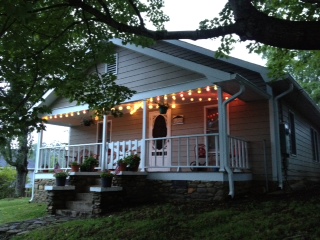 On my desktop at work, there is a picture of my front porch.  Nothing fancy, just a couple of Adirondack chairs and, for summer, some strands of hanging Chinese lanterns.  This is a special place to me for more than one reason.  In the morning dawn, I watch an occasional fox canter around the side of the house looking for small moving shadows that will become its breakfast.  A neighborhood tabby cat crouches, stealth mode, in the culvert across the street, ear attuned to sounds of movement, in quest of a morsel to fill his belly. 
As I watch from the perch of my porch, I'm not unlike them.  I too have come here in the early morning to be fed.  I open to the Book of 1 Peter and read, "…love one another fervently with a pure heart, having been born again, not of corruptible seed but incorruptible, through the Word of God which lives and abides forever, because, 'All flesh is as grass, and all the glory of man as the flower of the grass.  The grass withers, and its flower falls away, but the Word of the Lord endures forever.'  Now this is the Word which by the Gospel was preached to you." (Italics mine.)
The Word – according to these verses, I have been born through the Word of God, a Word that lives forever.  This is my cereal and toast.  It is this very Book, resting in my lap each morning under soft light, that brought me to Christ, to be 'born' in Him, to say take the broken crumbs of my life and use them all. These Words that are alive, they are the Words that were preached to my Grandmother, who read them to my Mother, who read them to me.  These living Words that never wither or fall away, but endure.
So why, when I love to eat, do I often struggle to feed on the Word? Honestly, some mornings, when the sheets are soft and my sleep is deep, I struggle to respond to the sound of crickets representing the alarm clock on my phone.  I don't just want to hit snooze, I want to make the bad crickets go away and fall back into dreamland.  It's the growing relationship that pulls me out of bed.  Like love letters from my husband when we were dating, my heart longs to hear from God in His Word.  (Hmmm…in school, I wasn't attracted to my husband, he was a friend.  The more I got to know him, the more I was drawn toward him.  One day I realized his inner beauty and knew I could not spend life without him…how like my relationship with God!)   
It's amazing, the longing for God that has grown over time.  More powerful than the need for sleep, more powerful than the growl of my stomach, more powerful than the want of any earthly relationship is the ache to sit with God, in His Word, on my front porch in the morning.  When finally, I win over my will, and sit at the table of God's Word, I am always fed… and I never leave hungry.  The Word has become my home and there's nothing like God's Home Cooking.
Question for our readers:  Where is your special place to feed on God's Word? 
Laura Brown is the Administrative Assistant to Guest Group Sales and Program here at The Cove.  She has been married for 30 years, has 2 grown children and 2 adorable grandbabies.  
For more information on bringing a group to The Cove, click here.