God is always at work in our lives.  Do we see it…in good times and bad? Do we take time to thank our Creator for the blessings of each and every day?  Do we praise Him in all circumstances?  Do we surrender everything to Him?  A couple from Kernersville, NC knows a thing or two about surrender and the power of prayer.  May this beautiful story will be an encouragement to you today. 
By George L. Matthews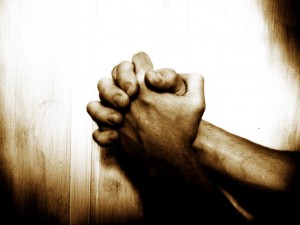 About 3 years ago, I developed a tremor in my right hand that was diagnosed as benign essential tremors.  
As the tremor worsened and other symptoms began to manifest, my wife, Dianne, asked her neurologist at Wake Forest University Baptist Medical Center for a neurology referral for me.  
He suggested Dr. Haq, in the neurology department there but told her he might be hard to see since his appointments were scheduled months in advance.  
When Dianne called to see about scheduling an appointment, she was told there had been a cancellation – the very next morning, at 8 am, "Could we be there?"  Is anything too hard for our God?   
Over the next few months, as I underwent numerous tests, my symptoms worsened.  Tests indicated polyneuropathy.  We thought I had spinocerebellar ataxia, but the tests were all negative.   Only one test was confirmed positive, that for paraneoplastic syndrome.  But we had no idea why this syndrome was present.  
In February, I began having difficulty walking.  In 3 weeks time, I was able to walk only with the assistance of lofstrand crutches. 
Every step was an effort.  
My entire body seemed to convulse when I tried to stand.  
The once self-sufficient, independent man that I had always been was reduced to needing help just getting out of bed.  
It was during this time God began dealing with me regarding my absolute surrender to Him as Lord of my life.  
I knew He was Savior, but did I trust Him to be Lord?  
It was easy to say yes to that question when all was well.  
But now, could I accept what He had allowed into my life with thanksgiving (I Thessalonians 5:18)?  When I finally realized that even in the darkest places, He was Lord, I felt that "peace that passes all understanding".  
I knew that He had a purpose for this and I could trust Him.
Dr. Haq had decided that even though we still did not have a definitive diagnosis for my convulsive movements, he would admit me for a week of steroid treatments.  
I would enter the hospital on June 11.  Dianne had already booked a weekend seminar for us at The Cove for June 8-10 to hear Dr. Ken Boa. 
How amazing that God orchestrated our time at The Cove the weekend before my hospitalization!  
When we arrived for registration at The Cove, we signed up for the Interactive Sessions that were a part of the Seminar event.  
I was assigned with a fabulous group of men, and Dianne with a great group of women.  We were loved upon, encouraged, prayed for.  We were sought out by a couple who had used a recent hospitalization to witness to the hospital staff, and encouraged me to do the same. They shared Bible verses with us.  
We recognized that God had sent all these people to us this very weekend for a special purpose.  The staff at The Cove was so kind and helpful, and we knew they were also praying for us.  We were encouraged by Dr. Boa's teaching.  
We left The Cove on Sunday knowing we were firmly secure in God's hand, that He was in control, and we need not fear.  
On June 11, we arrived at the hospital to find out the treatment plan had changed over the weekend.  
One of the physicians Dr. Haq had conferred with had found an article that suggested IVIG treatments.  They started the first treatment Monday evening.  
By midweek, I began standing and taking steps without my crutches.  
By Thursday, I was making laps around the neurology department.  
As I walked, I shared with the staff of God's goodness; I handed out tracts to those who asked how I could be so joyous.  God provided many opportunities for me to share His love during my stay.  
Then, on Friday I walked out of the hospital without my crutches.  
Am I cured?  We don't know.  
The doctors were amazed at how well the treatment worked but can't give a prognosis since they don't have a definite diagnosis.  
But this we do know, "we are fearfully and wonderfully made" and the Creator God does know.  
It is in His hands and whatever He chooses to send, we accept.  He knows what is best for us.  He knew that until I was unable to manage on my own, I had reserved a part of me that was not completely surrendered to Him.  
I am grateful for this time of illness, for I saw not only physical healing, but spiritual healing as well. 
I felt the amazing power of prayer.  
I saw how God's timing was woven throughout the events of the past months.  
I had great physicians, great medical staff to administer the treatment, all orchestrated by Him.  But more importantly, we had a lot of people praying for us…our church, our family, and our friends.  
How awesome is our God who walks with us, hears our cry for help, and sends people to walk through our valleys with us!!  
And answers prayer!