In Matthew 22:37, Jesus affirms the greatest commandment: "Love the Lord your God with all your heart and with all your soul and with all your mind." He continues in verse 39: "And the second is like it: 'Love your neighbor as yourself.'"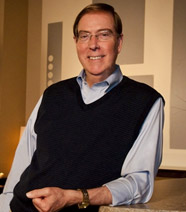 Can you love others without loving God first? Dr. Gary Chapman, best-selling author of The Five Love Languages series, will tackle that question at his seminar at The Cove later this month.
Joy Allmond, from BillyGraham.org, spent some time with Dr. Chapman delving deeper into the topic and what will be covered in the seminar. You can read the full article here.
Space is still available for "The Greatest Commandment" with Gary Chapman July 29-31. Reserve your place today.