Join us on Monday, June 1st for an inspiring morning as we take a walk down memory lane and relive great moments and beloved songs from Billy Graham's Crusades!  Then enjoy a delicious buffet-style lunch prepared by our chefs in the beautiful dining room overlooking the Blue Ridge Mountains.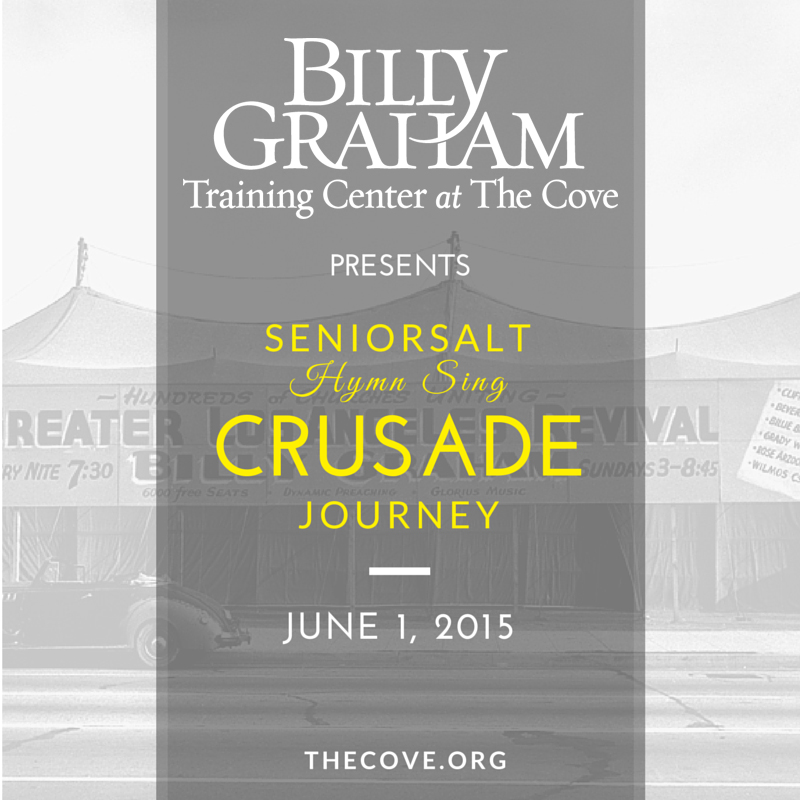 While here, be sure to stroll through our displays of memorabilia from Billy and Ruth Graham's life and ministry, visit Ruth's Attic bookstore and gift shop at The Cove, tour our Chapel and  Visitors Center, and take some time for relaxation and fellowship on one of our many rocking chairs throughout the property.
Register by clicking here or call 1-800-950-2092.
SeniorSalt Impact Crusade Journey Hymn Sing
with Ron Whittemore and David Gaines, June 1, 2015
Program Fee: $29.00 Per Person
Watch here to view a special message from your host, Ron Whittemore, telling you a little more about the SeniorSalt Impact Crusade Journey Hymn Sing on June 1.
————————————————————————
Click Here For a Listing of All Senior Events at The Cove in 2015
Senior Events at The Cove are specifically designed for people ages 55 and up.  We encourage church groups and retirement communities to come enjoy these events as well as individuals.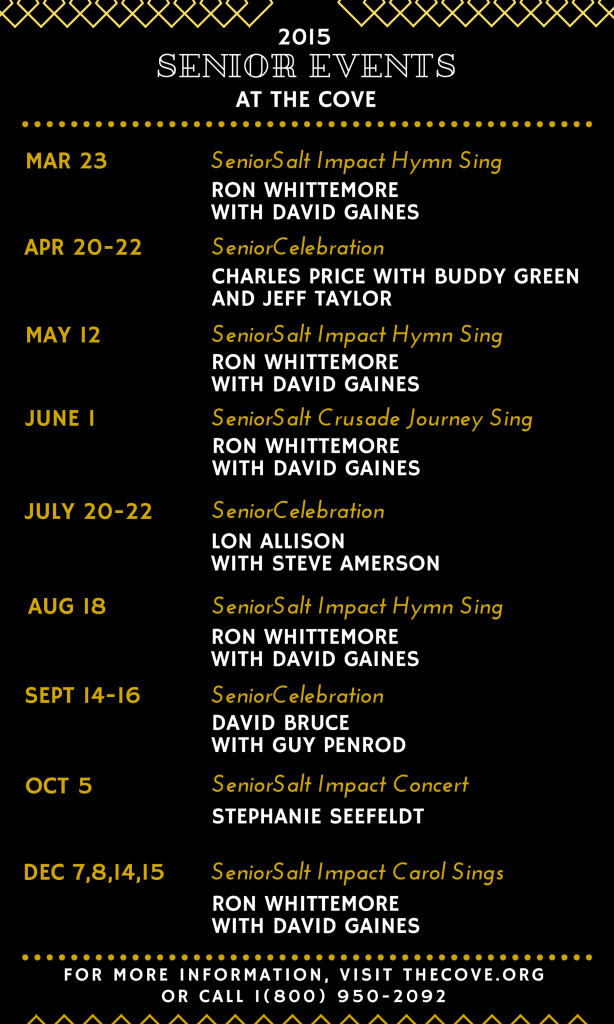 Our three-day SeniorCelebration events offer inspiring and insightful teaching, enlightening workshops, engaging fellowship, and hymn-based worship. Program fee (meals are included) is $189.
The SeniorSalt Hymn Sing and Carol Sing programs include a morning of singing traditional hymns or carols, interspersed with uplifting Scripture readings and stories.  A delicious buffet-style lunch follows each program.  Program fee is $29.
Click here to register and to find out more information about each event or call 1-800-950-2092.