The participation in our summer photo challenge (#InTheGardenPhotoChallenge) was fantastic!  Thank you to everyone who joined in on the fun.
Are you ready for another photo challenge?
We are!  And today officially launches The Cove's 2016 #CoveFallPhotoChallenge. 
Here's how it works:
Post one photo daily, using the daily prompts noted below, on Instagram or Facebook.  Don't forget to use the hashtag #CoveFallPhotoChallenge when you post your photo so we can all see what each other are sharing.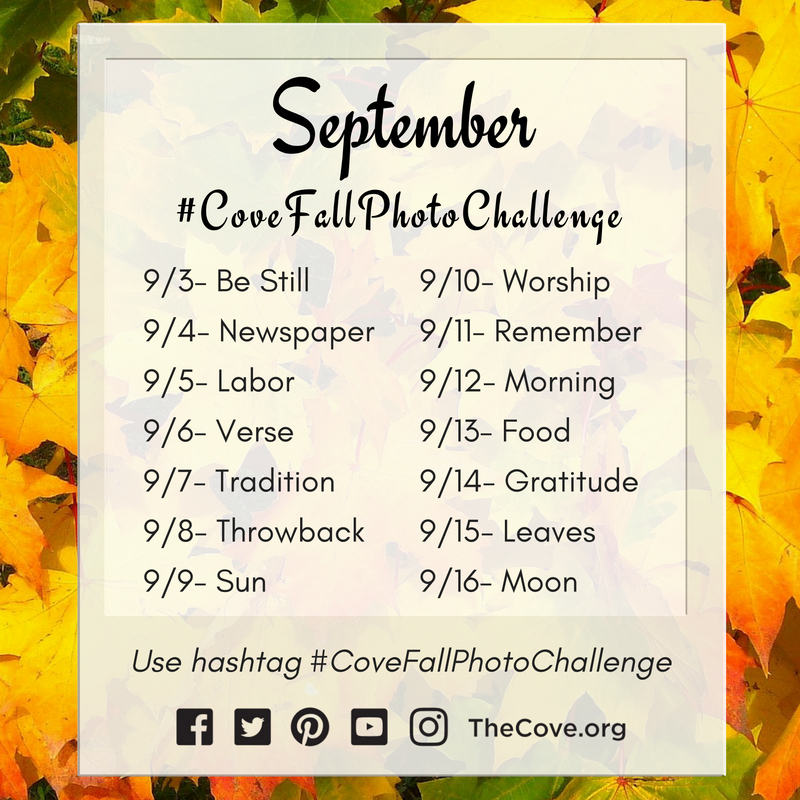 Not a professional photographer?  Don't worry, neither are we. Every photo we post will be taken by either an iPhone or a Canon camera.  No fancy equipment or special skills needed!
Need some ideas of what to share? Post a picture of the changing colors of leaves, your favorite fall tradition, a newspaper headline that makes you smile, or a photo of the special place where you find stillness with God. 
Most importantly, have fun!  Take time to enjoy the details in your surroundings.
---
FYI: Anyone taking part in the photo challenge may have their photos shared by The Cove and other participants. 
The changing colors of fall make this season one of the most beautiful times to visit our area.  Make sure to visit the Chatlos Memorial Chapel, Visitors Center, and Ruth's Prayer Garden.  Click here for directions and operating hours. Tours are free.
Click here for a schedule of seminar, concerts and retreats at The Cove in beautiful Asheville, NC.