We couldn't close the month of August out before sharing something that has been in the works for the last few months…
Here's a hint…
♪♪ Joy to the world!  The Lord is come.  Let earth receive her King! ♪
We know, summer is still here, and Fall is knocking on the door, but we've been busy working on Christmas decorations at The Cove!
Why so soon?  Because our handcrafted decorations take hours and hours to create.  We have a very talented woman on our staff named Angie, that is visionary, creator, and team leader for all our Christmas (and other) decorations.  Angie doesn't just go out and buy decorations and ornaments, as you will see, she uses her God-given gifts to design and create beautiful things.
Here is one of the pieces that she dreamed up and created for Christmas 2015…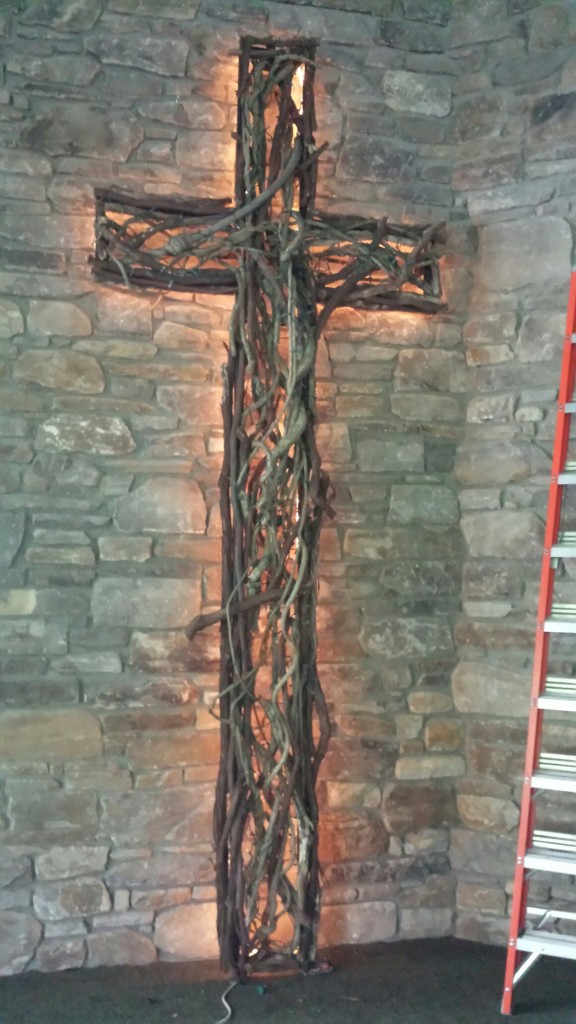 This 12-foot handcrafted cross is made from grape and wisteria vines that Angie and another Cove employee, Susie, harvested off our mountain.  It took them 2.5 hours to gather all the vines!  We've included a picture of Angie wrangling the vines below.
At the time this picture of the cross was taken, there were still more lights to be added and a couple other final tweaks.
During the Christmas season, the cross will adorn the large stone wall in the Training Center dining room.
Here's a picture of Angie gathering vines: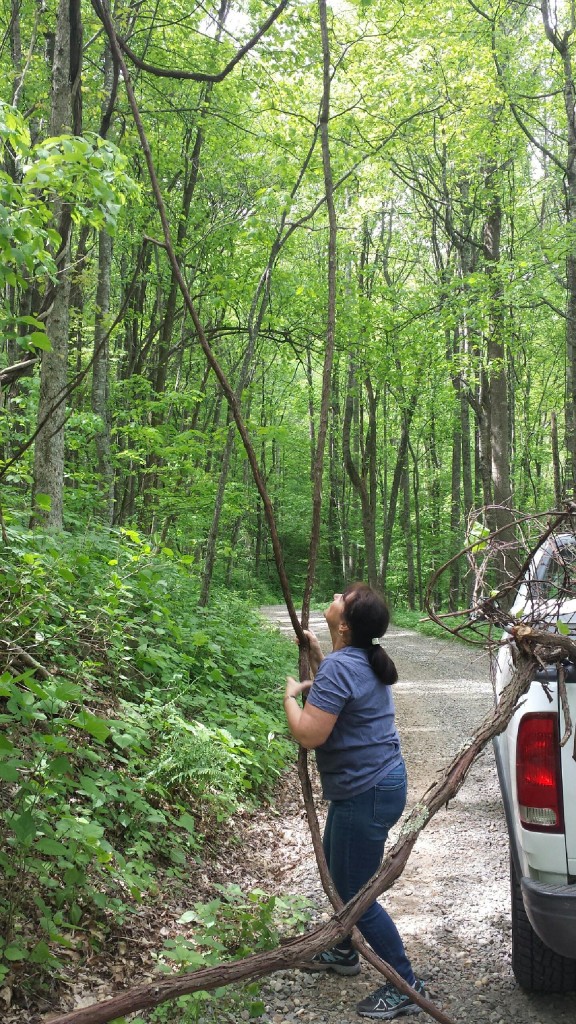 Want to see the cross, as well as the other amazing handcrafted decorations and ornaments that Angie and her team are working on?   Join us for one of our Christmas events in December and see them in person.
Click here for a listing of our Christmas at The Cove dinner and concert events.
Click here for a listing of our SeniorSalt Carol Sings.
Have you handcrafted any Christmas ornaments or decorations over the years?  We'd love to hear what you've created.  Tell us in the comments below.