Salt of the earth.  That's what comes to mind as we share this picture with you today.
Featured are some of our hardworking and talented maintenance and grounds crew alongside a couple of volunteers from Campers On Mission–that's one of the volunteer's RV they're standing near.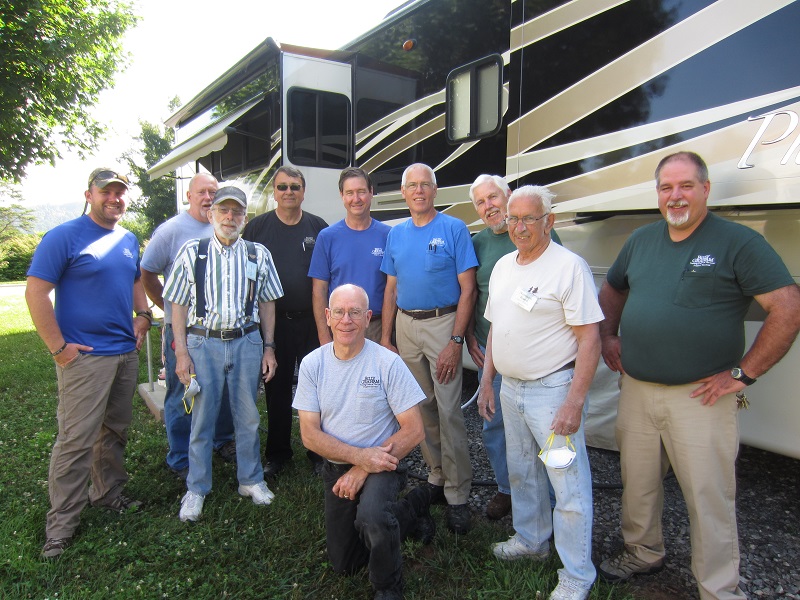 Why an RV at The Cove, you may be wondering?  Now, before you jump in your RV and head our way, please understand that we don't have camp sites or hook-ups for RVers who are attending a conference, retreat, or event at The Cove.  You all are invited to stay in one of our two lovely inns here on property. 🙂
We do have four designated RV hook-ups that are used by volunteers from Christian RV and camping groups who share their gifts and talents with a variety of Christian organizations around the United States.
The volunteers perform a variety of tasks while at The Cove, but the majority fall under grounds care, building maintenance, laundry/housekeeping, office work, prayer intercession, and tours at our chapel on property.
The two groups that serve The Cove are the SOWERS  and Campers on Mission.  For more information on either ministry, click on the links below.
Click here for more information on the SOWERS ministry.
Click here for more information on Campers on Mission ministry.
Click here to visit our website featuring upcoming retreats and events.