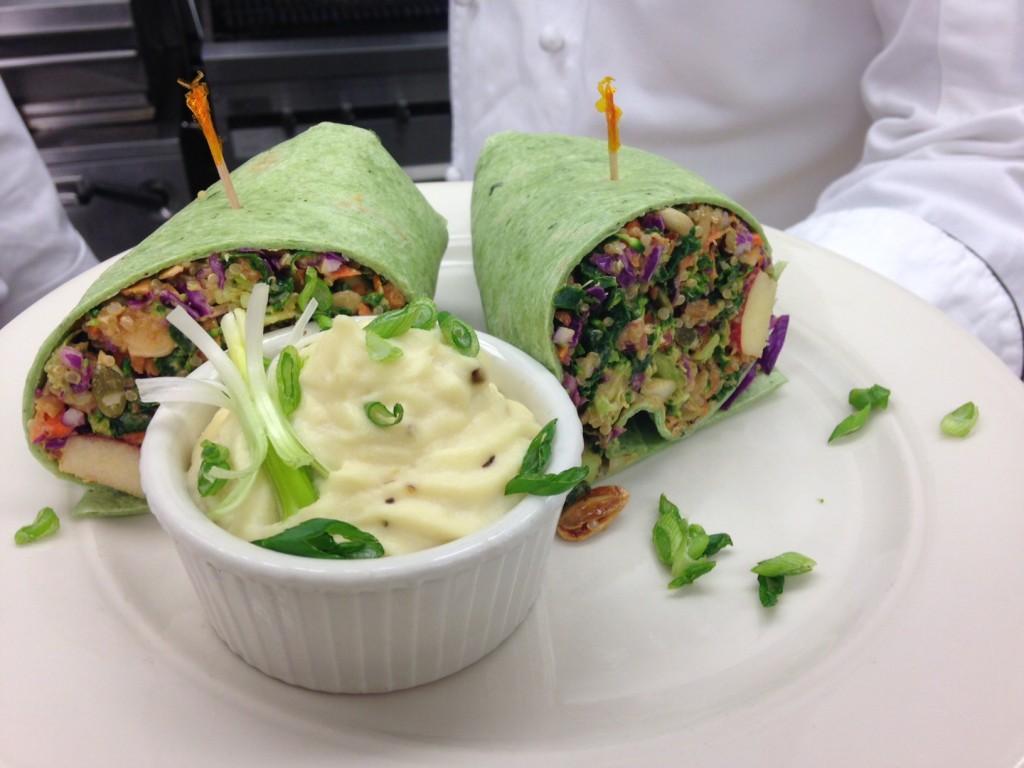 We receive rave reviews about the food that comes out of The Cove's kitchen, and if you've had the opportunity to dine with us, you know why.
Not only is the food delicious, but the recipes, 99% made from scratch, are healthy. 
Watch here as Executive Chef Douglas Walls and Sous Chef Hallie Saunders share a delightful and healthy Apple Delight Wrap recipe and whipped parsnip side dish. 
Apple Delight Wrap
(Serving Size: 1 Wrap)
1/4 – 1/2 cup chopped kale
1/4 cup chopped carrots
1/4 cup chopped broccoli
1/4 cup chopped purple cabbage
2 Tbsp. of mixed nuts (sunflower seeds, pumpkin seeds, almonds or other nuts of your choice)
1/4 cup of cooked quinoa
1/4 cup chopped apples
1/4 cup Hummus
Drizzle of Apple Cider Vinaigrette (Combine 1 Tbsp. of Apple Cider, 2 Tbsp. of Olive Oil, 1 Tbsp. of Soy sauce, 1 Tbsp. Honey)
Chop vegetables by hand or in a food processor.
Mix all ingredients in a bowl and place in a tortilla wrap of your choice, roll and slice in half and enjoy.
Whipped Parsnips
(Serving Size: 1)
2 parsnips (peeled & roughed chopped, boil down until they are soft)
2 Tbsp. of unsalted butter
1/4 cup of Heavy cream
Salt & pepper to taste
Combine all ingredients and serve with the apple delight wrap.
Garnish with chopped scallions.
Plan a trip to The Cove! See what's happening here.