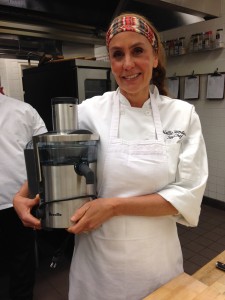 Mom was right when she told us to "eat our vegetables!" but now we can drink them too!
Cove Sous Chef, Hallie Saunders has a passion for sharing the healing properties of various foods, mainly whole grains, fruits and vegetables. Hallie is a cancer survivor and knows a thing or two about healing your body with the very food that we put in our bodies.  
When asked why she loves juicing so much, she tells us, "Juice is one of the most powerful whole foods that you can put in your body.  It takes very little energy to digest, so you maintain almost all of the energy and nutrients that it gives."
Hallie offers these four important facts about juicing:
Juicing can help prevent cancer and heart disease
Juicing can boost immunity
Juicing cleanses the body of toxins
Juicing treats a variety of diseases from anemia and constipation to arthritis
Watch here as Hallie shows you how to prepare two delicious juice recipes, Carrot Apple Ginger Juice and  Pink Lemonade juice.  Both with ZERO sugar and just three ingredients each. 
Recipes
Carrot Apple Ginger Juice
5 medium carrots
2 apples
1/4 inch piece of ginger
Feed all ingredients through juicer and enjoy!
Yields: 8oz
Pink Lemonade
4 to 5 small apples
1/4 of lemon with rind on
1/4 inch piece of beet
Feed all ingredients through juicer and enjoy!
Yields: 8oz
Don't have a juicer?  Most any juicer will work, but Hallie recommends the Champion Juicer.
We want to hear what you thought of these juices.  Which was your favorite?

Please share in the comments section below. 
We would love to see you in person!  Visit TheCove.org to see what's going on at The Cove.