We hope you will enjoy our "Prayer Note"—an internal communication here at The Cove, created each month to remind and encourage our staff to pray. We share these with you at the beginning of each month in hopes that you, too, will be encouraged.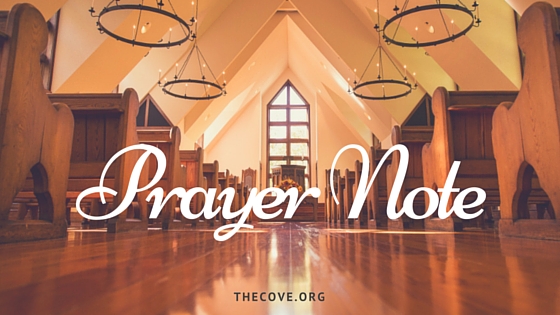 SMALL THINGS
From tiny houses to minimalist design…small is big right now. There are websites, blogs and apps to help you reduce clutter and downsize anything from your wardrobe to your life.  Taken in the right spirit, this new appreciation for smallness can be a good and positive thing—a counterbalance to the excesses we so often fall into.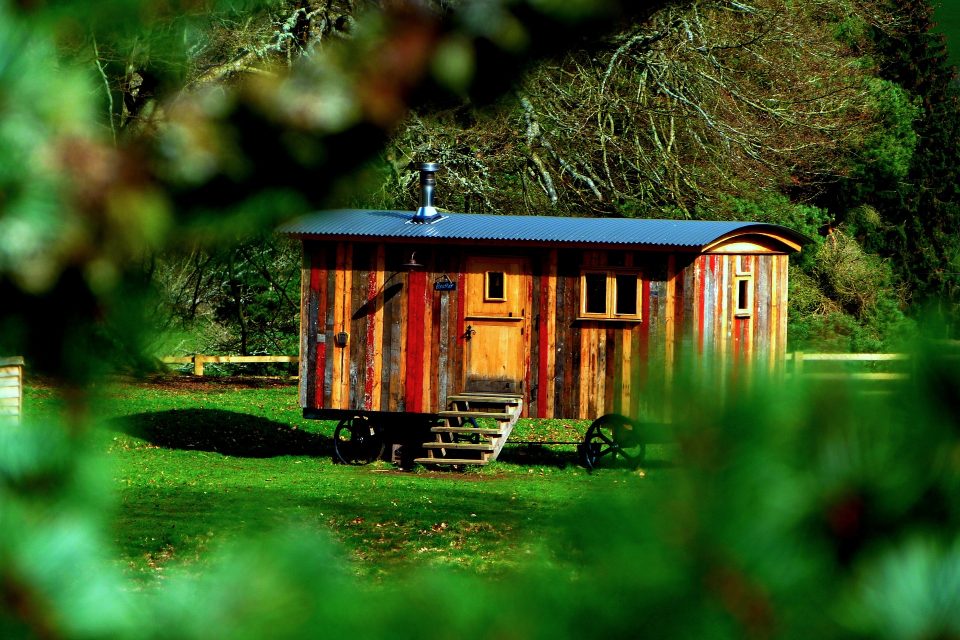 But what if the only thing small in your life is your bank account, your education, or your list of accomplishments? What if your trial looms large in comparison to your tiny store of strength, courage or faith?
A BIG TASK
The Old Testament book of Zechariah contains messages of hope for the future as it records the prophet's words to the people of Judah who were returning to Jerusalem after their 70-year exile in Babylon. After his initial call to repentance (Zechariah 1:1-6), Zechariah turns to recording visions of encouragement and reassurance given by God to His people. Faced with the enormous task of rebuilding the temple, the returning exiles felt small indeed.
Hounded by a lack of resources which included crop failures and financial distress, God's people needed the encouraging visions God shared through His prophet.  They needed a reminder that their smallness would not hinder the completion of the work they'd been called to do.
The book of Zechariah is not simply a long cheerleading session or a collection of motivational speeches. It is a proclamation of the omnipotent God's plan for His people. "Therefore thus says the Lord: 'I am returning to Jerusalem with mercy; My house shall be built in it,' says the Lord of hosts. 'And a surveyor's line shall be stretched out over Jerusalem'" (Zechariah 1:16, NKJV).
A GREAT GOD
Zechariah delivered the encouraging promise that the temple would indeed be built, despite the seemingly meager resources of the returned exiles: "This is the word of the Lord to Zerubbabel: 'Not by might nor by power, but by My Spirit,' says the Lord of hosts" (Zechariah 4:6, NKJV).
"Zerubbabel's hands have laid the foundation of this house, and his hands will complete it. Then you will know that the Lord of Hosts has sent me to you. For who scorns the day of small things? These seven eyes of the Lord, which scan throughout the whole earth, will rejoice when they see the plumb line in Zerubbabel's hand" (Zechariah 4:9-10, HCSB).
Through these words, the great God who had called His people to be a reflection of His glory was giving them the assurance that the seemingly impossible task facing them would be completed. Zerubbabel, governor of Judah, had begun the work of building the Lord's house, "and his hands will complete it," the Lord declared. With such an assurance, who would indeed "scorn the day of small things?"
As believers today we may not be called to build a physical temple, but our great God calls even the smallest of us to participate in the great work of building His kingdom. Regardless of the part we're called to play, the key is to work for His glory and not our own. When we seek to have God's vision for the world, we begin to recognize our own smallness and learn to depend upon and magnify His greatness.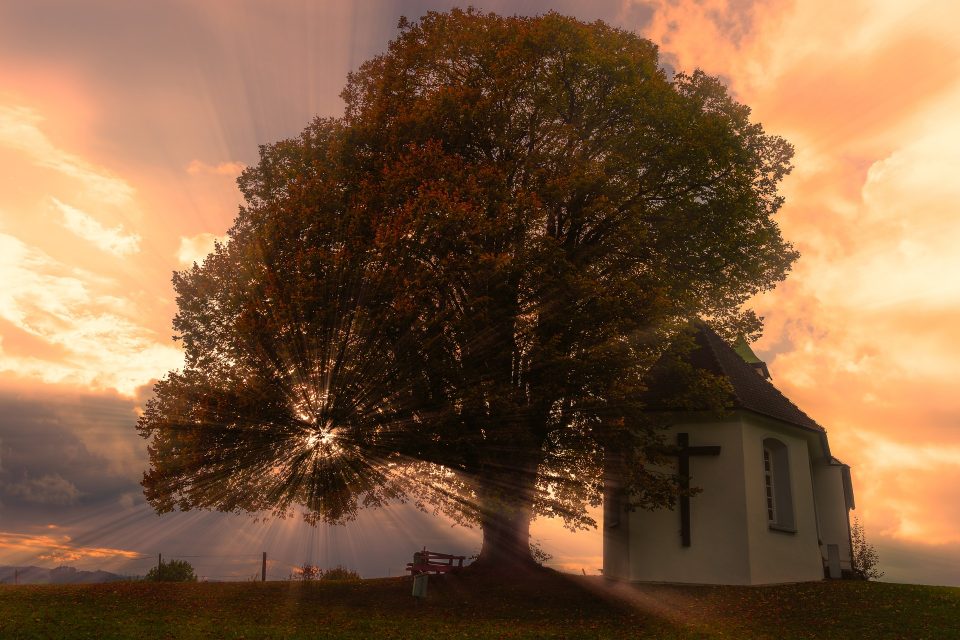 We come to God in a prayer of humility, recognizing our weakness and casting ourselves on the one who is all-powerful—Almighty.  We bow before Him in repentance, confessing our sinfulness and placing our trust in the Savior who is holy, just and sinless, yet merciful and forgiving. We come to Him in need, acknowledging our lack of resources and leaning on our loving Father who knows our need before we ask. (See Matthew 6:8.)
The "day of small things" may not be an easy or comfortable day, but praise God it can be a day of deep spiritual growth for each of us if makes us recognize our need and drives us even lower to our knees.
A TIMELESS PROMISE
"And He said to me, 'My grace is sufficient for you, for my strength is made perfect in weakness.' Therefore most gladly will I rather boast in my infirmities, that the power of Christ may rest upon me. Therefore I take pleasure in infirmities, in reproaches, in needs, in persecutions, in distresses for Christ's sake. For when I am weak, then am I strong"
(2 Corinthians 12:9-10, NKJV).
—Donna Riesen
---
SeniorSalt Impact Hymn Sing — October 1
 (Emcee/Worship Leader: Ron Whittemore)
Jonathan Falwell — October 1-3
(Emcee: Glynn Bachelor; Worship Leader: Shannon Wexelberg; Pastor-in-Residence: John Parrish)
The Power and Promise of Heaven: Letting Our Tomorrow Guide Our Today
James Merritt — October 3-5
(Emcee: John Parrish; Worship Leader: Shannon Wexelberg; Pastor-in-Residence: David Taylor)
A Holy Who? God's Spirit and Our Relationship to Him
An Evening at The Cove with Laura Story — October 7
(Emcee: Michelle Bachelor)
Kay Arthur & David Arthur — October 8-10
(Emcee: Ron Whittemore; Worship Leader: Stephanie Seefeldt; Pastor-in-Residence: Jim Brackett)
Dying to Live: Exploring the Crucified Life
Prescription for Renewal — October 12-14  (and Missionary Medicine Seminar — October 11-12)
(Main Speakers: Jim Cymbala and Joni Eareckson Tada; Host: Franklin Graham)
Albert Mohler, Jr.— October 23-25
(Emcee: Ron Whittemore; Worship Leader: Marty Goetz; Pastor-in-Residence: Kevin Wimbish)
Pastor Renewal Retreat — The Bible's Story as the Story of the World: How Biblical Theology Rescues Ministry from Triviality
Bob Russell — October 29-31
(Emcee: Glynn Bachelor; Worship Leader: Johnny Prettyman; Pastor-in-Residence: John Parrish)
Living Confidently in Turbulent Times
---
Click here for a schedule of seminar, concerts, and retreats at The Cove in beautiful Asheville, NC.
Are you a Christian church or non-profit ministry looking for a place to hold your conference, retreat or ministry event?  Click here for more information on holding your event at The Cove.
Visit the Chatlos Memorial Chapel, Visitors Center, and Ruth's Prayer Garden. Click here for directions and operating hours. Tours are free.
Follow us on social media.