We hope you will enjoy our "Prayer Note"—an internal communication here at The Cove, created each month to remind and encourage our staff to pray. We share these with you at the beginning of each month in hopes that you, too, will be encouraged.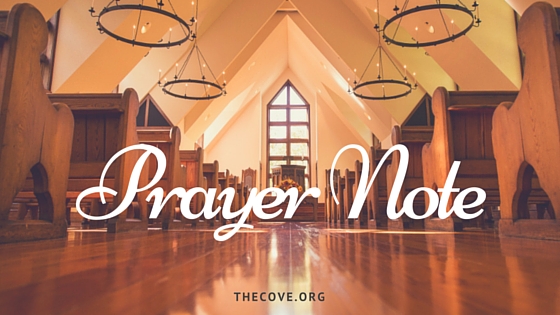 RESOLVE TO REMEMBER
The first day of school has come and gone for millions of children throughout the country. Supplies have been purchased and parental wallets emptied. New teachers have been met and homework assignments commenced. And tears have dampened the concrete sidewalks of many an elementary school as parents dropped off wide-eyed children for the first day of first grade. (More often than not, the tears were from the red-rimmed eyes of parents rather than from the students.)
MEMORY KEEPERS
Prior to making that first trip to school, many eager little ones have stood smiling on the doorstep of their home, holding a "First Day of First Grade" sign so Mom could capture the momentous occasion in a Facebook or Instagram post. Each adorable image of a smiling child armed with a new backpack and clean white sneakers reminds us that there are certain times in our lives when we consciously desire to preserve a memory—occasions when we are acutely aware of the fact that time moves swiftly and treasured moments pass. The six-year-old might be clueless as to the twelve-year journey he or she is embarking upon; but Mom and Dad understand the significance, and they seek to preserve the memory with more than just a mental snapshot.  Someday they want this child to look back and marvel at how far they have come and how much they have learned.
God understands it too. Memory is a priceless gift He's blessed us with; and it's far more than just a helpful resource for compiling grocery lists, getting high test scores or remembering people's names. Our God-given capacity for memory can strengthen our faith and enhance our prayer life. Throughout His Word, God instructs us to recall the past and remember His faithfulness.
I WILL REMEMBER
There are examples of this throughout the Scriptures, especially in the book of Psalms.   "I have considered the days of old, the years of long ago. I will remember my song in the night; I will meditate with my heart, and my spirit ponders:  Will the Lord reject forever? And will He never be favorable again? Has His lovingkindness ceased forever? Has His promise come to an end forever? Has God forgotten to be gracious, or has He in anger withdrawn His compassion? Selah. Then I said, 'It is my grief, that the right hand of the Most High has changed.  I shall remember the deeds of the Lord; surely I will remember Your wonders of old. I will meditate on all Your work and muse on Your deeds. Your way, O God, is holy; what god is great like our God?  You are the God who works wonders; You have made known Your strength among the peoples.  You have by Your power redeemed Your people, the sons of Jacob and Joseph. Selah" (Psalm 77:5-12, NASB).
 Psalms 105 and 106 are summaries of the Lord's patient dealing with Israel, despite their pattern of willfulness and propensity to wander. We can recognize the repetitive pattern in our own lives: "Then they believed His words and sang His praise. They soon forgot His works; they did not wait for Hhis counsel" (Psalm 106:12-13, NKJV).  Yet praise God for the words "He remembered" that occur multiple times in these two chapters. "He remembers His covenant forever" (Psalm 105:8, NKJV). "For He remembered His holy promise" (Psalm 105:42, NKJV).  "And for their sake He remembered His covenant" (Psalm 106:45, NKJV). Even when we are forgetful, He remembers.
In the book of Lamentations, Jeremiah, "The Weeping Prophet," recalls God's loving kindness and faithfulness even in the midst of His judgement of Israel:  "Surely my soul remembers and is bowed down within me. This I recall to my mind, therefore I have hope. The Lord's lovingkindnesses indeed never cease, for His compassions never fail. They are new every morning; great is Your faithfulness. 'The Lord is my portion,' says my soul, 'Therefore I have hope in Him'" (Lamentations 3:20-24, NASB).
LESSONS FROM A FORGOTTEN LUNCH
Jesus Himself reminded His own disciples of the importance of recalling God's faithfulness. In Matthew 16:6, He spoke of their being "on guard against the leaven of the Pharisees and Saducees." The disciples took this simply as a subtle reference to the fact that they had forgotten to bring bread to eat. "But Jesus, aware of this, said, 'You men of little faith, why do you discuss among yourselves that you have no bread?  Do you not yet understand or remember the five loaves of the five thousand, and how many baskets full you picked up?  Or the seven loaves of the four thousand, and how many large baskets full you picked up?'" (Matthew 16: 8-10, NASB).  With these words their Master was encouraging them to recall two very recent instances of God's provision and faithfulness. Because Jesus knew the missing bread incident involved more than just missing lunch, He turned it into a learning opportunity. His disciples had yet to understand their need to look beyond their earthly circumstances and look up to their Heavenly Father and provider. He knew their needs were greater than the simple lack of physical nourishment; they had need of spiritual depth and discernment.
As we look ahead to the busy fall season, let's determine to look with the eyes of faith. And when faith grows dim and doubt creeps in or our meager resources seem inadequate, let's search our memories for reminders of the times when God has shown Himself faithful.  Let's ask Him to give us long memories, grateful hearts and strong faith. Let's resolve to remember.
Devote yourselves to prayer; stay alert in it with thanksgiving. (Colossians 4:2, HCSB)
—Donna Riesen
---
We appreciate your prayers for these upcoming September events:
Richard Blackaby — September 4-5
(Emcee: Glynn Bachelor; Worship Leader: Marty Goetz)
Pastor Renewal Retreat— Leading Out of the Overflow
 Erwin Lutzer — September 5-7
(Emcee: Glynn Bachelor; Worship Leader: Marty Goetz; Pastor-in-Residence: Jim Brackett)
The Inheritance of the Redeemed
Guided Personal Spiritual Retreat — September 7-9
(Facilitator: John Parrish)
Jerry Vines — September 10-12
(Emcee/Worship Leader: Tom Bledsoe; Artists: Overflow, John Innes; Pastor-in-Residence: John Parrish)
SeniorCelebration — Songs for the Journey: Four Psalms to Live By
Gary Thomas— September 14-16
(Emcee: Ron Whittemore; Worship Leader: Marty Goetz; Pastor-in-Residence: Kevin Wimbish)
Military Marriage Retreat — Cherish: God's Way to Change Everything for Your Marriage
An Evening at The Cove with CeCe Winans — September 18(Emcee: Michelle Bachelor)
---
Click here for a schedule of seminar, concerts, and retreats at The Cove in beautiful Asheville, NC.
Are you a Christian church or non-profit ministry looking for a place to hold your conference, retreat or ministry event?  Click here for more information on holding your event at The Cove.
Visit the Chatlos Memorial Chapel, Visitors Center, and Ruth's Prayer Garden. Click here for directions and operating hours. Tours are free.