We hope you will enjoy our "Prayer Note" — an internal communication here at The Cove, created each month to remind and encourage our staff to pray. We share these with you at the beginning of each month in hopes that you, too, will be encouraged.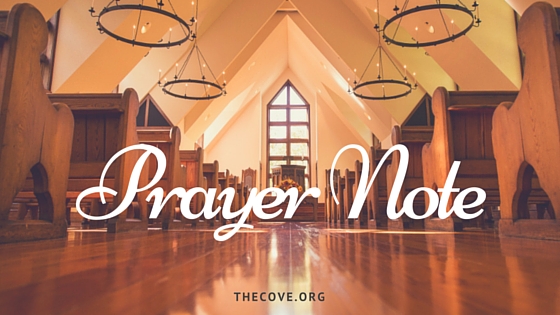 By Donna Riesen
GOD IS OUR REFUGE
Last month a four-year-old taught me a lesson in trusting God. Little Gracie entered the room where her grandma was watching the evening news just in time to hear the announcement of plans to close Disney World in anticipation of hurricane Matthew. Her grandma explained that since a big storm was coming to Florida, they were going to have to close the Magic Kingdom in order to keep people safe. Eyes wide with alarm, Gracie exclaimed, "But what about the princesses? I hope they run into the castle right now and lock the door!"
My favorite image of Gracie is from last summer's Fourth of July barbecue. Wearing a pink tutu, a tiara, and a red-white-and blue "Super Girl" cape, she's standing in the crook of a tree, held safe by her father's strong arms. Gracie's a brave and spunky little girl; yet even at the age of four—a magical time when fairly tales seem real—she knows there are some things way bigger than a prince, a princess, or even Super Girl.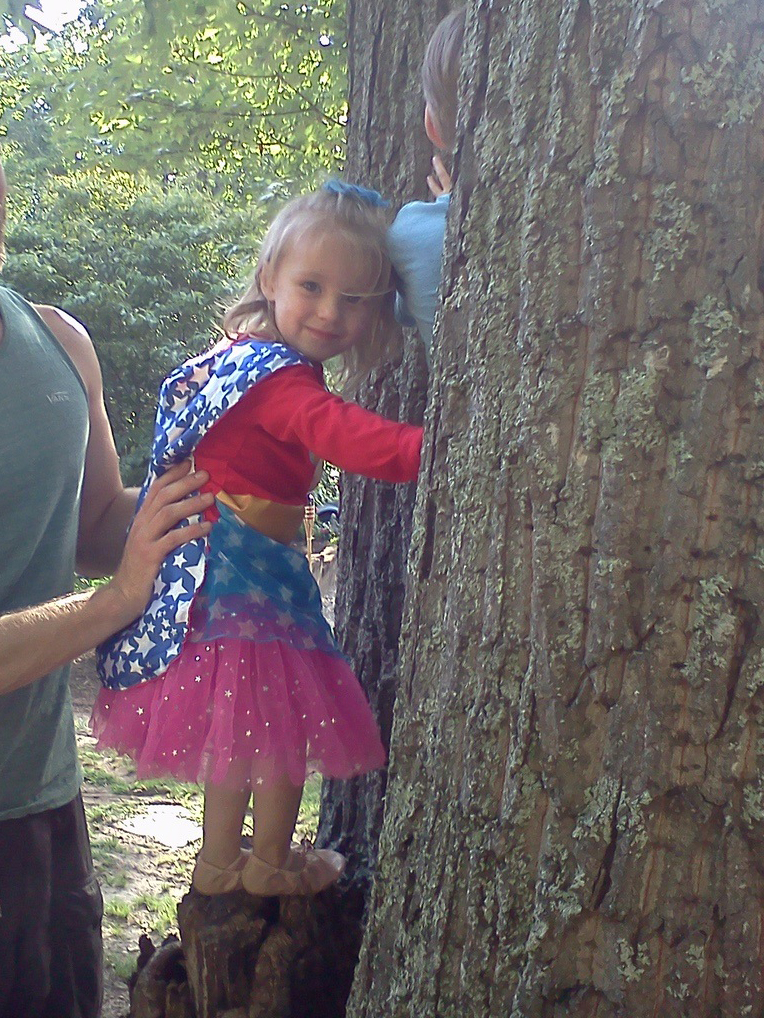 Gracie knows what to do when a storm is coming. Do we?
RUN TO THE REFUGE
None of us will make it through this life without being hit by a storm. A raging tempest of trouble may arrive in the form of serious illness, divorce or financial loss. The windows of our soul may be rattled by the cold winds of anxiety, fear and worry. Our emotional life may be overshadowed by heavy clouds of disappointment, heartbreak, depression, grief or loneliness. And we may become frustrated and discouraged as we view the path of destruction left in the wake of overwhelming tempests of evil and injustice blowing throughout the world.
It's human nature to run for cover when we see dark clouds gathering, and our destination matters greatly. For Christians, the only wise move is to run to the Refuge. "God is our refuge and strength, a very present help in trouble" (Psalm 46:1, NASB).
Does this mean we're cowards? Weaklings who must lean on religion as a coping mechanism? It means we are human. When life's hurricane of hardship begins to blow, some run to the protective refuge of money, power, or financial security. Others seek to escape from hurt and disappointment through alcohol or drug binges. The list of man-made storm shelters is a mile long, and most of us have at one time or another sought refuge in one of them.
The Old Testament book of Psalms is filled with references to God as our refuge. In times of trouble and distress the psalmist found his security and protection in Almighty God, his shelter and safe haven through the storms of life. A survey of the book gives a beautiful picture of God as our refuge in every situation:
Heartbreak, Sorrow or Grief — "Trust in him at all times, you people; pour out your hearts to him, for God is our refuge" (Psalm 62:8, NIV).
Worry or Anxiety — "Hear my cry, O God; give heed to my prayer. From the end of the earth I call to You when my heart is faint; lead me to the rock that is higher than I. For You have been a refuge for me, a tower of strength against the enemy. Let me dwell in Your tent forever, let me take refuge in the shelter of Your wings" (Psalm 61:1-4, NASB).
Then there's the general, catch-all category of "Trouble" — "But the salvation of the righteous is from the Lord; He is their strength in time of trouble. The Lord helps them and delivers; He delivers them from the wicked and saves them, because they take refuge in Him" (Psalm 37:39-40, NASB).
Whatever stormy situation you may be experiencing in life, turn to the Word of God for encouragement and strength; then pour out your heart to Him in prayer, thanking Him for being your "refuge and strength, a very present help in trouble" (Psalm 46:1, NASB).
"O taste and see that the Lord is good; how blessed is the man who takes refuge in Him!"  (Psalm 34:8, NASB)
Please continue to pray for all those who were affected by Hurricane Matthew, as well as for the Samaritan's Purse volunteers and other relief workers who are responding to aid the hardest hit areas.
As you pray for the needs of The Cove in the month of November, ask God to reveal Himself as a refuge for those who come here with deep hurts and heavy hearts due to storms they may be encountering.
---
Join us in praying for the following events in November:
November 2016 EVENTS
All seminars in 2016 are free (lodging and meal fees apply).
(For more information or to register, click on the links below.)
Guided Personal Spiritual Retreat — November 2-4
(Facilitators: John Parrish and Trish Lancaster)
Anne Graham Lotz and Rachel-Ruth Wright — November 4-6
Emcee: Traynor Reitmeier; Worship Leader: Fernando Ortega; Pastor-in-Residence: John Parrish)
Passing the Baton of Truth to the Next Generation
Click here to join Anne and Rachel-Ruth for this seminar via live stream simulcast.
(3-day simulcast begins Friday, November 4. Cost is $30)
An Evening at The Cove with Fernando Ortega — November 6
Emcee: Michelle Bachelor)
R. Albert Mohler Jr. — November 7-9
(Emcee: Ron Whittemore; Worship Leader: Joe Horness; Pastor-in-Residence: Ed Graham) Leadership Renewal Retreat: The Conviction to Lead
Don Wilton and Rob Wilton — November 15-17
(Emcee: Ron Whittemore; Worship Leader: Marty Goetz; Pastor-in-Residence: Ed Graham)
The Power of One: The Key to Praying and Fasting
Thank you for praying!