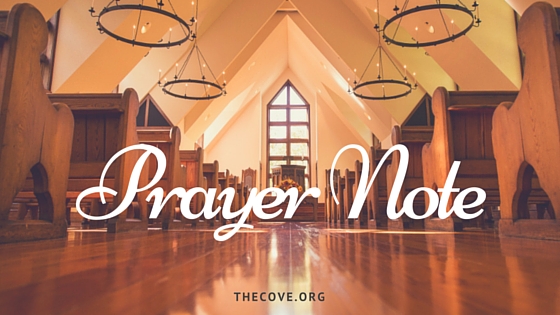 THE IMPORTANCE OF STAYING AND PRAYING
A survey of the book of Acts reminds us of the importance of prayer in the early days of the church. In fact, the church was birthed in prayer. Try to imagine yourself as part of the gathering of believers in that first "Upper Room Prayer Vigil."  In obedience to Christ's command to "stay in the city until you are clothed with power from on high" (Luke 24:49, ESV), they had gathered in Jerusalem to "stay and pray."
And when they had entered, they went up to the upper room, where they were staying, Peter and John and James and Andrew, Philip and Thomas, Bartholomew and Matthew, James the son of Alphaeus and Simon the Zealot and Judas the son of James.   All these with one accord were devoting themselves to prayer, together with the women and Mary the mother of Jesus, and his brothers.  (Acts 1:13-15, ESV)
PEACE AMONG PRAYER PARTNERS
Acts 2:1 tells us that at the moment of the coming of the Holy Spirit on that day of Pentecost, "They were all with one accord in one place."
In his commentary on the book of Acts, Matthew Henry explains how prayer played a part in bringing this group of disparate individuals into that peaceful state of unity:
"And here they were with one accord. We cannot forget how often, while their Master was with them, there were strifes among them, who should be the greatest; but now all these strifes were at an end, we hear no more of them. What they had received already of the Holy Ghost, when Christ breathed on them, had in a good measure rectified the mistakes upon which those contests were grounded, and had disposed them to holy love. They had prayed more together of late than usual (Acts 1:14), and this made them love one another better."
As that relatively small group of believers gathered, they were empowered by the Holy Spirit to proclaim the gospel with boldness. The practice of prayer was a regular occurrence in those early days. God's Word was proclaimed, the church grew, and the prayer-circle expanded: "And they devoted themselves to the apostles' teaching and the fellowship, to the breaking of bread and the prayers" (Acts 2:42, ESV).  Christ's church was built on the rock-solid foundation of the gospel and God's gracious response to the prayers of His people.
CALLED TO PRAY AND PROCLAIM
During His brief time of earthly ministry, the Lord Jesus had shown by example the importance of spending time in prayer and communion with the Father (see Matthew 14:23, Luke 9:28, and Mark 1:35), and as they sought to obey Christ's final command to "go into all the world and preach the Gospel" (Mark 16:15, NASB), these early believers followed His example and gathered often to pray.
Yet even in its infancy, the newborn church experienced its share of growing pains. Despite the prayers, conflicts arose and there was "trouble in the nursery." Today's church nursery scuffles usually involve a toddler hoarding animal crackers or snatching a toy, but back then the dispute was over the daily distribution of bread:
" 1 Now in these days when the disciples were increasing in number, a complaint by the Hellenists arose against the Hebrews because their widows were being neglected in the daily distribution. 2 And the twelve summoned the full number of the disciples and said, 'It is not right that we should give up preaching the word of God to serve tables.3 Therefore, brothers, pick out from among you seven men of good repute, full of the Spirit and of wisdom, whom we will appoint to this duty. 4 But we will devote ourselves to prayer and to the ministry of the word.' 5 And what they said pleased the whole gathering, and they chose Stephen, a man full of faith and of the Holy Spirit, and Philip, and Prochorus, and Nicanor, and Timon, and Parmenas, and Nicolaus, a proselyte of Antioch. 6 These they set before the apostles, and they prayed and laid their hands on them.  7 And the word of God continued to increase, and the number of the disciples multiplied greatly in Jerusalem, and a great many of the priests became obedient to the faith" (Acts 6:1-7, ESV).
This passage highlights for us the apostles' wisdom in leading the infant church. They understood the importance of caring for the physical needs of their flock, yet they would not allow it to take priority over the spiritual feeding of souls. Their recommendation to appoint "men of good repute, full of the Spirit and of wisdom" (6:3) to serve tables and oversee food distribution is proof that the leaders of the early church clearly understood their own apostolic calling: to pray and to preach.
PRAYER IS STILL PRIMARY
Fast-forward to today. Regardless of membership roles, music style, or the number of likes on a Facebook page, Christ's church is still being built by praying and proclaiming. This same principle applies to us as Cove staff. As we seek to serve God by welcoming His people and proclaiming His Word, we know our efforts will only be effective if they are preceded by prayer.
JOB FAIRS AND FAITHFUL PRAYERS
Two job fair events were recently held at The Cove, and we praise God for the tremendous response. We as Cove staff prayed often prior to and during these events, and we continue to pray as our leadership proceeds with applicant interviews and hiring decisions. Please join us in asking the Lord to bring just the right people to serve Him at The Cove. Although we are in need of additional staff, our first priority is to seek God's face for wisdom, guidance and provision. If you serve in an area with open positions, your workload may be heavy. Remember the psalmist's instruction to "cast your burden on the Lord and He will sustain you" (Psalm 55:22, NASB), and continue to remain faithful in your work and in your prayers. As our founder Billy Graham once said, "You cannot afford to be too busy to pray."
Keep praying and seeking!
—Donna Riesen
---
We appreciate you joining us in prayer for the following events that will take place on The Cove property during the month of May.
MAY CALL TO PRAYER
Jim Henry — May 1-3
(Emcee: John Parrish; Worship Leader: John Chisum; Pastor-in-Residence: Kevin Wimbish)
Pastor Renewal Retreat— Jesus: The Joy of the Journey
 SeniorCelebration: Don Wilton with the Burchfield Brothers — May 7-9
(Emcee/Worship Leader: Tom Bledsoe; Musicians: John Innes, Burchfield Brothers; Pastor-in-Residence: John Parrish)
Living it Up (1 Peter)
 Ron Hutchcraft — May 9-11
(Emcee: Michael Everhart; Worship Leader: Mark Christian; Pastor-in-Residence: David Taylor)
Uncommon Courage: Joshua's Five Bold Choices for Our Uncharted Times
An Evening at The Cove with Veritas — May 11
(Emcee: Michelle Bachelor)
Chip Ingram — May 25-27
(Emcee: Bill Wolfe; Worship Leader: Michael O'Brien; Pastors-in-Residence: John Parrish and David Taylor)
Military Marriage Retreat — God's Blueprint for a Great Marriage
 Ed Stetzer — May 30-June 1
(Emcee: Glynn Bachelor; Worship Leader: John Elliott; Pastor-in-Residence: Preston Parrish)
Pastor Renewal Retreat— Leading as Agents of Gospel Transformation