We hope that you will enjoy our "prayer note" — an internal communication, here at The Cove, created each month to remind and encourage our staff to pray. We will share these with you at the beginning of each month in hopes that, you too, will be encouraged.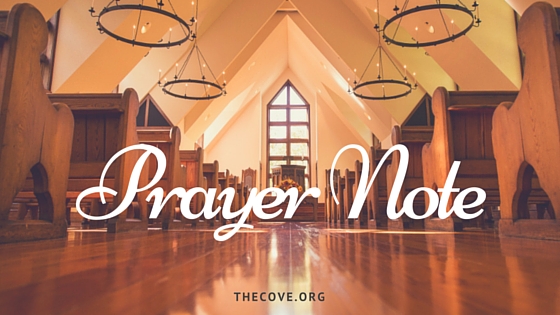 By Donna Riesen
"The most important events in human history were the death and the resurrection of Jesus Christ." –Billy Graham
There are those hoping for "huge" turnouts on a certain day in March at key locations all across our country. No, I'm not referring to March 1st, "Super Tuesday." I'm referring to an even more significant date on the calendar: Sunday, March 27th, Easter Sunday. While I am praying about results from Super Tuesday, I'm hoping that on Resurrection Sunday, churches throughout the U.S. will be filled to overflowing, both with those who know Jesus Christ and with those who need to come to know Him.
Our country is in the midst of a pivotal election year, with great issues hanging in the balance, and we as Christians should be faithful and committed to pray and to vote as God leads us. Yet even as we pray for God's will and His blessing on our country, we acknowledge this reassuring truth: Our hope does not rest on election results, it rests on the fact of Christ's resurrection.
While talk show hosts and political pundits make predictions and wait expectantly for exit poll results in key states, we can pray the prayer of the psalmist David, "My soul, wait silently for God alone, for my expectation is from Him" (Psalm 62:5, NKJV).
As the noontime sky darkened on a Friday afternoon outside the walls of Jerusalem 2000 years ago, the hopes and expectations of Jesus' followers seemed to be dashed. After long centuries of waiting and praying for the arrival of the promised Messiah, the one in whom they had placed their hopes hung bleeding, hands and feet nailed to a wooden cross. How could hope survive, when the promised deliverer was dying a horrible, shameful death?  And how could a day like that ever have earned the name "Good Friday?"
We call it good because on that day, the good and holy and sinless Son of God gave His life to pay the penalty for our sin. We call it good because three days later, the stone was rolled away, the tomb was empty and death was defeated. We call it good because God's agenda always exceeds our own expectations.
When the women went to the tomb on the Sunday morning after Christ's crucifixion, they expected to find His cold, lifeless body sealed within a tomb. Instead, they found the stone rolled away and the grave empty, except for the linen graveclothes left behind. The angel summed it up succinctly: "Why do you seek the living among the dead?" (Luke 24:5, NIV).
Talk about exceeding expectations!
We have much to pray about in this election year, but praise God that the results of Resurrection Sunday far outweigh the results of any Super Tuesday. This is why we can pray with great hope about any situation.
As you pray for The Cove throughout the month of March, pray with a resurrection mindset. Expectations are high as we head into the month of March, with a little of everything on The Cove's ministry schedule. We know what we've planned for and what we're expecting as we review The Cove's calendar, but what is really on God's agenda?  Let's remain faithful in prayer and watch for God to exceed our expectations!
"I pray that the eyes of your heart may be enlightened, so that you will know what is the hope of His calling, what are the riches of the glory of His inheritance in the saints, and what is the surpassing greatness of His power toward us who believe. These are in accordance with the working of the strength of His might which He brought about in Christ, when He raised Him from the dead and seated Him at His right hand in the heavenly places" (Ephesians 1:18-20, ESV).
"Now to Him who is able to do above and beyond all that we ask or think according to the power that works in us— to Him be glory in the church and in Christ Jesus to all generations, forever and ever. Amen." (Ephesians 3: 19-21, HCSB

_______________________________________________________________________
Join us in praying for the following events in March:
MARCH 2016 EVENTS
(For more information or to register, click on the links below.)
An Evening at The Cove
with Phillips, Craig & Dean, March 1
Guided Personal Spiritual Retreat
with John Parrish & Trish Lancaster, March 4-6
Exit Ramps off the Narrow Road to Life
with Larry Crabb, March 7-9
Women's Spring Luncheon: I Want It ALL
with Gwen Smith, March 13
SeniorSalt Impact Crusade Journey Hymn Sing
with Ron Whittemore and David Gaines,  March 14
Women's Seminar — The Larger Story: What the Christian Life is All About with Rachael Crabb, March 31-April 1
We appreciate your prayers. God bless you!