We hope you will enjoy our "Prayer Note"—an internal communication here at The Cove, created each month to remind and encourage our staff to pray. We share these with you at the beginning of each month in hopes that you, too, will be encouraged.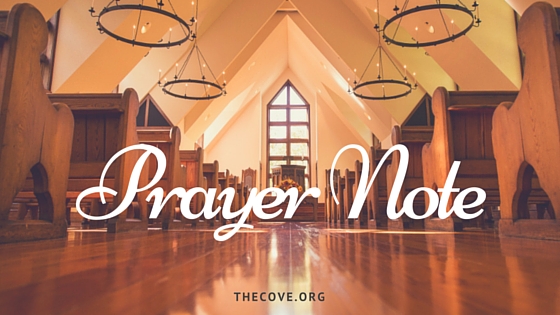 Blessed are the dead who die in the Lord…that they may rest from their labors, and their works follow them.  (Revelation 13:14, NKJV)
One week ago yesterday the word came that our beloved founder Billy Graham had passed into the presence of the Lord. The days since have been a mixture of the heaviness of loss and the sweet and certain hope of heaven.
We've heard funny stories about Mr. Graham and chuckled. We've wept as we heard tender accounts of his kindness, humility and love for the Savior. We filed past his simple pine casket and later lined the Training Center entrance in solemn silence, hearing the bell toll as Mr. Graham's earthly body exited the building for the final time. We watched in awe as the motorcade passed through miles and miles of North Carolina streets and highways lined with citizens standing quietly to pay their respects to a man they loved, although most had never known him personally. Flags flew. Homemade signs were held high. Respect was shown and love was poured out.
Prayers were lifted. As a staff we've prayed for comfort and strength for Franklin, Will and the entire Graham family. We've prayed for the memory of Mr. Graham to be honored and for God to be glorified in the events at The Cove, in Charlotte and in the U.S. Capitol. We've prayed for the many who have heard or will hear the gospel for the first time as Mr. Graham's final and most powerful sermon is preached through his death.
Prayer may be the most fitting way to honor the memory of Billy Graham. His ministry was birthed in prayer, and his entire life was bathed in it…
A FAR-REACHING PRAYER
In May of 1934, the prayer of a Charlotte businessman during a day-long men's prayer meeting held at the edge of the pasture on the Graham's dairy farm was prophetic, as he petitioned the Lord "that out of Charlotte the Lord would raise up someone to preach the Gospel to the ends of the earth."
Just 15 years old at the time that petition was voiced, young "Billy Frank" had not yet come to have a personal relationship with Christ. He would later write with regard to that prayer, "At that time, in 1934, it certainly wasn't obvious that that someone might be me."
 A PRAYER OF SALVATION
Later that same year, traveling evangelist Mordecai Ham arrived in Charlotte and began an 11-week revival meeting. It was at this tent revival that Billy Graham walked forward, knelt in the sawdust and prayed, confessing his sins and accepting Christ's gift of salvation. When he rose to his feet "a new creation," only God knew the incredible journey of faith that lay before him.
In his autobiography, Just As I Am, Mr. Graham described the prayer he prayed in his room at home later that night. "For the first time in my life I got down on my knees without being told to do so. I really wanted to talk to God. "'Lord, I don't know what happened to me tonight,' I prayed. "You know. And I thank You for the privilege I've had tonight.'"
 A PRAYER OF SURRENDER
The next pivotal prayer took place in Billy's college years during a solitary, late-night walk on the greens of a Tampa, Florida, golf course. There Billy knelt in the moonlight and surrendered completely to God's call on his life.
"I got down on my knees at the edge of one of the greens. Then I prostrated myself on the dewy turf. 'O God,' I sobbed, 'if You want me to serve You, I will.'"
 A PRAYER OF FAITH AND TRUST
In the late summer of 1949, a young Billy Graham knelt before a tree stump at Forest Home retreat center, settling once and for all an intellectual, spiritual and emotional struggle with regard to the truth and validity of God's Word. In the shadowy moonlight, with an open Bible in front of him, he poured out his heart to God. "Father," he prayed, "I am going to accept this as Thy Word—by faith! I'm going to allow faith to go beyond my intellectual questions and doubts, and I will believe this to be Your inspired Word."
Mr. Graham would later write in his autobiography, "When I got up from my knees at Forest Home that August night, my eyes stung with tears. I sensed the presence and power of God as I had not sensed it in months. Not all my questions were answered, but a major bridge had been crossed. In my heart and mind, I knew a spiritual battle in my soul had been fought and won."
He went on to speak as scheduled at Forest Home and saw 400 individuals make commitments to Christ. Weeks later he would begin his historic 1949 Los Angeles Crusade. Scheduled to last three weeks, the engagement ended up running for eight weeks as the huge tent was packed night after night. This would be the beginning of a worldwide ministry that would take him around the globe and allow him to preach the gospel to in person to more than 200 million people.
THE RESULT OF A LIFE OF PRAYER
"And He said to me, 'My grace is sufficient for you, for My strength is made perfect in weakness.'"  (2 Corinthians 12:9, NKJV)
At the age of ninety-nine Billy Graham was physically weak and had a desire to "depart and be with Christ" and his beloved Ruth; yet God saw fit to prolong his earthly life until Wednesday, February 21, 2018. While we do not know the reasons why, we are grateful God allowed Mr. Graham to see the beginning of his hundredth year. We can only imagine that perhaps it was for such a time as this.
It's been said by many that Mr. Graham's whole life was a sermon. Yet the final sermon he is preaching after his death may bring more individuals to Christ than were seen in his largest crusade. From the earliest Hour of Decision broadcasts, technology has advanced to the point that Billy Graham's preaching is now available around the clock, around the world. The clear and compelling message of the gospel is being proclaimed to millions, and Christ's strength is indeed being made perfect in the ultimate and final weakness of this North Carolina farm-boy–turned-preacher.
In an age of selfies and self-absorption, Billy Graham shines as an example of quiet humility and selflessness.
In a time of bitterness and rancor, he remains a kind and gentle voice for humanity.
In an age when many refuse to accept the concept of absolute truth, the voice of this powerful preacher still rings with the firm declaration, "The Bible says."
In a world wracked with hatred, violence, and hopelessness, Billy Graham's lifelong message is still being declared:
"For God so loved the world that He gave His only begotten Son, that whoever believes in Him  should not perish but have everlasting life." (John 3:16, NKJV)
As we enter the month of March, we do so in a spirit of gratitude and prayer: grateful for the privilege of serving in this remarkable ministry at "such a time as this" and prayerful that God's strength will be made perfect in our weakness.
Keep praying and seeking…
—Donna Riesen
---
We appreciate you joining us in prayer for the following events taking place on The Cove property during the month of March:
Women's Bible Study — Tuesday Morning, March 6
(Teacher: Jane Derrick; Worship Leader/Emcee: Carole James)
Living the Blessed Life (Matthew 5:1-12)
Michael Easley — March 2-4
(Emcee: Bill Wolfe; Worship Leader: Marty Goetz; Pastor-in-Residence: John Parrish)
Military Marriage Retreat — Living Like Heaven is a Real Place
Crawford Loritts — March 5-7
(Emcee: Glynn Bachelor; Worship Leader: Marty Goetz; Pastor-in-Residence: John Parrish)
Navigating Life's Challenges   
An Evening at The Cove with The Collingsworth Family – March 14
(Emcee: Michelle Bachelor)
Jennifer Rothschild — March 22-23
(Emcee: Patty Stump; Worship Leader: Michael O'Brien)
Women's Event — Unshakeable: The Keys to an Unbreakable Faith