We hope that you will enjoy our "prayer note" — an internal communication, here at The Cove, created each month to remind and encourage our staff to pray. We will share these with you at the beginning of each month in hopes that, you too, will be encouraged.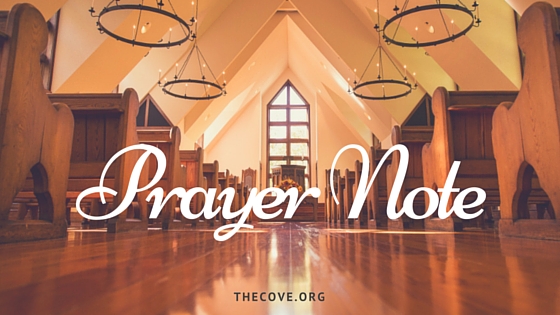 By Donna Riesen
The Planting of Seeds
We at The Cove have looked forward to the opening of Ruth's Prayer Garden, as our Grounds Maintenance team, led by horticulturist Lucas Jack, has been hard at work for months, planting and cultivating the seeds of this garden of prayer. Their job may at times feel thankless, and there are usually a few days a year, during the cold winter months of January and February, when they are quite literally "snowed under" with work. Yet we praise God for each of these dedicated workers who serve God, the Master Gardener, so faithfully.
A walk through the newly opened Prayer Garden will reveal the results of their labor: Seeds planted in the cold ground of February that have blossomed in the warmth of spring. Ruth Bell Graham understood well this concept of anticipation—walking by faith and living in expectancy of answered prayer to come. The Cove itself was born from the seeds of faith sowed by Billy and Ruth as they walked the undeveloped property and prayed for God's will. I believe The Cove represents "exceedingly abundantly" answered prayer, "above all that we ask or think" (Ephesians 3:20).
The Arrival of Spring
Today, the colorful, serene garden stands as a lush and living testimony to this remarkable woman who left behind a legacy of faith and prayer. Her vision for The Cove to become a place of rest, relaxation, refreshment and renewal has been realized. Ruth's Prayer Garden is named in honor of this woman who made a life-long habit of "waiting on the Lord" in prayer.
Billy Graham's original vision for The Cove has also come to pass. Each year, thousands come to find The Cove as a place of impact, intercession, instruction and inspiration. The garden itself was designed to be a place of intercession—a restful, relaxing place where visitors will find refreshment and renewal as they pray and seek God's face.
During the month of June, let's commit to honor the Lord's command and carry on the legacy of Ruth Bell Graham by remaining faithful in the ministry of prayer and intercession. Let's determine to "pray without ceasing" (1 Thessalonians 5:17, NKJV). In her own eloquent way, Ruth echoed the Apostle Paul's exhortation in her poem entitled, "Pray."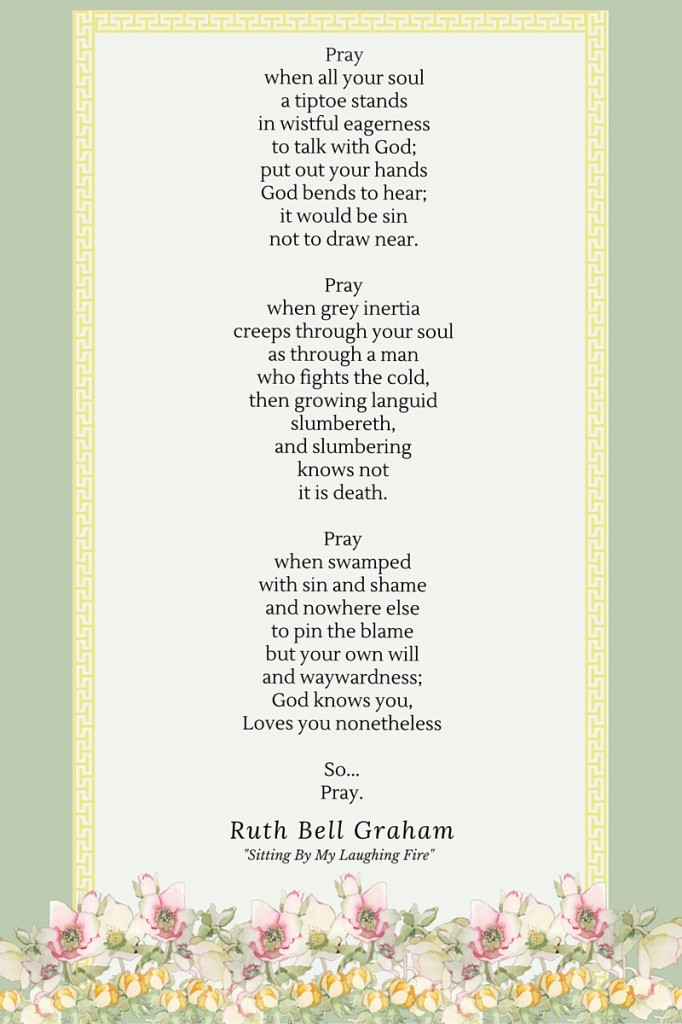 JUNE 2016 EVENTS
All seminars in 2016 are free (lodging and meal fees apply.)
(For more information or to register, click on the links below.)
Dedication of Ruth's Prayer Garden — June 1
We Will Not Bow: Lessons in Courage from the Life of Daniel
with Darren Thomas — June 3-5
Intensive Bible Training: The Bible's Roadmap: Living Confidently in Christ with Woodrow Kroll — June 20-24
Intensive Bible Training: The Arrival of the Day of the Lord
with Walter C. Kaiser, Jr.  — June 27- July 1
Thank you for praying!