We hope you will enjoy our "Prayer Note"—an internal communication here at The Cove, created each month to remind and encourage our staff to pray. We share these with you at the beginning of each month in hopes that you, too, will be encouraged.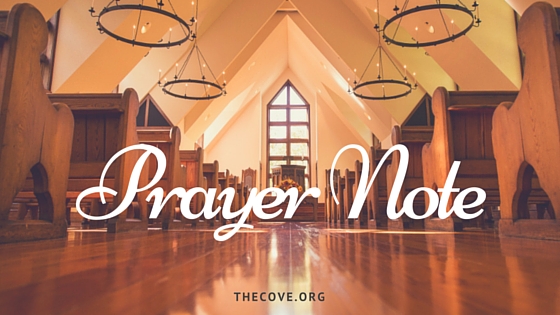 FAKE FEARS AND REAL TEARS
There's been quite a commotion taking place outside our office window this week, as we've watched a live performance of Angry Birds take place every day. A brilliant red cardinal has apparently taken over the tree just outside the window, and he is passionate about protecting his territory. Several times throughout the day we've seen him fly in with eyes blazing and feathers ruffled. The real ruckus begins when he sees his own reflection in the window. He spreads his wings wide and flings himself toward the imagined intruder, tapping repeatedly with his sharp beak. His outbursts had lessened by Thursday afternoon; we believe overcast skies may have dimmed the reflection and calmed his frazzled bird-nerves.
Like this agitated cardinal, have you ever been guilty of fighting a fake fear? If we're honest, most of us could confess to conjuring up imaginary catastrophes that haven't yet occurred and then watching them grow in intensity as our worried mind grows more fretful by the minute.
Though we've all fallen victim to imagined fears, we also know there are times in life when we are confronted with very real situations in which the normal human response is one of fear. Illnesses come, banks fail, floods rise and tragedies occur. And yet our Heavenly Father tells us to "Fear not."
A new route to work now finds me navigating the twists and turns of a winding mountain interstate that's a popular route for truckers. When possible, I try to steer clear of them and give them plenty of space. One afternoon as I traveled home from work on this winding route, I came around a wide curve only to find myself facing the huge metal grill at the front of a semi-truck cab. The cab was suspended at the back of a tow-truck, but for an adrenaline triggering split-second, I was gripped with the sensation of an oncoming head-on collision with a gigantic beast of a vehicle. As the adrenaline rush melted, I relaxed and broke into a grin as I realized my "brush with death" had been an optical illusion.
A cardinal fears the intrusion of a rival bird into his territory.  A human being fears death. His own reflection poses no real danger to a bird; yet death is the ultimate danger to be feared by all.  It is natural for human beings to fear the prospect of death; but for the believer in Christ, death is simply the entrance into the presence of the Lord.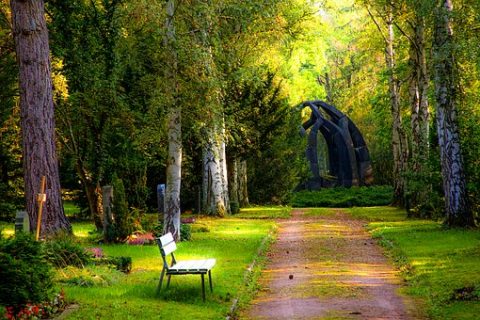 The New Testament book of John paints the poignant picture of Martha as she grieves the death of her beloved brother and Jesus' friend, Lazarus. Yet perhaps even more painful than the loss of her brother was the heart-rending perception that Jesus couldn't be trusted. Martha was fearing that this great teacher who had healed countless others had let her down—had failed to show up as healer when His own dear friend, her brother, was at death's door. As Jesus arrived on the scene three days after Lazarus' death, a heartbroken Martha went out to meet Him. Her emotions raw, she blurted out the truth of her wounded heart: "Lord, if you had been here, my brother would not have died" (John 11:21, NKJV).  Martha had faced the fear of loss as she watched the life of her brother slip away; yet she was now dealing with the perceived fear that she had misjudged Jesus. Even while she clung to the Old Testament promise of a coming resurrection and the hope of seeing her brother again, she remained gripped by the fear that Jesus had failed her and forsaken her.
When Jesus responded, "Your brother will rise again," Martha gave the dutiful theological reply, "I know that he will rise again in the resurrection on the last day." (John 11:24, NKJV)
Christ's next words would reveal His identity, power and promise to Martha and to believers down through the ages: "I am the resurrection and the life. Whoever believes in me, though he die, yet shall he live, and everyone who lives and believes in me shall never die. Do you believe this?" (John 11:25-26, NKJV).
With her brother still cold in the grave, Martha responded with a rock-solid declaration of faith. "Yes, Lord; I believe that you are the Christ, the Son of God, who is coming into the world" (John 11:27, NKJV).
Verses 28 through 44 tell the rest of the timeless story. Martha's sister, Mary, fell at His feet weeping, echoing the earlier words of Martha: "Lord, if you had been here, my brother would not have died." Moved with compassion, Jesus asked to be taken to the tomb. We see the depth of His compassion in the Bible's shortest verse. Packed with meaning and emotion, it reads simply, "Jesus wept."
Jesus knows our hearts. He knows the feeling of our infirmities (Hebrews 4:15, KJV). After the raising of Lazarus and the display of His power over death, he would later go to the cross, where He would utter the cry, "My God, My God, why have You forsaken me?" (Matthew 27:46).
Real or imagined, there is no fear the believer will encounter that our Savior has not faced and conquered. Because of His sacrificial death on the cross, we need never fear separation from God, though at times His face may seem hidden and His voice silent. Even death itself cannot touch us; because of Christ's resurrection and victory over the grave, we merely pass through its shadow as we enter eternity with Him.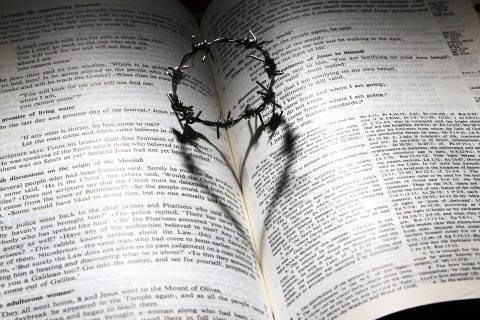 In his book Facing Death, Billy Graham related the experience of Donald Grey Barnhouse, a well-known preacher and theologian in the first half of the 20th century. Barnhouse's first wife died of cancer, leaving him with three children all under 12. The day of the funeral, Barnhouse and the children were driving to the service when a large truck passed them, casting a noticeable shadow across their car. Turning to his oldest daughter, who was staring sadly out the window, Barnhouse asked, "Tell me, sweetheart, would you rather be run over by that truck or its shadow? Looking curiously at her father, she replied, "By the shadow, I guess. It can't hurt you." Speaking to all his children, he said, "Your mother has not been overridden by death, but by the shadow of death. That is nothing to fear."
What a beautiful illustration of the psalmist David's words, "Yea, though I walk through the valley of the shadow of death, I will fear no evil. For Thou art with me. Thy rod and Thy staff, they comfort me" (Psalm 23: 4, KJV).
Through Christ's crucifixion and resurrection, He conquered death and the grave. Although the shadow of death may bring the chill of fear, we have the promise of eternal life in heaven with Him.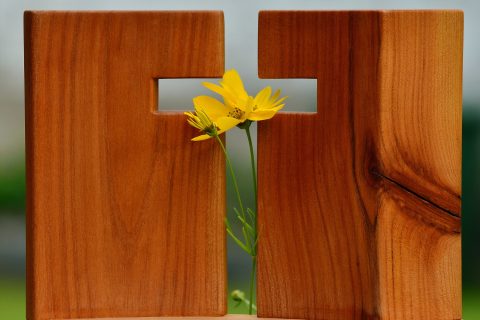 Our God is such a kind and merciful God! He knows that we are subject to worry, anxiety and fear. He commands us to "fear not," yet He also "remembers that we are dust" (Psalm 103:14, NKJV) and has graciously given us numerous verses in His Word telling us to "fear not" or to "be not afraid."  His Word is packed with promises of His presence, protection and power. That means whether our fear is real or imagined, there is a promise for us to claim.
The next time you get your feathers ruffled and begin to feel agitated, anxious or fearful, pour out your heart to the one who says, " 'Do not fear, for I am with you; do not anxiously look about you, for I am your God. I will strengthen you, surely I will help you, surely I will uphold you with My righteous right hand' " (Isaiah 41:10, NASB).  Grab hold of His hand and His promise, and hang on!
—Donna Riesen
---
We appreciate you joining us in prayer for the following events that will take place on The Cove property during the month of June.
JUNE CALL TO PRAYER
An Evening at The Cove with Brandon Heath — June 14
(Emcee: Michelle Bachelor)
 
James Brown — June 15-16
(Emcee: Bill Wolfe; Worship Leader: Michael O'Brien)
Men's Event—
Break the Huddle and Run the Play: Are We Running the Plays God Has Called for Us?
 
Walter C. Kaiser, Jr. — June 18-22
(Emcee: Michael Everhart; Worship Leader: Michael O'Brien; Pastor-in-Residence: John Parrish)
Intensive Bible Training—
The Majesty of God in the Midst of Suffering: Studies in the Book of Job
 
SeniorSalt Impact Hymn Sing — June 25
(Emcee/Worship Leader: Ron Whittemore)
 
Mark Yarbrough — June 25-29
(Emcee: Glynn Bachelor; Worship Leaders: Richie & Gina Kingsmore; Pastor-in-Residence: John Parrish)
Intensive Bible Training—
What Does Jesus Think? Having the Mind of Christ