Each month one of our staff, Donna Riesen, prepares a "prayer note" to remind and encourage our staff to pray. We will begin sharing these with you on the first of each month in hopes that, you too, will be encouraged.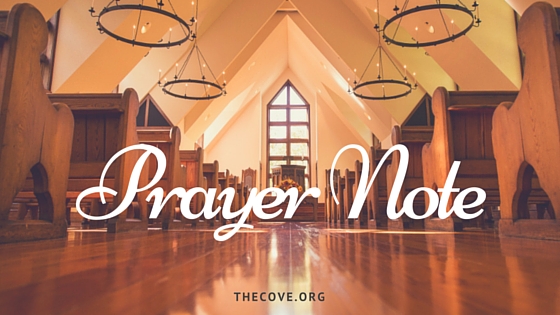 By Donna Riesen:
Have we lost Jesus? Another Christmas season has come and gone, and we've shopped and eaten and wrapped and traveled, but have we marveled at the miracle? Like Mary, did we take the time to "ponder in our hearts" the truth of God coming to earth as a helpless baby, on a rescue mission of love? Like the Wise Men, did we go out of our way to seek Him?
Aside from the New Testament birth narratives, the visit from the Wise men, the account of Christ's circumcision, and the flight to Egypt, the Bible is silent on a large portion of Jesus' childhood until Luke 2:41-52 gives us a brief glimpse of the boy Jesus at age 12.
Following their usual custom as faithful Jews, Mary and Joseph made their yearly pilgrimage to Jerusalem for the Feast of the Passover. Luke records an astonishing sequence of events as—after an entire day's travel on their return to Nazareth—Mary and Joseph realize they have lost track of Jesus. If you've ever lost sight of your child for even a few minutes in the aisles of a department store, you know that heart-stopping feeling they experienced.
(Side note: Before accusing the couple of child neglect, we should consider that the large crowds who made the Passover journey together usually divided into two groups: men, and women & children. Since Jesus was now twelve years of age, Mary may have assumed her Son had joined with the group of men to make the journey home, while Joseph probably believed Him to be with the women and children. Since the crowd of pilgrims probably included lots of extended family, Jesus would have had plenty of relatives to look after Him in either group. Who wouldn't volunteer for that babysitting job?)
After searching and inquiring to no avail among the group of travelers, the worried couple made a hasty return trip to Jerusalem. Verse 46 tells us that "after three days they found Him in the temple, sitting in the midst of the teachers, both listening to them and asking them questions" (Luke 2:46, NKJV).  We let out a sigh of relief at hearing that the boy was found safe, then catch our breath again in amazement as we read that "all who heard Him were astonished at His understanding and answers" (2:47, NKJV). The amazement increases as we picture a frazzled Mary scolding the Son of God: "Son, why have You done this to us? Look, Your father and I have sought you anxiously" (2:48, NKJV).
Jesus' reply gives us the first clue that He is aware of His identity and destiny as the Son of God. "Why did you seek me? Did you not know that I must be about My Father's business?" (Luke 2:49, NKJV)
The Bible then tells us in verse 50 that "They did not understand the statement which He spoke to them." In spite of being misunderstood, verse 51 shows us the humility of Christ, as He "went down with them and came to Nazareth and was subject to them, but His mother kept all these things in her heart."
From the day the angel first appeared to her in the little village of Nazareth, to the temple at Jerusalem, and then to the foot of the cross, tender-hearted Mary would have much to keep and ponder.
As we ponder the happenings of 2015 and look ahead to 2016, may our prayer be to never lose track of Christ. As He was found in the temple  discussing the Scriptures with leaders two and three times His age, may we be found seeking for Him in the pages of His Word and in prayer.
As Cove staff, we are privileged to work in a place where we are daily "about our Father's business." Whether we are changing bed linens, changing an inn reservation or changing a lightbulb, we all serve in a place where lives are changed by the power of the Word of God and the work of His Spirit. 2016 will be a year of change for all of us at The Cove. Although we will "hit the ground running," may we never run ahead of Christ in self-sufficiency or lose track of Him by lagging behind in disobedience. Instead, let's enter this new year on our knees in a posture of prayer. If you've lost track of Jesus, that's the best place to start.
Click here to see what's happening at The Cove.