We hope you will enjoy our "Prayer Note"—an internal communication here at The Cove, created each month to remind and encourage our staff to pray. We share these with you at the beginning of each month in hopes that you, too, will be encouraged.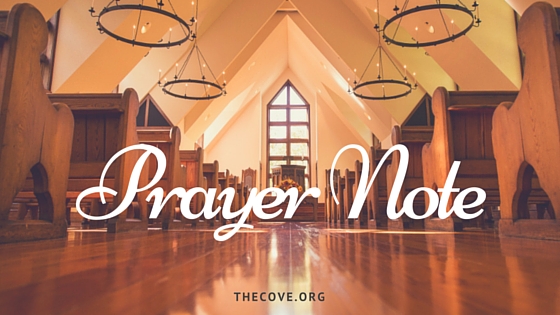 "The Lord is the one who goes ahead of you; He will be with you. He will not fail you or forsake you. Do not fear or be dismayed" (Deuteronomy 31:6, NASB).
Remember 2017? Terror attacks. Wildfires. Violent protests. Nuclear threats. Political divisions. A concert shooting. School shootings. Church shootings. Sexual assaults. Hurricanes. Floods. Earthquakes. Amid the chaos, confusion and sadness brought on by many of these tragic events, we saw glimpses of goodness, bravery, compassion and human kindness. Brave soldiers, firemen, police officers, EMTs, relief workers and ordinary citizens ran toward danger rather than away from it, saving lives, relieving burdens and providing glimmers of hope in the midst of heartbreak. Some made headlines while others did not.
One positive event that occurred last summer brought Americans together from coast to coast, and the hype surrounding it was almost as memorable as the event itself. Dubbed "The Great American Eclipse," the total solar eclipse that took place in the skies over the United States on August 21 of 2017 was an unforgettable shared experience. Scores of Americans laid down hard-earned cash to buy goofy-looking protective glasses in cardboard frames. Some traveled great distances to gather in public squares, on mountaintops or in open fields along the path of totality. Many of us at The Cove even donned those classy protective shades to glimpse the eclipse from the Training Center deck or parking lot!
While many Christians were moved to expressions of awe and praise to God for the breathtaking display of His handiwork during the celestial event, there were also plenty of unbelievers who were moved to near-religious fervor at the spectacle—praising nature, the sun or "The Universe." God's common grace allows us all to recognize beauty when we see it. Almost equally as miraculous was the fact that despite our political or religious affiliation or skin color, we all were looking up in unison as the path of the eclipse moved from the Oregon coast and across the country to South Carolina.
As we reflect back on 2017 and look ahead into the new year, we may be tempted to give in to feelings of fear, anxiety, anger or disappointment. Some of us may progress into 2018 with heavy hearts as we still move in the shadows of a serious personal trial or loss. Like the shadow cast when the sun, moon and Earth aligned last August, we stand in a dark and gloomy place, wondering when the light will return. It's in these places where we realize rose-colored glasses provide no help. We need much more than positive thinking to carry us through. We need to look up.
"Lift up your eyes to the sky, then look to the earth beneath; for the sky will vanish like smoke, and the earth will wear out like a garment and its inhabitants will die in like manner; but My salvation will be forever, and My righteousness will not wane" (Isaiah 51:6, NASB).
Despite the very real shadows that may obscure your path as you begin a new year, look up and acknowledge God's sovereignty and seek Him through prayer and study of His Word. As we intentionally seek to view the world and our circumstances in the light of God's eternal truth and unbreakable promises, we can gain the courage needed to walk through the shadowy places, knowing He walks beside us though we may not see His face.
"Even though I walk through the valley of the shadow of death, I fear no evil, for You are with me; Your rod and Your staff, they comfort me" (Psalm 23:4, NASB).
Before plunging ahead into the activities and events of this new year, let's take the time to look up. Let's pray and seek the face of our Shepherd, asking Him to light our path, guide our steps and encourage our hearts. His promises are true and we can trust Him!
"The Lord God is a sun and shield; the Lord gives grace and glory; no good thing does He withhold from those who walk uprightly" (Psalm 84:11, NASB).
 Keep praying and seeking!
—Donna Riesen
---
We appreciate you joining us in prayer for the following events taking place on The Cove property during the month of January.
Women's morning Bible study: January 9-February 27
(Teacher: Jane Derrick; Worship Leader/Emcee: Carole James)
Living the Blessed Life (Matthew 5:1-12)
Register online today.
Women's evening Bible study: January 9-February 20
(Teacher: Kendra Graham; Emcee: Jill Gottenstrater)
Live Bold (Selected Scripture)
Register online today.

NOTE: Can't make it in person? Kendra's Bible study will also be streaming live each Tuesday evening on Periscope, via Twitter, where you can watch from the comfort of your own home.