We hope you will enjoy our "Prayer Note"—an internal communication here at The Cove, created each month to remind and encourage our staff to pray. We share these with you at the beginning of each month in hopes that you, too, will be encouraged.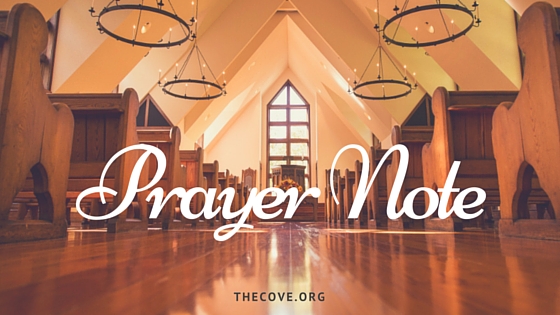 "Rejoice in hope. Be patient in tribulation. Be constant in prayer."
(Romans 12:12, ESV)
Meaningful Morning Prayer
"In the early morning, while it was still dark, Jesus got up, left the house, and went away to a secluded place, and was praying there" (Mark 1:35, NASB).
I am an identical twin, which means my sister and I are quite similar, except when it comes to the alarm clock. My sister bounces out of bed before sunrise, eager to accomplish great things before breakfast, while I consider 10 a.m. "early."
The Scriptures tell us that Jesus used the early morning hours to engage in His most purposeful prayer habits. He willingly got up in the darkest morning hours to slip away and get alone with His Father. I imagine that He did not want to have His prayer time interrupted by other early risers or the hustle and bustle of market merchants preparing to sell their wares to the crowds. Jesus knew that places of solitude would focus His ability to hear from God. In Luke 5:16, we are reminded that He frequently sought out the lonely, quiet places that many of us struggle to find today.
While Jesus repeatedly offered verbal models of meaningful prayer, I believe that His greatest prayer lesson was unspoken. Jesus' prayer life was powerful because it was quietly purposeful. Prayer wasn't an afterthought; a random act, or just something He fit into His schedule after a full day of healing the sick. Instead, His prayer life was highly intentional and meaningful. The greatest lesson we can learn from His example is that of intentionally saying "no" to the things that rob us of our quiet time with Jesus. May we learn to crave those dark, lonely, but quiet early morning times of sharing with the Savior so we have wisdom and hope for life's most difficult journeys.
—Lori Brown
We appreciate your prayers for these events that will take place at The Cove throughout the month of March:
Women's Bible Study  (Tuesday Mornings through March 5)
(Teacher: Dottie Edwards; Worship Leader & Emcee: Patty Stump)
Hope in Christ Matters…Tell Others Why!
Gold Star Wives' Retreat with Preston & Glenda Parrish
and Alyssa Gavulic  (March 8-10)
(Emcee: Bill Wolfe; Worship Leader: Janelle Flint; Pastor-in-Residence: Jim Brackett)
Finding Lasting Hope: Encouragement from the Book of Ruth
Evening at the Cove with Jason Crabb  (March 10)
Emcee: Bill Wolfe
Alex McFarland  (March 22-24)
(Emcee: Glynn Bachelor; Worship Leader: John G. Elliott; Pastor-in-Residence: John Parrish)
Daniel and Revelation: How God Wrote History in Advance
Women's Spring Luncheon with Angela Cottrell  (March 24)
(Emcee: Patty Stump; Worship Leader: Lily Cottrell)
Prayer: The Unexpected Thrill of Journeying with God
Will Graham  (March 25-27)
(Emcee: Traynor Reitmeier; Worship Leaders: Mark Christian, Richard & Gina Kingsmore; Pastor-in-Residence, John Parrish)
The Desert Belongs to God
---
Click here for a schedule of seminar, concerts, and retreats at The Cove in beautiful Asheville, NC.
Are you a Christian church or non-profit ministry looking for a place to hold your conference, retreat or ministry event?  Click here for more information on holding your event at The Cove.
Visit the Chatlos Memorial Chapel, Visitors Center, and Ruth's Prayer Garden. Click here for directions and operating hours. Tours are free.
Follow us on social media.