We hope you will enjoy our "Prayer Note"—an internal communication here at The Cove, created each month to remind and encourage our staff to pray. We share these with you at the beginning of each month in hopes that you, too, will be encouraged.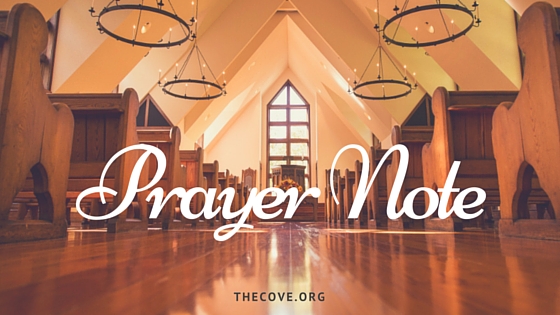 A God Who Senses All
"The eyes of the Lord are toward the righteous and His ears are open to their cry" (Psalm 34:15, NASB).
In God's amazing design for the human body, He gave us multiple senses through which we explore and understand the world. Think about grandma's chocolate cake. Our lips taste the sweetness, our nose smells the richness, and our hands feel the soft texture of a delicious dessert. Similarly, our eyes absorb the beauty of a setting sun or post-thunderstorm rainbow, while our ears perk up at the power of a full symphony or soulful choir. We are blessed because God gave us multiple senses through which we establish a richer understanding of the people and places around us.
In Psalm 34, we are reminded that God similarly uses His senses to absorb every moment of our heartfelt prayers. In fact, verse 15 says that His eyes are "toward the righteous." What an image! Think about that for a moment. God runs toward us, seeking to hear, see, and feel our every word and emotion, with joy and without distraction. God's ears yearn to hear every cry of pain or scream of anguish that life's challenges bring our way. His hands ache to hold the wet tears that fall down our faces in seasons of grief or loss, while His eyes rest lovingly on our crumpled bodies broken by relational heartache, illness, grief, or rejection.
I think it's one thing to say, "God hears our prayers," but it's an entirely different image in our heads and hearts when we imagine each prayer wrapped entirely in all of His senses. And it is this image of an all-sensing Savior that reminds me that I can pour my whole self, ugly tears and all, into precious moments of prayer. The more He sees, hears, and touches during my prayers, the greater my strength will become. Let's keep praying!                                                                                                                                            – Lori Brown
---
Click here for a schedule of seminar, concerts, and retreats at The Cove in beautiful Asheville, NC.
Are you a Christian church or non-profit ministry looking for a place to hold your conference, retreat or ministry event?  Click here for more information on holding your event at The Cove.
Visit the Chatlos Memorial Chapel, Visitors Center, and Ruth's Prayer Garden. Click here for directions and operating hours. Tours are free.