We hope you will enjoy our "Prayer Note" — an internal communication here at The Cove, created each month to remind and encourage our staff to pray. We share these with you at the beginning of each month in hopes that you, too, will be encouraged.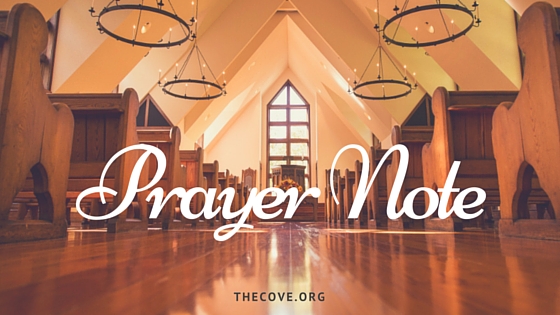 By Donna Riesen
A WISH OR A PRAYER?
"Star light, star bright, first star I see tonight…"  Do you recall any of the wishes you made when you were small?  I made a multitude of wishes as a child—whether it was wishing on a star, throwing a penny in a fountain, or wishing as I blew out the candles on a birthday cake—but I always followed up with a quick prayer, just as extra "insurance."  Raised in a Christian home, I was taught early to understand the difference between a fun game of wishing versus real praying to my Heavenly Father who knew me and loved me, and I soon began to perceive that real results were more likely to come from prayer rather than wishes. Thankfully, my understanding of prayer has grown since childhood, and I've begun to appreciate the fact that prayer is about much more than seeing results or having my every wish fulfilled. Now when I look up at the first star of evening, I'm moved to worship rather than wishing.
I think most of us have done our share of "Star Light/Star Bright" praying — deciding on our own about the outcome we desire, and then sending up "a wish and a prayer" that God will come around to our way of thinking and send the answer exactly as we requested. Praise God He doesn't work that way! As C. S. Lewis explained, "Prayer is request. The essence of request, as distinct from compulsion, is that it may or may not be granted."
As we grow in our faith and begin to know God in a deeper way through the reading of His Word and the witness of the Holy Spirit, we learn to appreciate the conversational quality of prayer. We come to Him with our needs and concerns, yet our prayer time involves much more than just submitting the day's "wish list."  We begin to seek the Giver more than His gifts. We learn to listen for the still small voice of His Spirit.
"Change your definition of prayer," Max Lucado recommends. "Think of prayer as less an activity for God and more an awareness of God. Seek to live in uninterrupted awareness." (Come Thirsty. Thomas Nelson, 2012.)
Let's ask God to transform our hearts, strengthen our love for Him and deepen our awareness of Him until we begin to grasp the meaning of Paul's exhortation to "pray without ceasing (1 Thessalonians 5:17, NKJV)." Our prayer list may be long, and we should not hesitate to bring our needs to the feet of our Father and trust Him to answer according to His will; but our greatest need is to know Him in a way that transcends our present situation.
As speaker Michael Card shared during a recent Intensive Bible Training session at The Cove, "Could it possibly be true that the greater miracle is not the healing or the unexpected check that saves from bankruptcy, but the unthinkable truth that God has chosen to be with us through it all? Could it possibly be true that the miracle is not provision, but Presence?" The Maker of the Stars desires to give us something so much greater than just fulfilled wishes. He desires to give us Himself.
Please pray faithfully for The Cove throughout the month of August. Pray for the health and safety of our speakers, artists and seminar attendees. Pray for God's provision and leading as we seek to serve and honor Him in this ministry. Most importantly, pray that those who visit The Cove will encounter God in a way that will transform their hearts and cause them to grow deeper in love with Him.
"Oh come, let us worship and bow down; let us kneel before the Lord our Maker (Psalm 95:6, NKJV)."
_______________________________________________________________________
Join us in praying for the following events in August:
AUGUST 2016 EVENTS
All seminars in 2016 are free (lodging and meal fees apply).
(For more information or to register, click on the links below.)
When Faith Collides With Fear
with Will Graham— August 5-7
Guided Personal Spiritual Retreat
with John Parrish & Trish Lancaster — August 8-11
Don't Waste Your Sin
with Steve Brown,  August 12-14
Living Like One of Heaven's Heroes
with Herb Reavis— August 15-17
Women's Seminar — The Jesus We're Aching For: The Gospel According to Mark
with Lisa Harper— August 19-20
An Evening at The Cove
with Laura Story— August 20
SeniorCelebration: God's Great Salvation: Chosen, Redeemed, and Sealed
with Mel Blackaby — August 22-24
Life on a High Place
with Wayne Barber — August 26-28
Thank you for praying!