We hope you will enjoy our "Prayer Note"—an internal communication here at The Cove, created each month to remind and encourage our staff to pray. We share these with you at the beginning of each month in hopes that you, too, will be encouraged.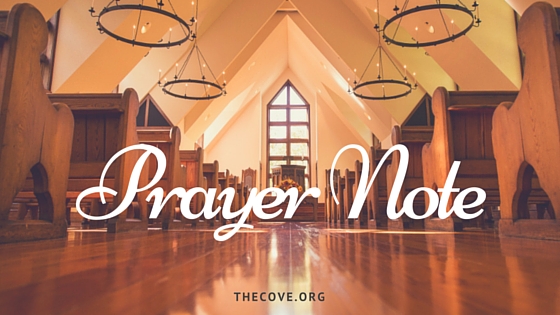 JUST WHO DO WE THINK WE'RE TALKING TO?
"…in Jesus' name, amen." We often end our prayers in this way—probably more times than we can count. But what do we do after our petitions have been made and our prayers ended? After saying amen, have you ever raised your head, risen from your knees and stooped right back down to pick up your burden?
---
The little girl stood with tiny feet planted in the cool, wet sand. A strong, salty breeze blew and the hot sun warmed her skin. Not yet old enough to comprehend the immensity of the vast ocean before her, she busied herself with the task of collecting water in her little red pail. With patient determination she squatted low and tipped the bucket down to allow the incoming wave to fill it. Then, squealing with excitement, up she jumped, grinning as she ran, cool seawater splashing over the sides of the bucket as she scampered across the sandy shore. Her parents watched, amused at the seriousness with which their little one viewed this endeavor. The tiny water-bearer grinned up at them as she dumped the seawater into the hole she'd dug earlier. She watched with a mixture of fascination and exasperation as the thirsty ground drank up most of her offering. Then, shrugging her shoulders she rose and ran back down to the shoreline for another fill-up. With sober determination she knelt and tipped the bucket down to allow the next wave to fill it. Satisfied, she lifted her head, scanning the huge incoming waves with wide eyes and an expression of surprise. "Mama," she cried, "it just keeps on coming!" Then she lifted her half-filled bucket and began making her way back across the sandy beach…
---
How often my prayer life resembles the activity of this industrious child on her first trip to the beach. I bow my head and dutifully tilt my bucket of need, prepared to catch the incoming flow of blessings I've requested of my Father on behalf of myself and those I love. After pouring out praise and petitions, I rise and think the 'task' of prayer is complete. Another item checked off my list. Yet often the depth of need seems to remain or grow bigger. Worry and anxiety return to keep me company. I've poured out my bucket of prayers, yet the burden still weighs heavy and the depth of my need increases.
LIFTING OUR EYES
What if, instead of keeping my head lowered and my eyes on my tiny bucket, I simply lifted my eyes to survey the vast ocean of grace and goodness in front of me?
What if when we prayed, we paused with each request to consider Who it is we are coming to? How might our prayers change if we began to try to comprehend just a fraction of the limitless sea of sufficiency we have in Christ? Would it help us to pray without ceasing if we paused to remind ourselves that His mercies never cease?  (See 1 Thessalonians 5:17 and Lamentations 3:22.)
"Lord, there's a big decision I have to make—please give me wisdom. Your Word says that You Yourself are the embodiment of Wisdom, and that in You 'are hidden all the treasures of wisdom and knowledge' (Colossians 2:3, NKJV). You've told me to ask for wisdom when I need it (see James 1:5), so I'm asking now. Thank You for hearing and answering, Lord!"
"Jesus, I've blown it again. I've failed You and fallen into the same hateful sin. I confess it before You and ask You to forgive me. You are the Savior who died to pay the penalty for my sin, and You are my Redeemer and Deliverer. (See Colossians 1:13-14.) Thank You that nothing in all creation can separate me from Your love." (See Romans 8:38-39.)
"God, I'm facing a huge task and I'm in need of strength. Your Word tells me that You are my 'refuge and fortress' (Psalm 91:2, ESV).  You are omnipotent—all-powerful, and You give strength to the weary and power to the weak. (See Isaiah 40:29.)  I need Your strength and power today, and I'm trusting You for it. Thank you."
"Lord Jesus, these waves of grief and loss washing over me threaten to knock me off my feet. The Scriptures tell me that you were 'a Man of sorrows and acquainted with grief' (Isaiah 53:3, NKJV) and that You are 'near to the broken-hearted' (Psalm 34:18, ESV). Please help me as I bring these pieces of my shattered heart to You. Let me rest in You, trusting You to hold me and bring comfort, courage and healing."
"Heavenly Father, the need I'm faced with appears huge—insurmountable—like a towering mountain casting a great shadow over me. Yet I thank You that I can 'seek refuge in the shadow of Your wings' (Psalm 57:1, HCSB).  Help me to remember that You are the all-sufficient Creator who holds all things together. (See Colossians 1:16-17.) As I lift my eyes to the hills, help me to remember that my help comes from You, the Maker of heaven and earth. (See Psalm 121:1-3.)"
As we pray for the seminars and events that will take place at The Cove this month, let's search the Scriptures, claim God's promises, and pause to remember just Who it is we are talking to.
"For this reason I bow my knees before the Father,  from whom every family in heaven and on earth is named, that according to the riches of his glory he may grant you to be strengthened with power through his Spirit in your inner being, so that Christ may dwell in your hearts through faith—that you, being rooted and grounded in love, may have strength to comprehend with all the saints what is the breadth and length and height and depth, and to know the love of Christ that surpasses knowledge, that you may be filled with all the fullness of God."
(Ephesians 3:14-19 NKJV)
Keep praying and seeking!
—Donna Riesen
---
We appreciate you joining us in prayer for the following events taking place on The Cove property during the month of April:
Jan Harrison — April 8
(Emcee: Michelle Bachelor; Worship Leader: Shannon Wexelberg)
Women's Spring Luncheon —
Life After the Storm: God Will Carry You Through
SeniorSalt Impact Hymn Sing — April 9
(Emcee/Worship Leader: Ron Whittemore)
Jim Cymbala — April 10-11
(Emcee: Glynn Bachelor; Worship Leader: Shannon Wexelberg)
Pastor Renewal Retreat—
Breakthrough Ministry: Lessons From the Book of Acts
Guided Personal Spiritual Retreat — April 16-19
(Facilitator: John Parrish)
An Evening at The Cove with David Phelps — April 19
(Emcee: Michelle Bachelor)