We hope you will enjoy our "Prayer Note"—an internal communication here at The Cove, created each month to remind and encourage our staff to pray. We share these with you at the beginning of each month in hopes that you, too, will be encouraged.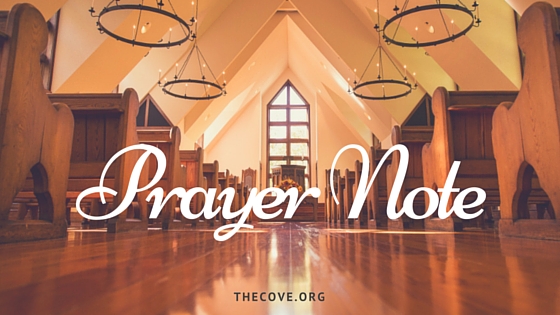 PLAYING WITH BOXES
I recently saw a video of a toddler who received a mini-trampoline for Christmas.  After unwrapping the gift (with some assistance) and seeing the bright, colorful picture of a trampoline, he carefully climbed up onto the lid of the box, stood up, and began jumping up and down on the image of the trampoline!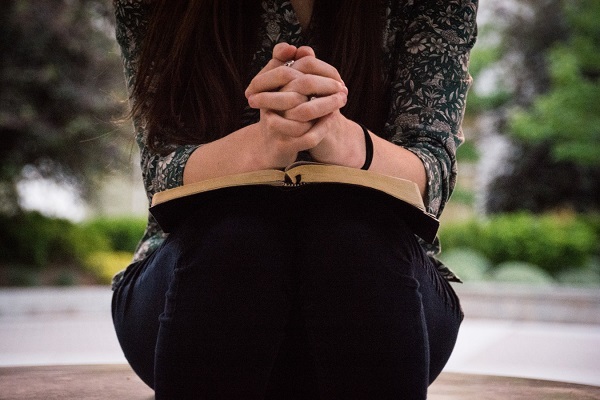 Are we ever guilty of doing the same thing with God? He has given us the privilege of communicating with Him by means of prayer; and in a miraculous gift of His grace, He's given us His promise to hear and answer (see Psalm 34:15, Matthew 7:11, John 15:16 and 1 John 5:14). Yet often our time is dedicated to everything but prayer. We read books and blog posts and articles on prayer, we download podcasts on prayer, we have prayer journals on our nightstands and prayer reminders on our iPhones. But do we pray? The books and blogs and podcasts are all good and helpful things, but if all we do is read about prayer, we're like the toddler jumping on the cardboard box. God has given us His Word and the Holy Spirit to speak into our hearts, and He desires to share His own heart with us as we pray. Still, there are times when we're guilty of simply looking at the pictures or jumping on the box rather than investing the time and effort for serious prayer.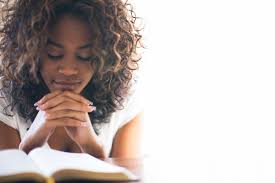 Until we "open the box" to receive and use this powerful means of communicating and communing with our allpowerful God, we will only be wasting our energy—like the child jumping on the picture of the trampoline. He might experience a few brief moments of fun pretending he's jumping on a trampoline, but until he experiences
the real thing, he won't know what he's missing. Our prayer life can be so much richer than simply giving thanks before meals and drowsily praying a few sleepy lines before we drift off to sleep.
Like the loving parent who gently removed the child from the box lid and then took out all the parts and assembled the trampoline, God desires to give us what we need for our prayers to become airborne. How do we get our prayer life off the ground? God Himself gives us the desire to pray (Philippians 2:13) and the faith to believe (Ephesians 2:8, Romans 12:3), and He has given us His Holy Spirit to guide us in our praying (Romans 8:26). Despite our apathy, weak faith and long list of excuses, we need only look up to our "Abba" Father and voice a simple plea for help.
"Help me, please, Lord! I'm all out of excuses and I'm tired of jumping on cardboard boxes. I want to know more of You and hear You speak. I want to be a faithful intercessor, praying on behalf of my family and friends, my church, and my country. I want to have Your heart—one that is broken over my sin and broken over the needs of a lost world that needs You. Lord, teach me to pray!"
If we ask Him, the Lord will put the pieces together for us and draw us into deeper communion with Him. God will give us the desire to pray and the time to pray, and the faith to believe; and His Holy Spirit will guide us and prompt us with regard to who we should intercede for and how we should pray on their behalf.
Our loving Father has told us to come to Him with our needs and requests. So jump in with both feet and pray!
Devote yourselves to prayer; stay alert in it with thanksgiving. (Colossians 4:2, HCSB)
By: Donna Riesen
We appreciate your prayers for these upcoming August events:
Steve Brown — August 3-5 
(Emcee: Michael Everhart; Worship Leader: John Chisum; Pastor-in-Residence: Jim Brackett)
How to Be Right Without Being Insufferable
 Will Graham — August 10-12
(Emcee: Traynor Reitmeier; Worship Leader: Mark Christian; Pastor-in-Residence: Kevin Wimbish)
Satan's Snares and God's Goodness
 Stuart and Jill Briscoe — August 13-15
(Emcee/Worship Leader: Tom Bledsoe; Artist: John Innes; Pastor-in-Residence: John Parrish)
SeniorCelebration — A Celebration in the Psalms
 R.T. Kendall — August 20-24
(Emcee: Michael Everhart; Worship Leader: Marty Goetz; Pastor-in-Residence: Jim Brackett)
Intensive Bible Training — Popular in Heaven, Famous in Hell
 Chip Ingram — August 24-26
(Emcee: Bill Wolfe; Worship Leader: Stephanie Seefeldt; Pastor-in-Residence: John Parrish)
Why I Believe
 Herb Reavis, Jr. — August 27-29
(Emcee: Ron Whittemore; Worship Leader: Stephanie Seeffeldt; Pastor-in-Residence: Kevin Wimbish)
The Second Coming: Hope for the Here and Now
---
Click here for a schedule of seminar, concerts, and retreats at The Cove in beautiful Asheville, NC.
Are you a Christian church or non-profit ministry looking for a place to hold your conference, retreat or ministry event?  Click here for more information on holding your event at The Cove.
Visit the Chatlos Memorial Chapel, Visitors Center, and Ruth's Prayer Garden. Click here for directions and operating hours. Tours are free.