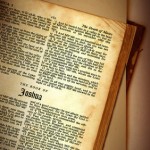 Welcome to Kendra Graham's online Bible study. This is a place where women can come together and share their journey towards Scriptural truths and spiritual maturity. We pray this will be a safe, respectful, resourceful place to come and discuss God's Word…to discover What it says…What it means…and What it means to you!
Kendra suggests you use the following process when studying Scripture. We have included an example of this process from John 1:1.
Step 1: Pray
Step 2: Read God's Word (look at the passage)
1 In the beginning was the Word, and the Word was with God, and the Word was God.
Step 3: What Does God's Word Say? (list the facts)
1 In the beginning the Word was with God and was God.
Step 4: What Does God's Word Mean? (learn the lessons)
1 God's Word is not just ancient philosophy, it is eternal Truth.
Step 5: What Does God's Word Mean to Me? (listen to his voice)
1 How do I view the Bible?
Kendra Graham NOTES from Joshua 9:22-27
FACTS: What Does it Say?
22: Joshua spoke: "Why have you deceived us, saying 'We are far' When you are within our land?"
23: Now you are cursed and shall never cease being slaves
24: They answered: "It was told that the LORD had commanded Moses to give you the land & destroy the ALL inhabitants, we feared for our lives."
25: "We are in your hands, do as it seems good and right to do."
26: They did not kill them.
27: Joshua made them hewers of wood, drawers of water for the congregation and the altar of the LORD
LESSONS, What does it Mean?
22: Joshua confronts the lie. Sin must be dealt with, not shoved under the rug or ignored. We are sinners. We will all find ourselves at one time or another in this situation, confronted with our wrongdoing. Romans 3:23 "For ALL have sinned and fall short of the glory of God." Romans 3:10 "There is none righteous, no not one."
23: There are consequences for deceitful actions, sin. Romans 6:23 "For the wages of sin is death, but the gift of God is eternal life." We too, all find ourselves deserving of a punishment, we too have no hope of getting out of. BUT…. GOD!!! Romans 5:8 "BUT GOD demonstrated His own LOVE for US that while we were still sinners (enemies, Gibeonites,) Christ died for US!" Romans 10:9 " that if you confess with your mouth, Jesus as LORD and believe in your heart that God raised Him from the dead, you will be saved."
24-25: The Gibeonites knew the Truth, when confronted with their deceit they did not fight the charges, "Yes, we came in deceit. You are calling us liars, that is accurate, do as you (Israel) think is right." The Gibeonites believed God would do what He said he would do when they heard it through Moses, so they were doomed, a people without hope. Gibeon is trying to be counted in with Israel and their God, they realize they don't deserve to be saved, and they put their future in the hands of Joshua. Romans 10:9 " that if you confess with your mouth, Jesus as LORD and believe in your heart that God raised Him from the dead, you will be saved." Romans 10:13 "Everyone who calls on the name of the LORD will be saved."
Before I get all up in Joshua's grill for "letting Gibeon off the hook" I need to remember that same grace is extended to me and to you from God Almighty! We are all no better than the Gibeonites, and yes, grace and mercy have been extended to us through Jesus, if we are willing to accept it. The choice is ours! (this same grace was extended to Rahab and her family in chapter 6)
26: Gibeon did not receive what they deserved. By the grace of God, they were saved.
Romans 5:1 "Therefore since we have been justified by faith we have peace with God through our LORD Jesus Christ." Romans 8:1 "Therefore there is NOW NO condemnation for those who are in Christ Jesus."
27: Once saved by grace, honestly it doesn't matter what it is that God has asked me to do, no task is too menial or too far beneath me, because of the depths to which God has come to invade my life and save me. By the grace of God, Gibeon was able to cut wood and draw water for the God of Israel, now, their God…. the God who saved them, not because they lied were they saved, but because of God's grace and His grace alone. PRAISE GOD! Grace, grace, God's grace, grace that is greater than all my sin….
Ephesians 2:8-9 "For by grace we are saved through faith, and that not of ourselves it is the gift of God, not of works lest any man should boast."
Applications, What does it Mean to Me?
22: Am I willing to confront the sin in my life and deal with it? Have I ever stopped to realize that I am a sinner, unholy before a holy God?
23: Do I get mad at God when I am faced with the consequences for my own actions? Do I find myself in a place of hopelessness because of my sin? Did I ever realize the consequences for my sin are separation from a God who loves me and provided a way to fix that gap of separation?
24-25: Am I quick to agree with God about the status of my heart, or am I stubborn trying to fight the charges with some fancy lawyering? Have I asked God what the status of my heart is? Am I thankful for the grace God extended to me, but when it comes to "other worse" people in my eyes, do I judge them and get angry with God's mercy and love? Do I believe and take God at His Word, like the Gibeonites did?
26: Do I realize God has provided a way out from underneath the consequences of my sin?
27: How has God extended His grace to me? Have I accepted God's gift of grace in my life, Have I accepted Jesus? (God's gift is always a gift, offered, free and undeserved, but it is not mine until I receive it and take it for myself)
LIVE IT OUT!
Have you ever accepted the grace God has offered to us through Jesus? We too can be counted in as His people, like the Gibeonites and Rahab, but we have to accept the gift. The great thing about this gift, is that is it always available 24/7 to everyone who will accept Him! God's gift is not a groupon available to just a select few, it will never be sold out! Jesus was God, with skin on. Jesus lived a perfect life, and died a horrific death, the death which demonstrated the wrath God Almighty has against sin. Three days later Jesus rose from the grave! The payment of sin paid in full when He died on the cross, and the grip of sin broken when He rose from the grave. God loves you that much, that He came personally to fix the separation your sin created between you and Him. If you have never accepted God's free gift of grace, will you now?
If so, here is a simple prayer you can pray to God. Saying this prayer is a way to declare to God that you are relying on Jesus Christ for your salvation. The words themselves will not save you. Only faith in Jesus Christ can provide salvation! "God, I know that I have sinned against you and am deserving of punishment. But Jesus Christ took the punishment that I deserve so that through faith in Him I could be forgiven. With your help, I place my trust in You for salvation. Thank You for Your wonderful grace and forgiveness – the gift of eternal life! Amen!"
Share with us your lesson(s) and applications from a verse or two and what they mean to you. Do you know someone that might be blessed by joining our study?  Please share this blog link with them.
Homework: Joshua 10:1-5