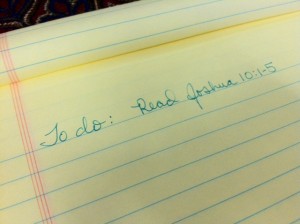 Welcome to Kendra Graham's online Bible study.  This is a place where women can come together and share their journey towards Scriptural truths and spiritual maturity.  We pray this will be a safe, respectful, resourceful place to come and discuss God's Word…to discover What it says…What it means…and What it means to you!
Kendra suggests you use the following process when studying Scripture.  We have included an example of this process from John 1:1.
Step 1: Pray
Step 2: Read God's Word (look at the passage)
1 In the beginning was the Word, and the Word was with God, and the Word was
God.  
Step 3: What Does God's Word Say? (list the facts)
1 In the beginning the Word was with God and was God.
Step 4: What Does God's Word Mean? (learn the lessons)
1 God's Word is not just ancient philosophy, it is eternal Truth.
Step 5: What Does God's Word Mean to Me? (listen to his voice)
1 How do I view the Bible?
Kendra Graham NOTES selected from Joshua 10:1-5 homework:
The FACTS: What does it say?
10:4&5:  (The King of Jerusalem said) Come and help me attack Gibeon for it made peace with Joshua and Israel.(5) So they gathered with their armies and fought against it.
LESSONS: What Does it Mean?
These two verses in Joshua 10, struck me as I read them and immediately thought of the words Jesus said:
John 15:18-22, 25 "If the world hates you, know that it hated Me before if hated you. (19) If you were of the world, the world would love its own; but because you are not of the world, but I chose you out of the world, because of this, the world hates you. (20)…. if they persecuted Me, they will also persecute you, if they kept My word they will keep yours also. (21) All these things they will do to you for My name's sake, because they do not know the One who sent Me. (22) If I had not come and spoken to them, they would not have sin, but now they have no excuse for their sin. (25) They have done this to fulfill the word that is written in their Law: 'THEY HATED ME WITHOUT A CAUSE'."
The rest of the nations around Gibeon are furious that Gibeon made peace with God and His people.  Some are convicted to repentence (Gibeon) and others convicted yet angered and embittered.  I love the fact that Gibeon was not a city of weaklings, but a city of great men of valor, and that valor is shown more boldly in their humility to put aside their brute strength, take on the title of slave, in order to be part of God's people! WOW!!! Humility before God is strength and LIFE!
Zechariah 4:6 "Not by might, nor by power, but by My Spirit says the Lord of hosts."
I should not be surprised that when I decided to follow Jesus, things will get tough, Jesus told me they would, but REMEMBER:
John 15:26,27 "..I will send to you from the Father, that is, the Spirit of Truth who proceeds from the Father, He will testify about Me, and you will testify also.."
DO NOT BE SHOCKED BY ADVERSITY!  BE CONFIDENT IN THE GOD WHO CALLED ME. DO NOT SHRINK BACK.  BE STRONG AND COURAGEOUS.  The enemy attacked the new members of God's family, Be on alert and be ready to fight with those, for those, encourage (pour courage into) those who are new in their faith.  STAND STRONG TOGETHER, and have your eyes peeled, ready to see God fight for His people!  Jeremiah 33:3 "Call unto Me and I will answer thee and show thee GREAT ND MIGHTY things which thou knowest not!"
APPLICATION: What does it mean to me?
When have I felt the weight of the world against me? Did I stand strong in the Truth of God's Word or fall hard in the reality of my own strength or lack thereof?
Am I surprised by the hatred of the world against God's people?
How have I been challenged and encouraged by these verses?
LIVE IT OUT:
Know what God's Word says.  Pray for and encourage new and seasoned believers.  Challenges force choices, Lord, give me the strength to stand and not run.
Share with us your lesson(s) and applications from a verse or two
and what they mean to you.
Do you know someone that might be blessed by joining our study?  Please
share this blog link with them.
Homework: Joshua 10:6-10